Blue skies, soft sand and endless schools of big, beautiful fish swimming along miles of coastline. What's not to like about surf fishing? Whether you are fishing the Pacific or the Atlantic, surf fishing is an addicting sport that's easy for all anglers to enjoy.
The best part about surf fishing is that you don't need to have a bottomless tackle box packed with every lure from your local tackle shop. Everything from bluefish to surfperch can all be caught with fewer than a dozen lures.
Like any kind of fishing, you have endless styles of lures to choose from but we decided to make things easy. If you only want the best of the best when you fish the surf, jetty or pier, this list is for you.
Here are 11 of the best surf fishing lures you need to have on your next surf fishing adventure.
1. Diamond Jig
2. Bucktail Jig
3. Luhr-Jensen Krocodile Spoon
4. Acme Kastmaster Bucktail Teaser
5. Swimbaits
6. MirrOlure Twitch Bait
7. Tsunami Popper
8. Lucky Craft Flash Minnow
9. Sea Striker Gotcha Plug
10. Gulp Alive Sandworms
11. LiveTarget Shrimp
Now, let's take a look at what makes each of these lures so great for surf fishing. Be sure to pick up a few of your favorites and you won't be disappointed.
1. Diamond Jig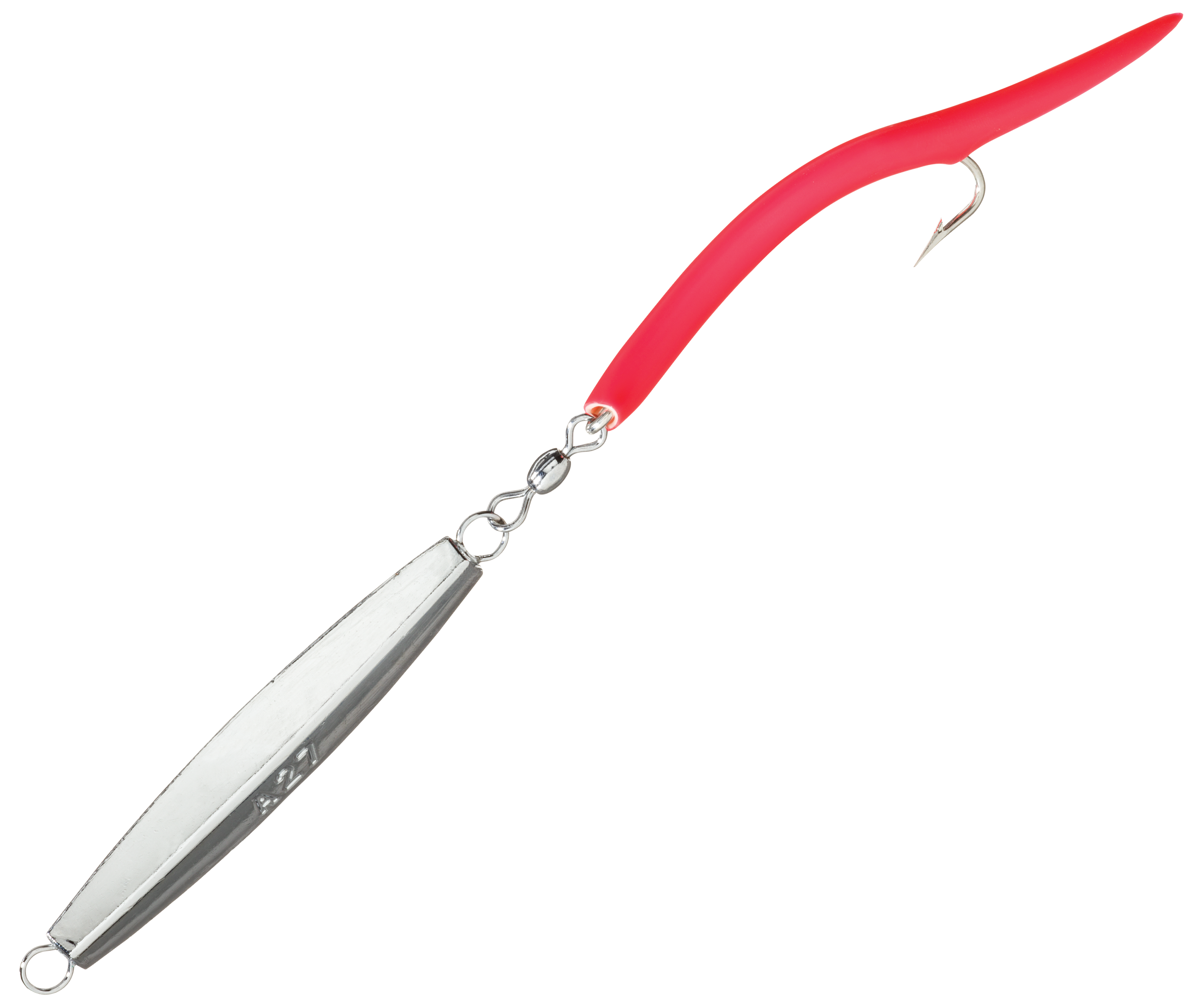 When conditions are not ideal or you just want to see what's swimming in the surf, go with a diamond jig. Diamond jigs have long been a staple of surf anglers around the world and for good reason. They catch lots of fish.
No fish is immune to the tantalizing simplicity of a diamond jig. Bluefish or pompano on the Atlantic Coast and lingcod or rock bass along Pacific jetties all fall prey to this flashy lure.
When distance matters, these heavy steel jigs slice through an onshore wind to reach distant schools of fish. Diamond jigs come in a variety of colors and sizes ranging from 1 to 6 ounces. A 2 to 3 ounce silver diamond jig with a green tail is our favorite.
They are also a great option for quickly getting down to fish in deep troughs when the surf is rough. Tie one on when fish are not visible on the surface and you're good to go. Diamond jigs are a must have lure for any serious surf fishing enthusiast.
2. Bucktail Jig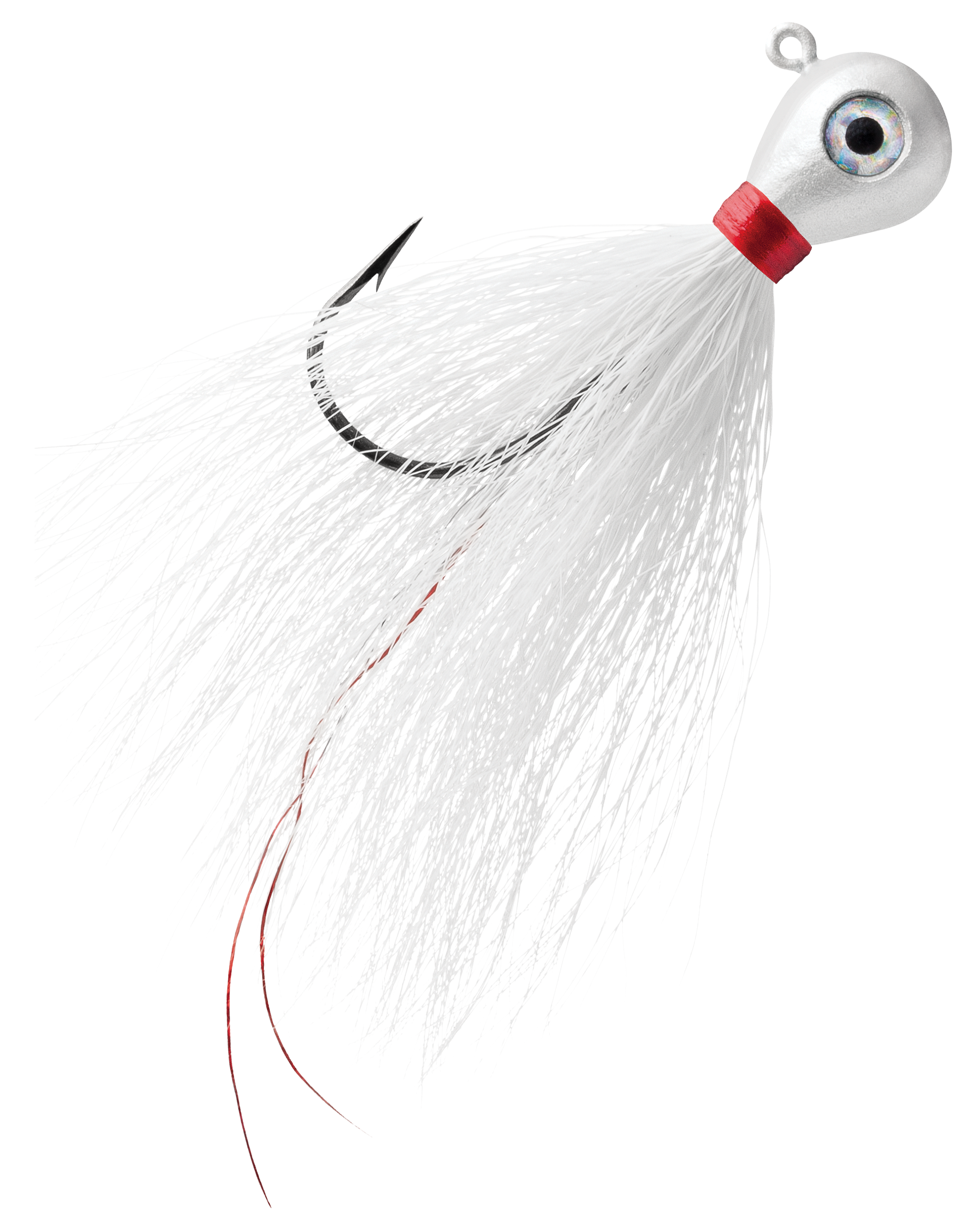 Yet another multi-species work horse in the surf fishing arena, the bucktail jig is one of the best lures to have in your arsenal. For many striped bass anglers, a bucktail jig is their go-to lure every time. Most other species, including surfperch, also crave the look of a bucktail jig.
Matching the look and size of local bait swimming among the waves is often the key to getting consistent bites. No other lure offers the ability to "match the hatch" like the bucktail jig. When forage minnows are small, use a plain bucktail jig. To mimic a beefier profile, add a twisty tailed grub on the hook.
A wide array of colors are available but a white bucktail is the most productive color. If you can find a white bucktail with a bit of red krystal flash, prepare for some non-stop action.
Bucktail jigs come in various weights to match surf conditions and casting requirements. A 1/2 to 2 ounce jig is most common. You can even add some shrimp or bloody tuna scent when fish need some extra convincing.
3. Luhr-Jensen Krocodile Spoon

Sometimes fishing conditions call for the flash and flutter that only a Krocodile spoon from Luhr-Jensen can deliver. If you want to get the attention of scattered fish then this spoon will do the trick.
These stamped brass spoons are super durable and cast a mile. When top water lures just aren't producing, a spoon almost always will. Plus, there is almost an unlimited color selection to experiment with. We think traditional gold is the all-around best color for a variety of saltwater species in different water conditions.
Go with a 1 to 2 1/2 ounce spoon for most situations. Whether targeting bluefish or stripped bass, try retrieving at slower speeds than you might otherwise think. The fluttering action is exaggerated with a steady slow retrieve and it helps fish hone in on the lure.
4. Acme Kastmaster Bucktail Teaser
If a bucktail jig catches lots of fish and a metal spoon catches lots of fish, then combining the two should be down right deadly for surf fishing. That's exactly what we love about the Acme Kastmaster Bucktail Teaser. You get the best of both worlds. The enticing flash of metal with a seductive bucktail adding just enough flair to convince fish to strike.
As the name implies, Kastmaster spoons have enough heft to cut through the wind for long casts. It also holds up well to the harsh saltwater environment and retains its luster. Gold or chrome are great colors, but I've seen anglers do quite well with chrome and blue which closely mimics baitfish.
A wide selection of sizes helps cater your lure to the fish at hand. Large 3 ounce lures yank in big blues on the outer edge of shoreline schools. For you Pacific Coast anglers, smaller 1 ounce Kastmasters seem to draw out bigger surfperch milling about in troughs behind the breaking surf.
5. Swimbaits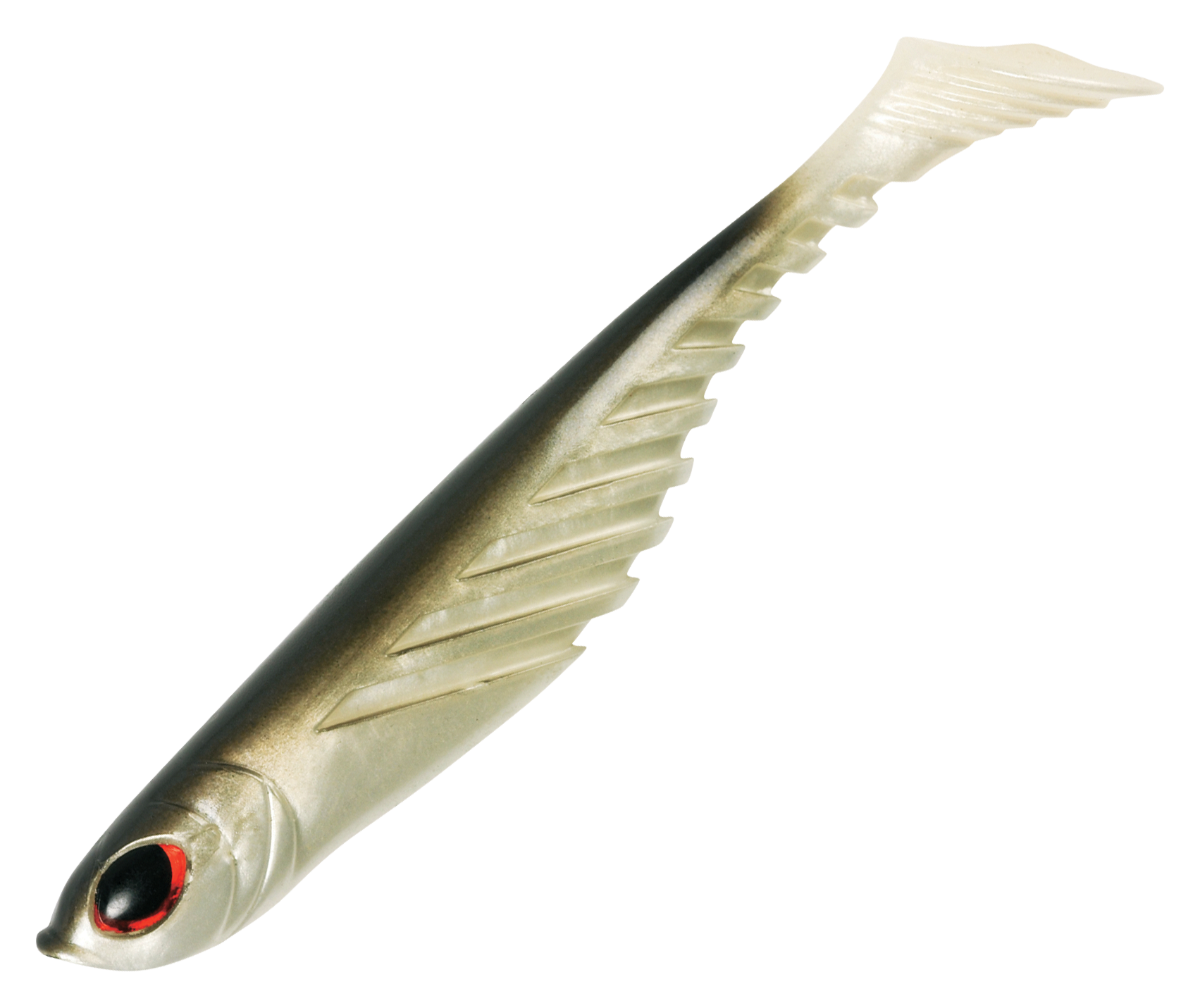 There is no excuse for not having a swimbait or two in your tackle box. These soft plastic baits are the ultimate search bait designed to help you find even the most inactive fish in the surf or inshore areas.
Paddle tail swimbaits are by far the most versatile and can be rigged up with standard jig heads or football jigs. Some swimbaits are pre-rigged with a hook and weight incorporated into the body. Many have extremely realistic minnow imitations.
Countless styles and sizes are available but we've had great success on Berkley Powerbait Ripple Shad with a 5/8 ounce or lighter jig head. It has great action that is irresistible to fish even when fished with a straight retrieve. Adjust your bait size as needed but 4 or 5 inch versions perform best. Natural colors or white readily pull fish from the surf.
Just keep in mind that toothy fish, like bluefish, can tear these baits to pieces. However, these baits are cheap so it's not always a big deal. Swimbaits can be fished anywhere saltwater fish swim and at any depth. When fishing new areas, this is a first choice bait.
6. MirrOlure Twitch Bait
Some days the bite is on and no lure lets you capitalize on a baitfish feast like MirrOlure's MirrOminnow suspending twitch bait. Cruising coastal predators love the erratic action and realistic glass minnow imitation.
A suspending twitch bait helps you stay below the surface and in the strike zone. It also has the weight to cover distance with a forceful cast. Work it back to the beach with sharp rips and brief pauses. This type of fishing keeps you in suspense and when a fish slams your lure, you'll see why twitch baits deserve a permanent place in your saltwater arsenal.
Bluefish and stripers are not the only fish that go nuts over twitch baits. Inshore species like tarpon, redfish and snook also devour suspending twitch baits with untamed aggression.
When glass minnows or rain minnows are prolific near shore, you can bet big predators are not far away. Tie on a twitch bait and hang on.
7. Tsunami Popper

It's tough to beat the thrill of surf fishing with top water poppers. Your heart will skip a beat every time a fish absolutely crushes a popper. Many types of poppers are available but the Tsunami Talkin' Popper is among the most popular.
With built in weights, these 1 3/8 ounce Tsunami poppers cast far and accurate even in the wind. Their big profile and even bigger splash draw in nearby fish on the hunt.
Anglers targeting bluefish are especially fond of poppers. However, it's a good idea to switch out the included treble hooks for a high quality single shank hook. It's no fun trying to remove a treble from the fearsome teeth of a bluefish, so go with the single hooks.
Poppers have so much action and splash that color is not crucial. Although, dawn herring, menhaden and black with silver are preferred by both anglers and fish.
8. Lucky Craft Flash Minnow
Lucky Craft lures may be one of the more expensive lures on this list, but they're also worth every penny. Especially, for west coast surf anglers with a passion for big halibut, surfperch and the occasional striper.
The Flash Minnow 110 has a knack for weeding out small fish and hooking into the cream of the crop. It's a suspending jerk bait with a large minnow profile. Cater your retrieve to the species and conditions. Add a couple sharp flicks intermittently as you reel to give it a struggling baitfish appearance. Otherwise, keep it just above the bottom in shallow surf or bays with a steady retrieve.
Some of the most popular colors include sexy sardine, MBP and metallic sardine. However, any color that mimics a baitfish is a good choice. You may also want to consider replacing the stock treble hooks with stronger, high quality Gamakatsu or Mustad trebles. It's not unheard of for large halibut to straighten hooks on a Lucky Craft Flash Minnow.
9. Sea Striker Gotcha Plug

The surf is not the only place fish swim within reach of us boat-less anglers. For you pier fishing junkies, the Sea Striker Gotcha Plug may be the only lure you need. It's all fair game; bluefish, jacks, and spanish mackerel get dragged onto piers by the Gotcha plug by the dozens.
Most anglers attribute the success of the Gotcha plug to the fact that it's almost impossible to fish wrong. Simply cast it out and retrieve it with quick, sharp jerks to engage its unique darting action.
These lures won't break the bank so experiment with different sizes and colors until you find what works best. If you can only get one lure for pier fishing, make it a Gotcha.
10. Gulp Alive Sandworms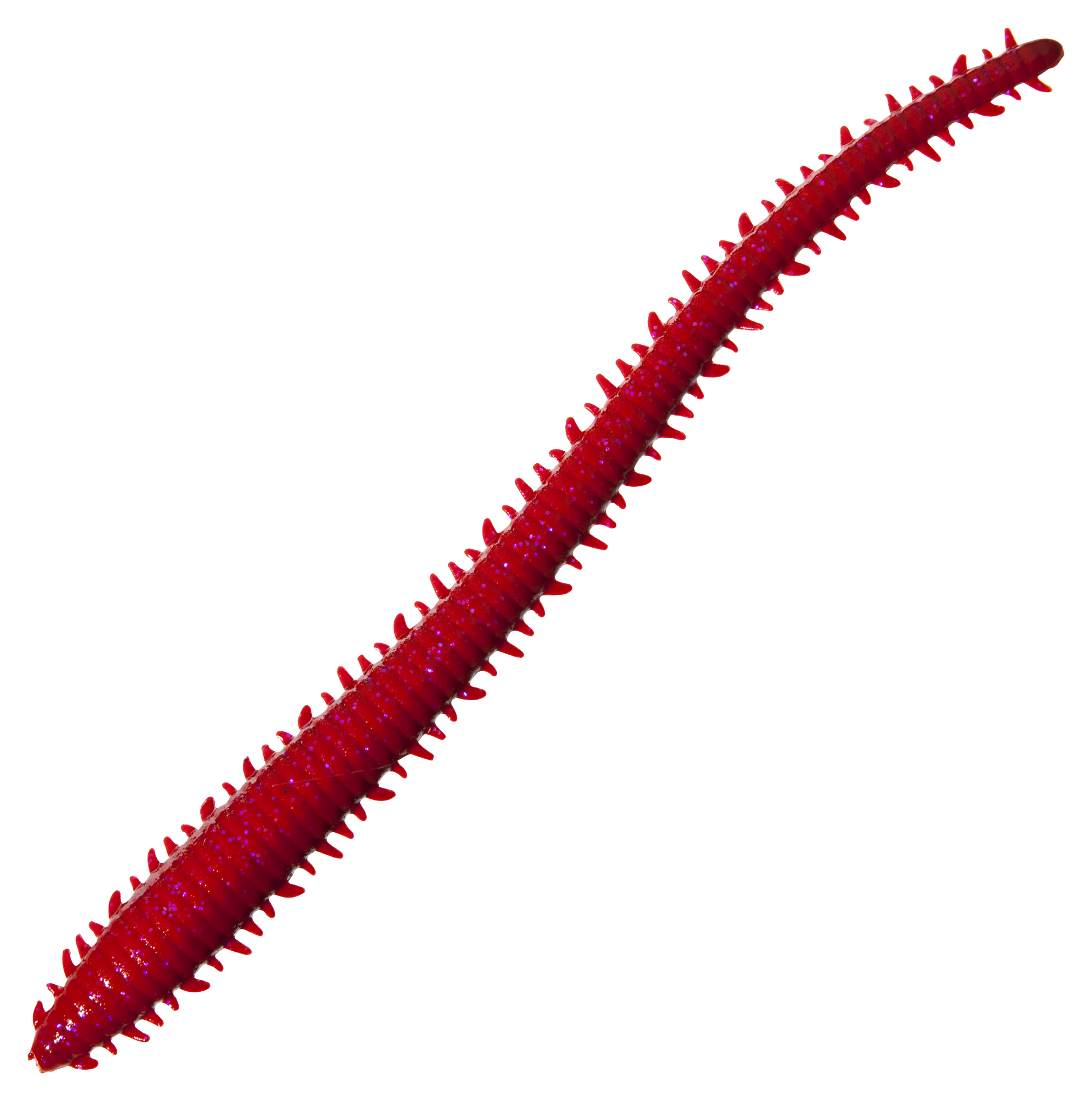 Well, we can't talk about surf fishing without giving a nod to the surfperch addicts among us. Berkley Gulp Alive Sandworms are arguably the best artificial baits for surfperch ever made. The combination of scent and look prove irresistible to surfperch up and down the Pacific Coast.
These soft plastic baits come in 2 or 6 inch sizes. The camo color is the most popular but the bloody red color really gets the big perch to bite. Fit them on a size 2 or 4 bait holder hook and cast out with a Carolina rig or three way rig. It will be non-stop action when the surf is right.
Gulp sandworms work on all species of perch including calico, barred and red tail. You southern California anglers may even hook into leopard sharks, corbina, halibut and croakers using sandworms.
6 inch Gulp sandworms are sold in packs of 12 (you can cut them in half or thirds) and 2 inch sandworms come in packs of 24.
11. LiveTarget Shrimp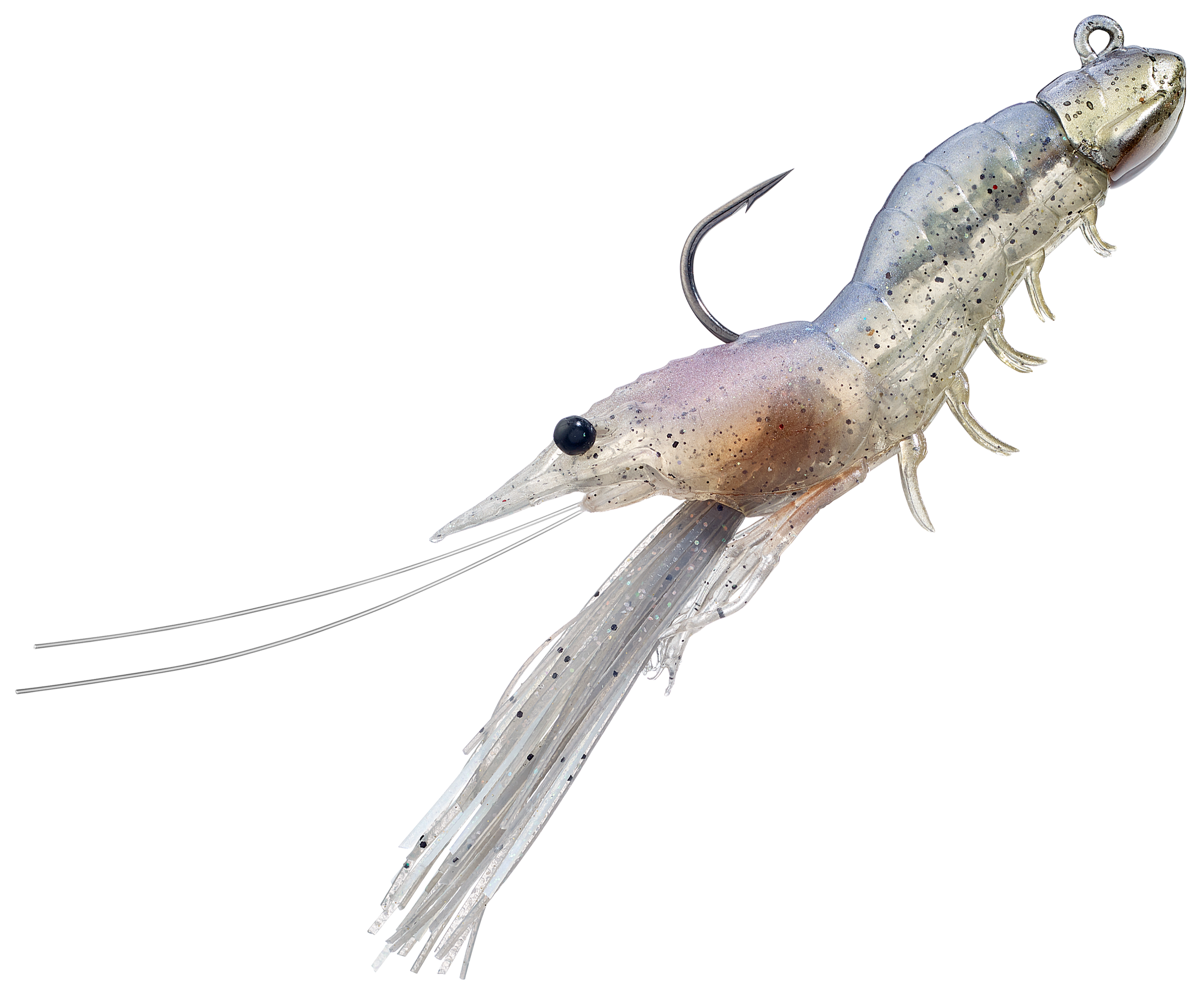 At some point in their life, almost all saltwater fish eat shrimp. That's why we think it's important to include the ultra-realistic LiveTarget shrimp lure on this list. Anglers fishing protected bays, jetties or inshore would be remiss to not carry an artificial shrimp lure with them.
Speckled trout especially find a well presented shrimp imitation hard to resist. Getting consistent strikes requires a slow retrieve and subtle presentation though. Other species like snook, striped bass and even surfperch can all be taken on the LiveTarget shrimp lure.
It's important to match the shrimp color to the water conditions. Live shrimp move slow and try not to draw too much attention to themselves. When the water is clear use the light colors and switch to darker shades in more turbid water.
This lure is not meant to be casted into crashing surf but when more finesse is needed, you'll be glad you had one of these on hand.
Bonus up-and-comer: Battlestar 115
It's tough to say whether or not a new lure will ever earn its place among the "greats". Yet, if there is one lure that is heading that way it would be the Battlestar 115 jerk bait. This is no ordinary jerk bait. It's custom tailored with Pacific Coast surf anglers in mind. Where other jerk baits tend to snag on rocks and bind up in gnarly vegetation, the Battlestar gives you complete control to avoid lure stealing structure all together.
This is a lure designed by a dedicated California surf angler intent on solving the frustrations common with mass produced tackle. By incorporating "slow-float" technology, the Battlestar 115 lets you fish this jerk bait among structure without fear.
With a variable retrieval speed you can precisely put the Battlestar 115 at your desired depth. Fish it on the surface with slow twitches or burry its nose right on the bottom with a fast retrieve and vigorous jerks. Either way, when you feel the slightest hint of a snag, pause your retrieve and let it slowly float out of harms way. Then start working the bait once more.
For any serious surf fishing addict this is a must-try lure. Everything from halibut to surfperch has felt the sting of the Battlestar's razor sharp hooks.
Conclusion
You won't always know what fish are going to bite from day to day but a tackle kit with these 11 surf fishing lures will cover just about any situation you may encounter. You don't need to spend a fortune to catch lots of fish and a small box with the right lures does the trick. These are proven lures that out fish everything else in saltwater.
Need some surf fishing line that can handle big fish and extreme action. Our complete guide will help you pick the best line for any surf fishing situation.
Would you also like to know how to put these lures to good use for nighttime surf fishing? Then check out how to boost your surf fishing success with the night bite.