Do a quick Google search for good ice fishing seats and you'll see plenty of choices. Yet, as experienced ice anglers with hundreds of hours on the ice, we can tell you that not all ice fishing seats are actually worth using. In fact, there are only a few seats that work well enough to even recommend.
And don't be tempted to go without a seat either. After a few hours of standing on the ice, you would give away the boots on your feet for a place to sit down. A seat is for more than just comfort, it's also a tool that keeps you focused on fishing longer. And that, my friend, ultimately leads to more fish on the ice.
If you are looking for a way to improve your comfort and patience on the ice, then you've come to the right place. We are not going to waste your time with a huge list of every possible seat you could buy. Instead, we are going to show you three ice fishing seats that aren't a waste of money and are actually used by avid ice anglers.
Do you need a seat for ice fishing
Every ice fishing season we spot a few anglers standing around their hole with nothing to sit on or in. Usually, these ice anglers are new to the game and are still figuring out what gear they need. In other cases, it's someone who just doesn't know how important a seat is out on the ice, which begs the following question.
Do you really need a seat for ice fishing? It's a fair question and it depends on your own situation. But in general, yes, you do need a seat for ice fishing. I can attest to the fact that it is very hard to stay focused and fish with good technique after a couple cold hours without a seat. You will likely succumb to laying your rod on the ice and pacing.
Ice anglers who have a good seat are able to position themselves to optimize their jigging tactics. Plus, they have improved patience and ultimately catch more fish than their unseated counterparts.
However, not every scenario calls for a seat to be handy. When we are out hole hopping, pulling out a chair at each hole is not practical. Especially, if we are moving fast to track down fish or chasing a school of perch. You also don't need a seat if you prefer to kneel on the ice. If that's the case, make sure you have a great kneel pad.
How to pick an ice fishing seat
Not all ice fishing seats are created equal. In addition, a chair that works out camping isn't necessarily the chair you will want on the ice. Ice fishing demands a different kind of comfort and utility that makes finding the best seat especially important. That means you need to know what to look for before you buy a random chair off Amazon.
So, what are the qualities that make a particular ice fishing seat shine above all others? Here are the features that put ice fishing seats at the top of our list.
Portable. In our book, portability is "numero uno." An ice fishing seat that is hard to pack around on the ice is unlikely to make it out on the ice. Opt for as portable a seat as possible.
Comfortable. Comfort is an obvious factor when choosing a seat. Just don't get too hung up on needing a back rest and lounging capabilities. The ideal seat shouldn't sacrifice portability for the sake of comfort. Try to balance your needs when choosing the best seat for you.
Stays above the slush. There are times when the ice gets slushy. In some places, there could be a foot or more of wet, slushy snow. You need a seat that keeps you off the ice and above the slush. Therefore, avoid sit pads or low profile seats.
Stable and sturdy. A good ice fishing seat should support the weight of any angler and last more than a single season on the ice. In addition, you need a seat that stays stable. Especially, if there is frozen snow or slush on top of the ice.
3 ice fishing seats that are worth every penny
Hopefully, you see that not every seat is cut out for the rigors of ice fishing. So, instead of choosing from a long list of seats untested on the ice, have confidence in knowing that the 3 seats listed here are better options.
Bear in mind that through all our testing, no seat was perfect. However, as you will see, these 3 ice fishing seats strike the right balance between all the important features we look for in a quality seat.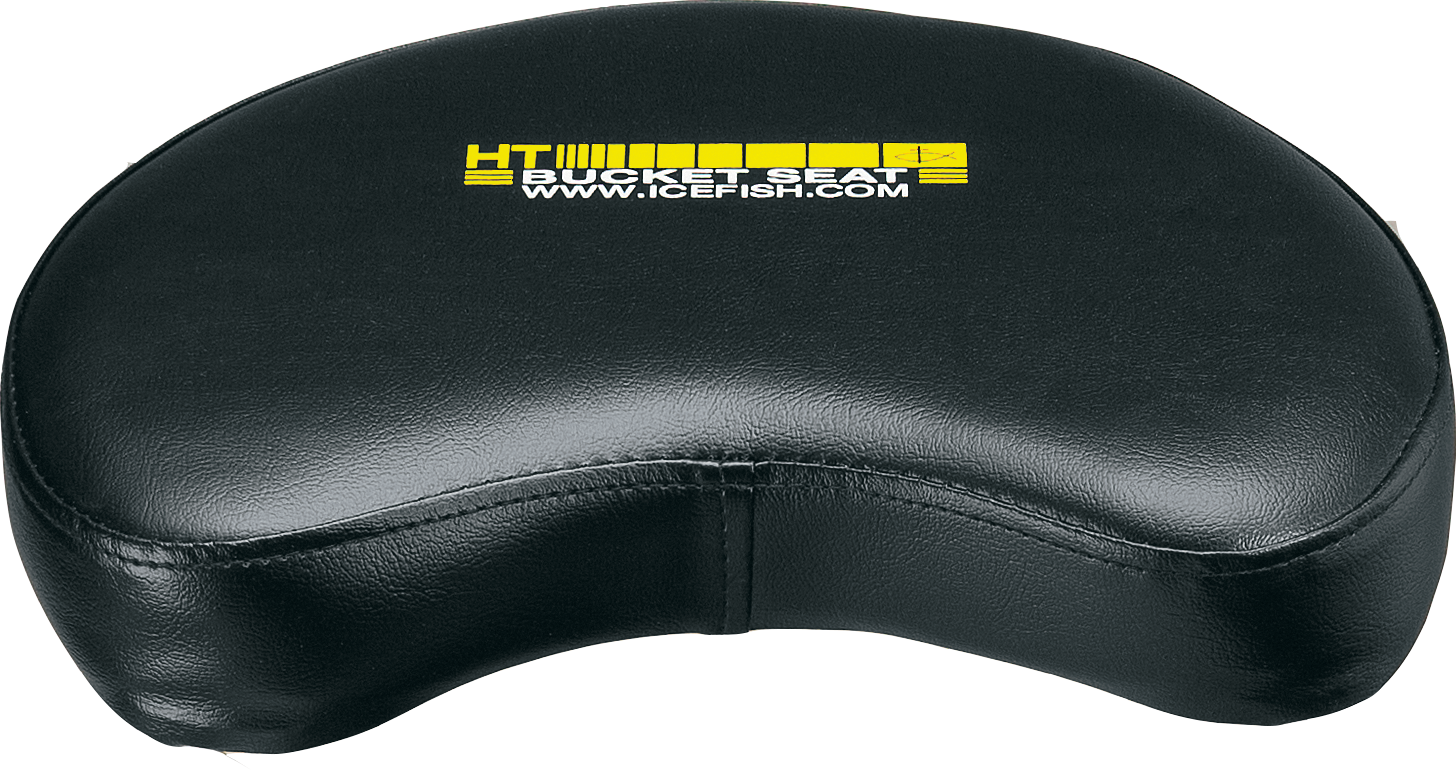 Ice fishing seats don't get much simpler than this. The HT Enterprise padded bucket seat turns a 5 gallon bucket into a cushy seat that we find extremely comfortable. Since most ice anglers carry along a 5 gallon bucket anyway, a padded bucket seat offers the best option for portability. It's super light while plenty strong enough to support most anglers.
Early renditions of the HT Bucket seat got a bad wrap for poor construction. The first seats we bought had flimsy wood backer boards that broke loose after a few uses and the padding wasn't as thick.
However, the HT bucket seats we bought from BassPro Shops last year (2022 season) are newly designed and better constructed with a composite material providing excellent durability. On top of that, the foam seat is exceptionally soft for hours of comfort. Keep in mind, the product description and reviews don't seem to reflect this update.
At less than $20 and with free returns at BassPro Shop, the HT Enterprise Padded Bucket Seat is worth trying. It is our preferred seat for all day on the ice. Especially, when being mobile is our top priority.
If you are willing to forego a little portability, this ice fishing seat will make up for it with pure comfort. The Eskimo Folding Ice Chair is still compact enough to fit in your ice fishing sled but it will add 8 pounds to your load. Even so, anyone needing a back rest and the stability of 3 solidly built legs will appreciate this chair.
The hole hoppers among us will probably prefer the HT Bucket Seat but those of you setting up a popup and staying put need to get an Eskimo Folding Ice chair. Unlike a typical folding camp chair, the triangle shaped design still allows for freedom of movement in tight spaces. And yes, the back rest alone makes this seat worth having on the ice.
It's a bit more pricey than other options, costing $40-$50, but it is the only ice fishing seat you'll ever need. Plus, the durable steel construction will likely last you a lifetime.
While these Coleman Camping Chairs aren't specifically designed for the ice, they are still well loved by comfort seeking hard water anglers. Of the 3 seats on this list, they are the least portable but still more than compact enough to toss in a sled. In addition, Coleman chairs are durable enough to last many seasons of hard use. Plus, it obviously doubles as a camping chair so you'll get your money's worth out of it.
The best part about the Coleman Camping Chair for ice fishing is the additional padding in the seat and back rest which provides you with just enough insulation to keep the cold at bay. On top of that, there is a cooler built in that serves as a great bait compartment so your wax worms won't freeze.
At less than $30 on Amazon, this Coleman chair should not be overlooked. It really is the ideal ice fishing chair for any sized angler on any sized budget.
Parting thoughts
It goes without saying that any chair you drag out on the ice is going to work to some degree. But if you want to improve your comfort and refine your gear down to the best, then definitely try out one of our 3 recommended seats. Avoid falling for spam articles with long Amazon lists of every chair under the sun. Our recommendations are a culmination of real experiences. Confidently try any one of these seats out on the ice and you won't be disappointed!
Need more on the ice comfort tips? Be sure to check out our other ice fishing articles. Here are some you might like: