Just about every angler we know has tried trolling for trout. It is a highly effective fishing method that allows you to cover lots of water and catch more fish.
What we love most about trolling is the process of refining your gear to achieve the optimum setup for any situation. Overtime, we have learned that one of the most important pieces of gear when trolling for trout is a quality trolling rod. Oh, and spoiler alert, not all rods are created equal.
Whether you are targeting stocked rainbow trout with gang trolls or trophy browns on cranks, your trolling rod is the foundation of the entire setup. That's why we did the heavy lifting and created a full spectrum list of the 5 best trolling rods for trout.
While you often get what you pay for, it's not always true. Our top picks include 5 rods that range from budget friendly to more expensive rods that any experienced angler can appreciate. Keep reading so you can find the one that's right for you.
Here is a quick look at the 5 best trolling rods for trout:
1. Lamiglas Classic Glass
2. Okuma Kokanee Black
3. Okuma SST
4. St. Croix Eyecon
5. Eagle Claw Featherlight
What makes a good trolling rod for trout
Before we start comparing rods, let's look at what features and components are required to create an ideal trolling rod.
The first step is to determine what kind of trolling rig you like using most. Do you use a downrigger with flashers and crankbaits or do you prefer flat line trolling with light tackle? Are you trolling shallow or using leadcore line to get deep?
These questions are important to answer so that the rod you choose will suit your needs. Obviously, we would all like a rod that can do everything equally well, but that's just not the case. However, some trolling rods are more versatile than others.
You also need to think about the characteristics of the fish you'll be catching. Trout, in particular, strike trolling gear aggressively and have much softer mouths than bass and walleye. Trout also tend to thrash around more as they get closer to the boat. You therefore want to avoid using an overly stiff rod or you'll be loosing more fish than necessary.
Most of the rods on this list cater to kokanee anglers but trout fishing demands the same quality and functionality.
In a nutshell, here are all the important features to look for in a trolling rod once you considered everything we've mentioned earlier.
Rod type: Both spinning and casting rods work for trolling but a casting rod paired with a level-wind reel is far better for most trolling techniques.
Rod length: 7 to 9 feet. Longer rods put your gear further out from the side of the boat. The most versatile length is 7'6" to 8'. You can always use planer boards to get your gear further away from the boat when chasing easily spooked fish.
Power rating: Light to medium will work depending on the type of gear you like trolling. If you troll with divers or large weights to get down deep, then use a stiffer medium power rod. For most other types of trolling, even with downriggers, consider light or medium light rods. The size of fish you catch matters too. Use medium weight power for areas with trophy trout (10+ pounders).
Action: Sensitivity while trolling is not critical. Therefore, a moderate to slow action rod is preferable. The extra flex also absorbs the force of a trout strike and prevents the hook from tearing out of their soft mouths. Most moderate action trolling rods also have enough backbone to fight larger fish.
Grip material: Grip material is entirely a personal choice. Cork is often thought to be more comfortable and attractive than other grip types. Although, trolling usually entails constant use of a rod holder which can damage cork handles. EVA foam or carbon fiber grips eliminate this problem.
Grip length: The handle length is not the most important factor when choosing a rod. Yet, after a day of non-stop action, your arms will be sore. A long handle alleviates some of the strain. Just bury the handle in your hip to apply more leverage when fighting a fish. Again, this is personal preference but fighting a fish is half the battle so get what's right for you.
Reel seat: The reel seat where your reel attaches to the rod is a critical component. Check for durability and strength. It's no fun to have a reel detach from the rod while fighting the fish of a lifetime.
Guides: Your line will take a beating when trolling but the rod guides should not contribute to the punishment. Quality guides are perfectly smooth and free of nicks. Aluminum oxide and titanium oxide guides are some of the best.
Price: Not everyone is price conscious but nonetheless, most of us prefer to keep costs down to a minimum. While you get what you pay for, there is a certain threshold where more money no longer converts to more fish. You therefore need to think about all the other features relative to price to come up with the perfect balance.
Those are the important things to consider when picking the best rod for trolling. Now, let's look at the top 5 rods that have the features you need to troll for trout.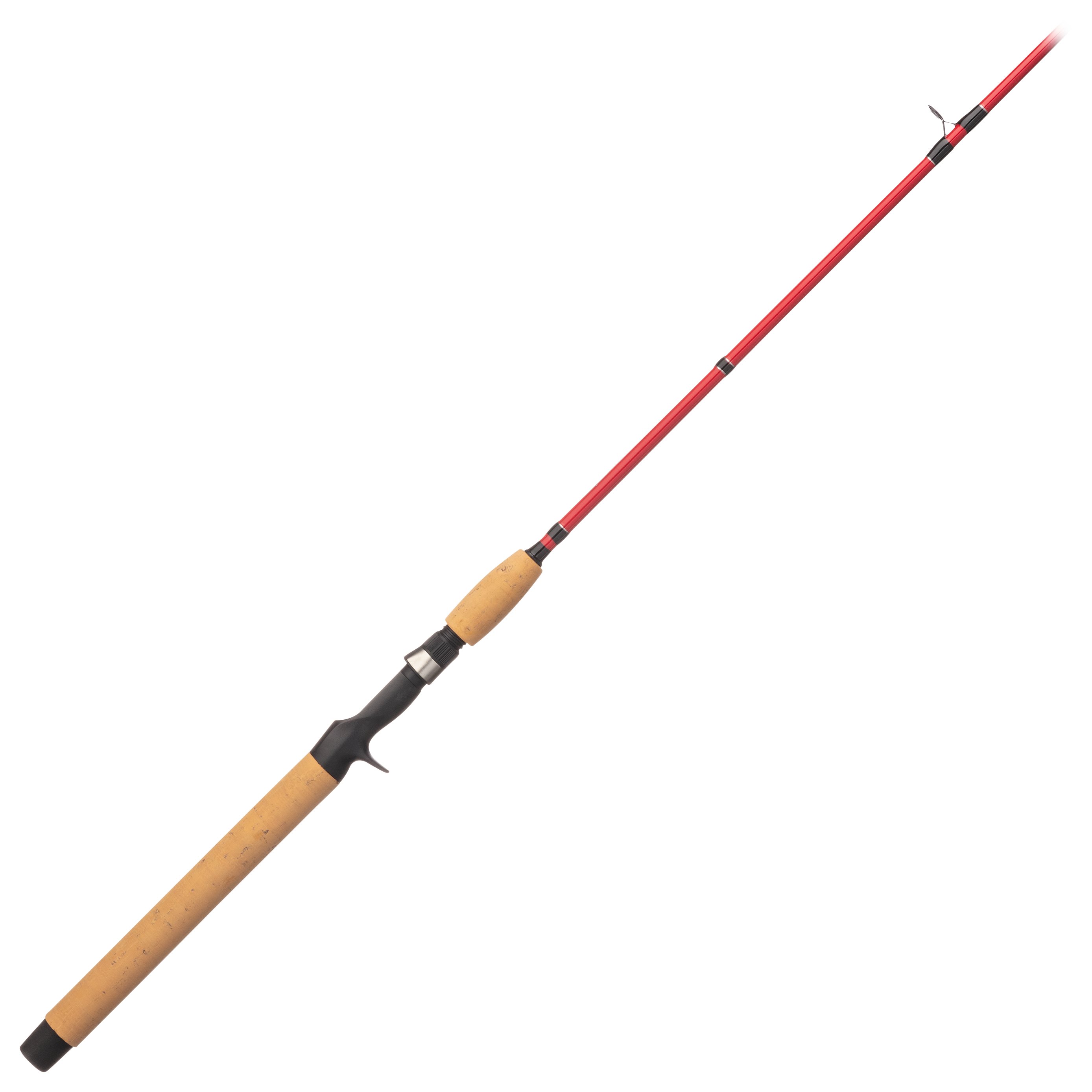 Long has Lamiglas been among the top producers of high quality fishing rods and their Kokanee Classic Glass is no exception. The supple flex on the fiberglass blank is flawless which gives this trolling rod the perfect moderate action for trout.
Not only can the light power Classic Glass hold up to big trout pushing 10 pounds, it also handles most trolling setups with ease. It also makes for a great downrigger rod.
The 7' or 7'6" rod provides a nice balance between length and control when fighting a fish. They are not bad to look at either. Choose from a red or mahogany blank matched with high quality cork handles and a hook keeper for securing hooks. While it is a beautiful rod, we prefer to avoid cork handles since they often get damaged in rod holders.
For everything from big trout to small kokanee, the Lamiglass Classic Glass is a solid choice when trolling for trout. This rod will last a lifetime.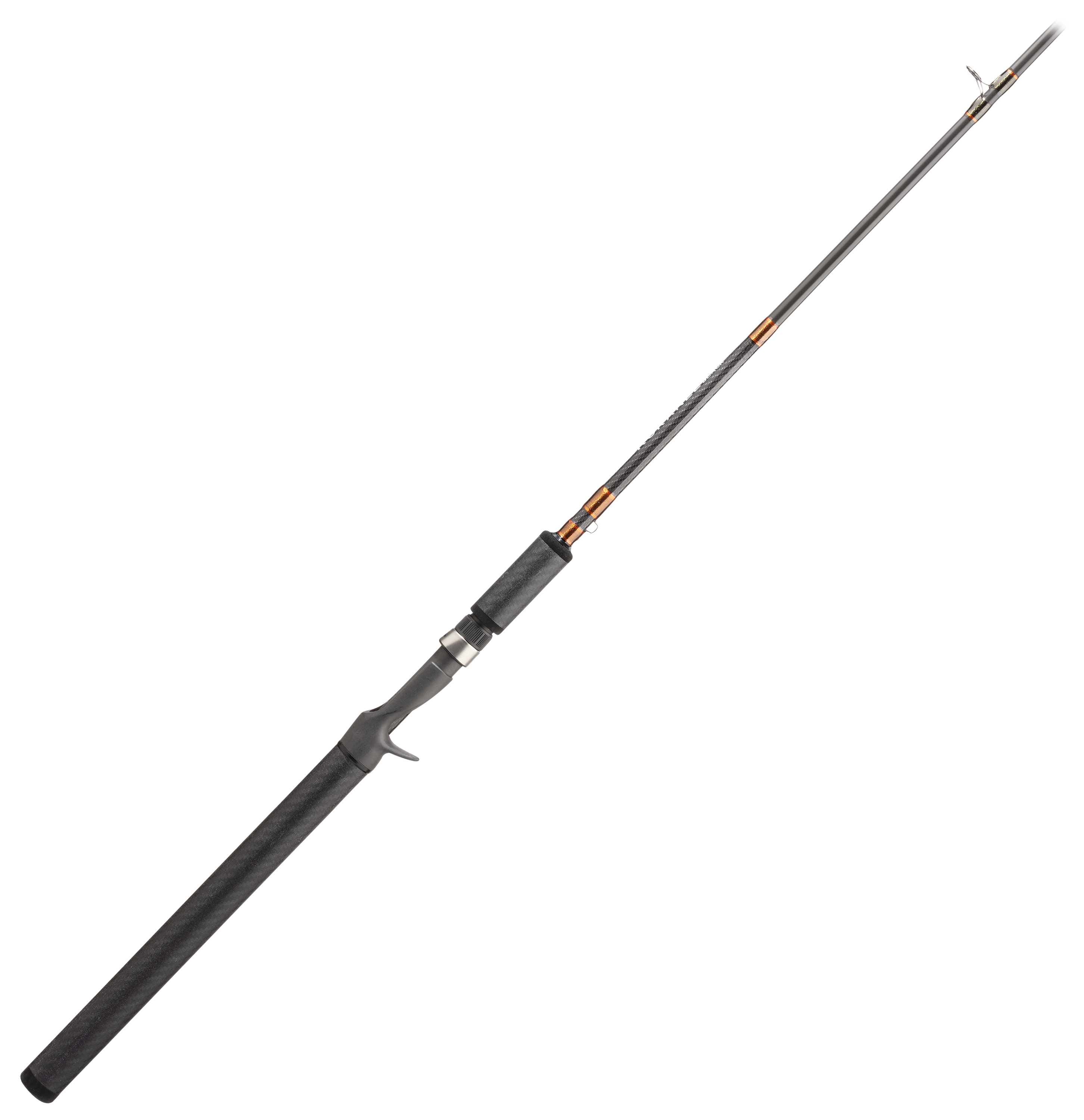 We might be biased because we own two of these rods but the Kokanee Black is our favorite trolling rod for trout. Okuma has come a long ways in designing top quality gear and this rod shows off their progress.
The caliber of craftsmanship is on par with Lamiglas but we love the strong woven carbon fiber grips. It's more durable than cork and when paired with the Okuma Cold Water 153 line counter reel, it looks down right awesome.
While the rod's primary purpose caters to kokanee anglers, trout enthusiasts can appreciate the titanium oxide guide inserts and the rock solid Fuji reel seat. All features combined, the 8' light action rod has a great feel and more than enough backbone to handle hard fighting trout. More size options are available to customize your trolling setup.
We know you'll appreciate having an Okuma rod in the boat.
3.  Okuma SST (Popular Pick)
Okuma SST rods have long been a favorite of diehard trollers and for good reason. The moderate action IM8 graphite blank creates an ultra limber, light action, trolling rod perfect for trout.
This rod has premium construction and features at a low price that belies its beautiful looks. Stainless guides, ergonomic cork handle, extra strong ferrule connections and a hook keeper add up to make a rod you should not over look.
A fight with a hefty rainbow trout on the Okuma SST never gets old. You'll love the balance and feel whether you're fishing light tackle or a hundred yards of leadcore line. We prefer the 7' 6" version for trolling but the 7' option might make for a phenomenal part-time jigging and still-fishing rod when the trolling bite is off.
There is still time to try out this trolling rod before the spring opener.
4. St. Croix Eyecon (Trophy Trout Slayer)
We are aware that this rod is primarily marketed as a walleye rod but it just goes to show how versatile the St. Croix Eyecon really is. When trophy browns, rainbows or big lakers are in the mix, this rod seamlessly switches from a walleye rod to a trout slayer.
The Eycon boasts silky smooth guides, a blast proof reel seat and a comfortable EVA foam handle. St. Croix delivers all the quality you'd expect from a top tier company.
Medium power may seem a bit heavy for most trout trolling applications but this rod can handle leadcore, downriggers and diver setups for when going deep is essential. Yet, it also has the softness to load up and let fish hook themselves. When your focus shifts from limiting out on stocked trout to chasing lunkers, you'll be glad to have a medium power rod.
If you love multi-species fishing then you can't go wrong with the St. Croix Eyecon. It's worth every penny.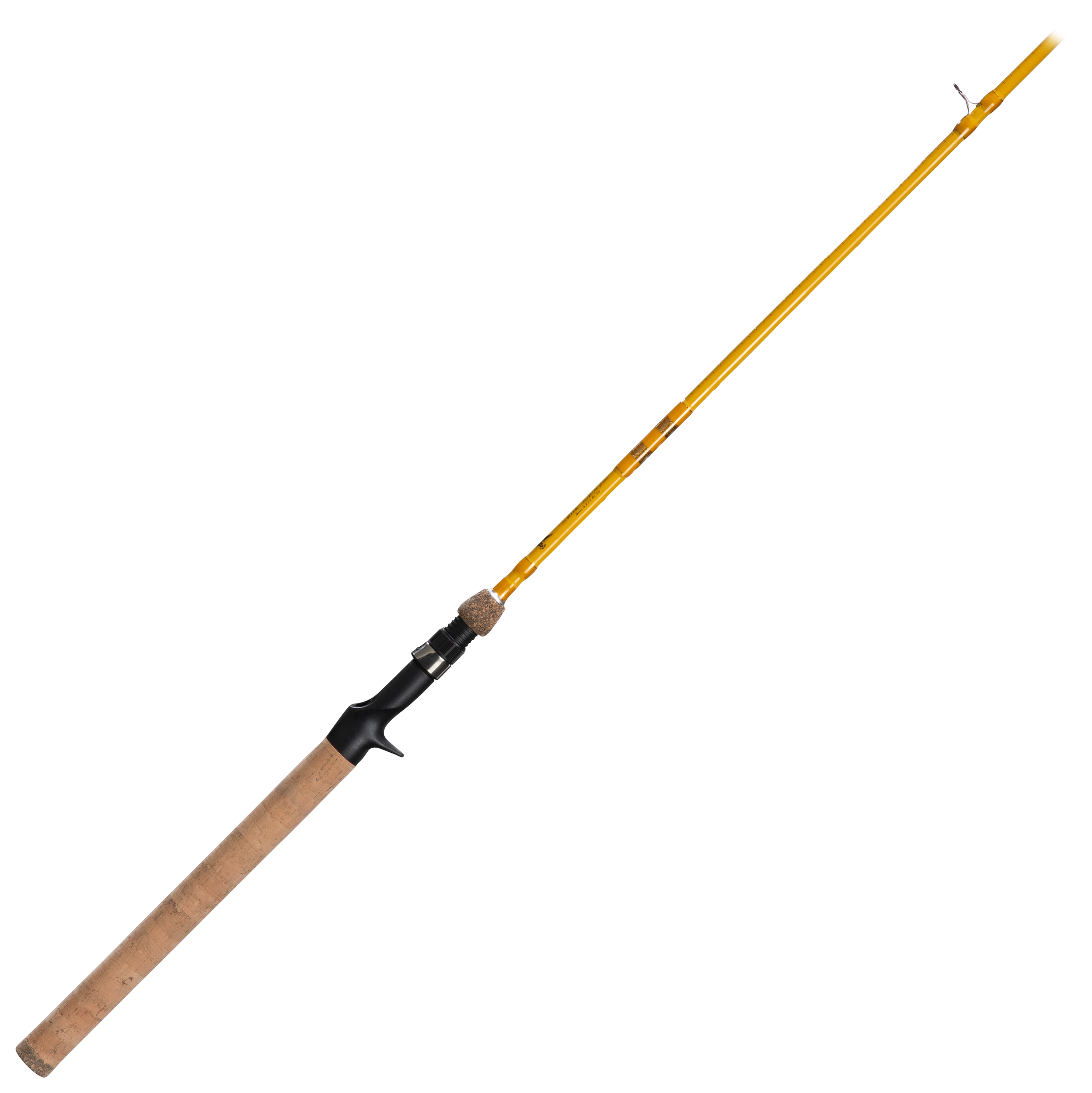 Sometime's you just need a rod that gets the job done and the Eagle Claw Featherlight gives 110%. In most cases, you get what you pay for but the budget friendly Featherlight is an exception. You get everything you need to troll for trout without the costly extras that don't add fish-catching value.
I'm not saying I would give up my Okuma but with the 2-for-1 price difference, Eagle Claw makes a compelling product. The decent cork handle, 2 piece fiberglass blank and sturdy reel seat hold up well under pressure. If you can look past the less than sleek ascetics, it's built with good quality components that perform admirably against trout and kokanee.
The super soft fiberglass blank loads well on a downrigger and acts like a shock absorber when fish hammer your bait. This means fewer torn hooks and more fish in the boat.
When you want a fish catching workhorse without the drain on your wallet, take a look at this reliable rod.
Parting words
Just about any rod can be recruited as a trolling rod but these rods perform above and beyond the rest for trout. Always be sure to match your rod up with a good quality reel with smooth drag. Your rod is only as capable as the reel.
We are confident that one of these 5 rods could easily become your go-to trout trolling rod.