Without question, rigging up with the right tackle and gear is the best way to increase your odds of success. It's true for bass, it's true for trout and it's also true for surfperch fishing on the Pacific Coast.
Getting outfitted to yard brawny surfperch straight out of the crashing waves doesn't need to be complicated. However, selecting the right gear is priority number one and it all starts with picking the best surfperch rod for the job.
I'll be the first to admit that you can use just about any rod you have to pluck fish from the surf. Although, taking your fishing skills to the next level requires a bit of fine tuning.
The old mantra of toting heavy, 10 foot rods and giant reels just to cast 6 ounces of lead as far as you can is fading fast. Every season more surfperch anglers realize that light tackle surf fishing is often better.
We prefer light tackle fishing, but not everyone does. That's why we put together a wide range of surfperch rods that will fit every budget and every style of surf fishing.
Here's a quick look at the 7 best fishing rods for surfperch:
Lamiglas X-11 LX 86 MS
Fenwick HMX 96 ML-MS
Okuma SST S-96 2ML
Shakespeare Ugly Stik Elite P90 2M
Penn Prevail II Surf Spinning 815 S90
Shakespeare Ugly Stik Surf 1025 S8
Shakespeare Ugly Stik GX2 P90 2M
Best Light Tackle Rod Options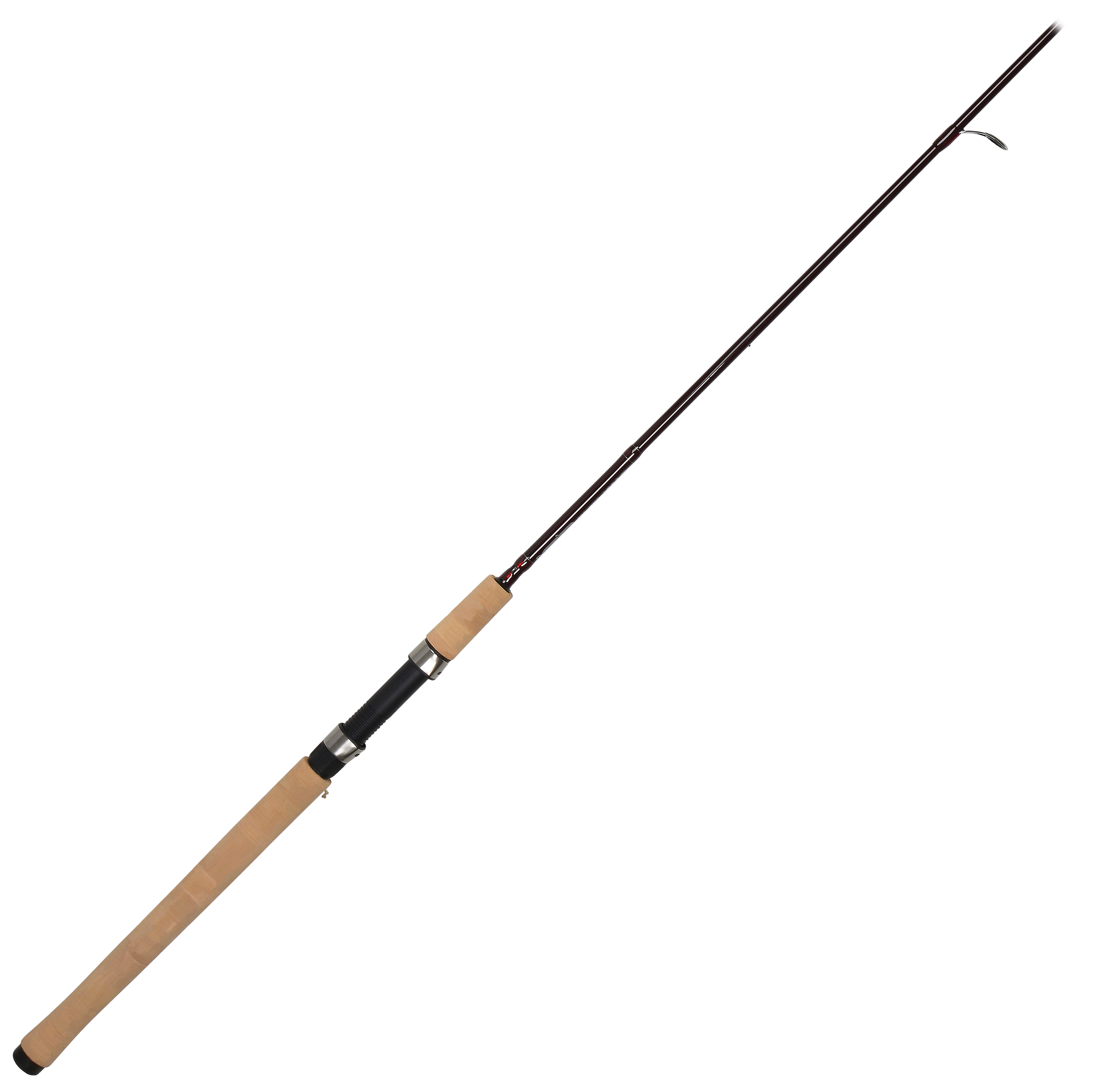 If you're looking for a quality, one time purchase for most of your surfperch fishing needs, look no further. Lamiglas makes some of the most durable rods with superior sensitivity which is crucial for differentiating surfperch bites from the pulsing wave action.
They are also beautiful rods with stainless steel and chrome guides that can endure the punishment of saltwater. The burgundy colored graphite blanks meld nicely with the premium cork handles for an overall nice package that looks as good as it fishes.
It is sold as a salmon and steelhead rod but these same features also fit right in with surfperch anglers. The X-11 series range in length from 7'9" to 10'6" but we prefer the 8'6" medium power, medium fast action LX 86 MS.
Key Features of the Lamiglas LX 86 MS:
8' 6" to keep your line above the surf
Medium power for natural light tackle presentations
Moderate fast action for sensitivity
6-10 pound test line recommended
Up to 3/4 ounce weight (but it can handle a bit more)
2 piece construction
Corrosion resistant guides
Comfortable cork handles
1 year warranty
Keep in mind, this is a rod intended for light tackle tactics. The light to medium power rod can easily handle long casts with almost an ounce of lead. In heavier surf you may prefer to step up to a medium heavy weight (LX 90 MHS) or heavy (LX 86 HS). This allows you to cast heavier weights but you'll give up some sensitivity at the tip.
At just under $100, the price point is excellent for the quality. Whether you spend one or two days chasing surfperch or you hit the beach all season, the Lamiglas X-11 could be the only rod you need.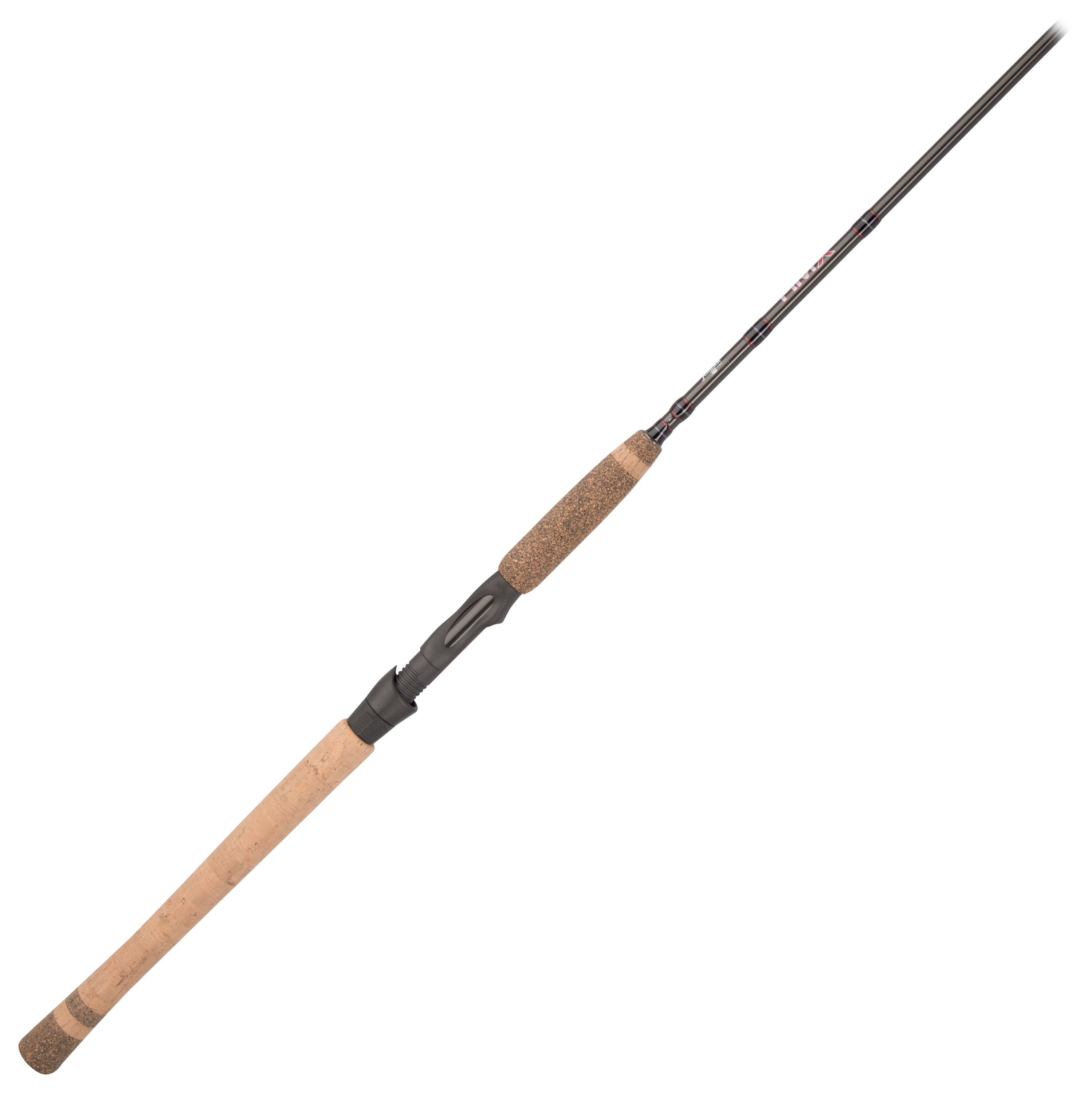 It's tough to go wrong with a Fenwick fishing rod. For surfperch, Fenwick's HMX salmon and steelhead spinning rod is another great light tackle surf fishing option.
Top notch graphite blanks, comfortable cork handles and super smooth zirconium guide inserts all combine to make a sensitive rod that can cast almost an ounce of lead well past the first couple breakers.
Again, our preference is for slightly longer rods that keep the line off the waves and as light powered as our setup can handle. Fighting spunky surfperch on light gear is a blast and that's why we prefer the Fenwick HMX 96ML-MS.
Key features of the Fenwick HMX 96ML-MS:
9'6" length is ideal for fishing flatter beaches
Medium light power has just enough back bone for long casts
Moderate action for decent sensitivity
4-10 pound test line
Up to 3/4 ounce weight (some reports of tip breakage with heavier weights)
2 piece rod
Stainless and zirconium guides
Ergonomic cork handles
If surf fishing to you means casting giant sinkers to anchor your bait in one spot in any surf condition, then bump up to the 8'6" medium heavy HMX 86MH-FS rod. This fast action rod can handle up to 4 ounces of lead while still delivering respectable sensitivity for light bites.
The price point is right in line with the Lamiglas rod we mentioned above. Deciding between the two is a challenge and depends a lot on brand loyalty. We give the edge to Lamiglas for slightly better quality with nicer overall looks. However, you can't go wrong if you prefer Fenwick rods.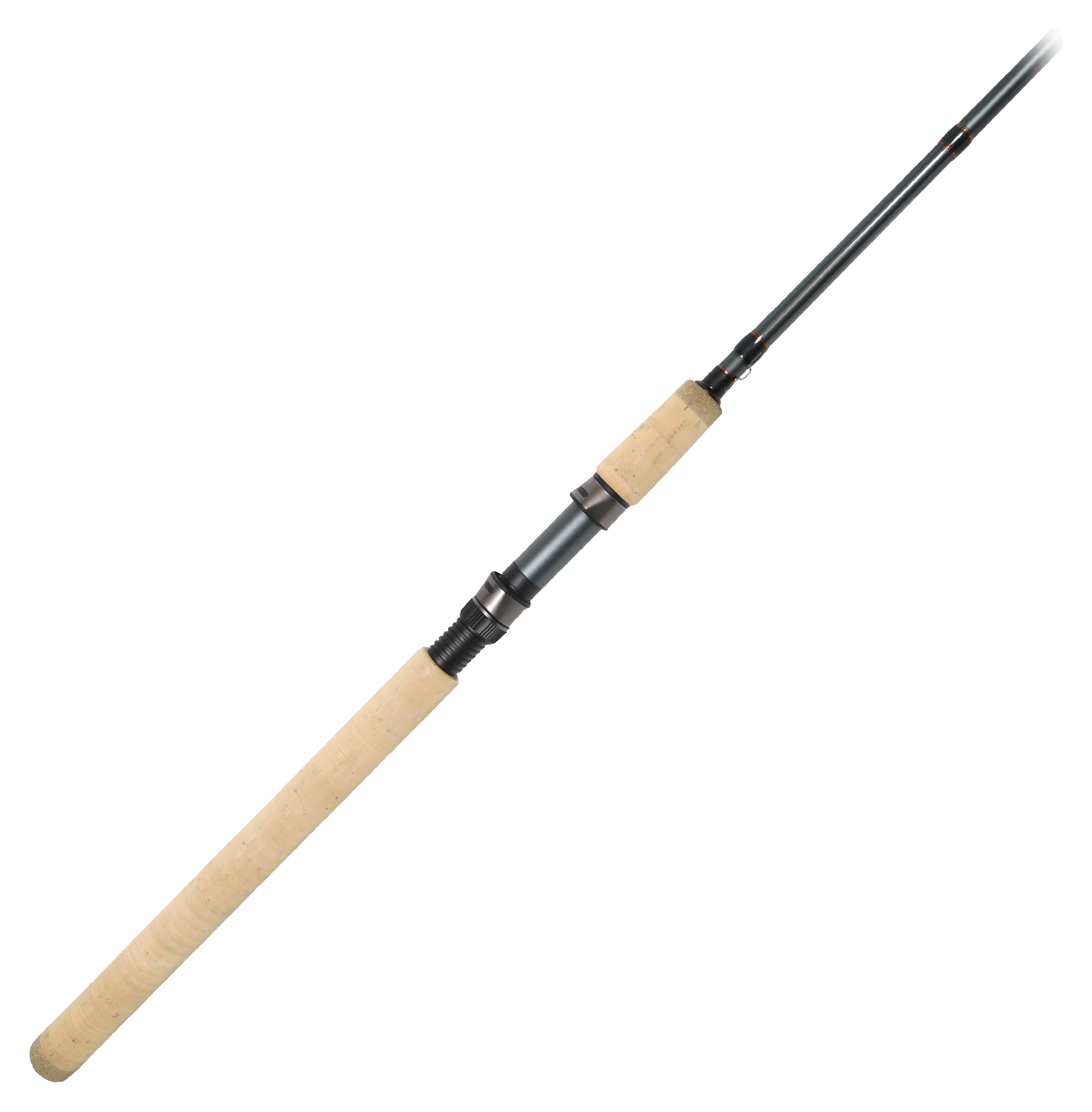 Okuma rods have come a long ways over the years and now offer fine quality for reasonable prices. Their SST salmon and steelhead spinning rod is a shining example of what they have to offer for light tackle surfperch fishing.
While other rods on this list might have slightly better build quality, you'll be hard pressed to find much to complain about. The Okuma SST rods are slightly stiffer than competing brands but they provide more than enough back bone to cast lead into the surf as well as sensitive tips to pick up on quick striking perch.
The extra stiffness of Okuma's IM8 graphite blanks tilts our choice to the medium light 9'6" SST-S-96 2ML. Although, you can't go wrong with the medium power SST-S-90 2M for a slightly more versatile 9' rod that can handle more casting weight.
Key features of the Okuma SST S-96 2ML:
Same 9'6" length as other surfperch rods
Medium light power (might feel more like a medium)
Moderate action provides a little more casting flex down the rod
6-12 pound test line
Up to 1/2 ounce weight (might handle more weight for shorter casts)
Stainless steel guides with zirconium inserts
2 piece rod
Decent quality cork
1 year warranty
The Okuma sits at a slightly lower price point than the previous rods on the list. Any surfperch angler will be happy to have an SST rod but choosing may come down personal preference.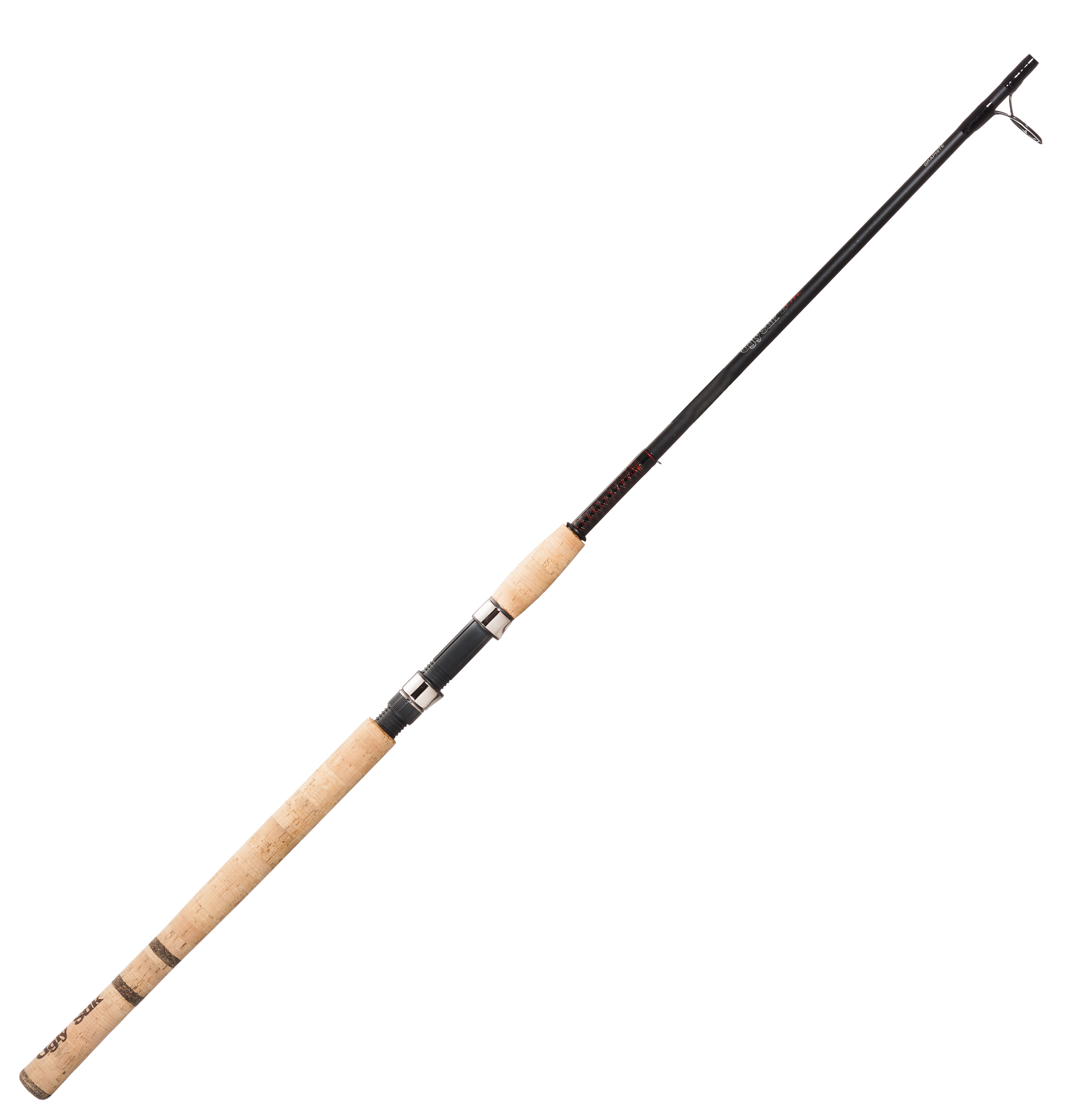 For most anglers, Shakespeare is pretty much a household name. Even though these are not the top of the line rods, Shakespeare Ugly Stiks are known for being unbreakable and affordable. As an added bonus, the Elite salmon and steelhead spinning rod is perfect for targeting surfperch on any budget.
When you need a rod that can handle the abuse of a sandy and salty environment, the Ugly Stik Elite P90 2M is a good choice. The 9' length is plenty for most low surf conditions and the medium power, moderate fast action gives the right balance of cast-ability and sensitivity.
Key feature of the Shakespeare Ugly Stik Elite P90 2M:
9'0" length gets your line off the water
Medium power sufficient to haul in big perch
Moderate fast action retains sensitivity and flexibility for casting
8-14 pound test
Up to 3/4 ounce weights (not recommended for more than rating)
Stainless steel guides with zirconium inserts
2 piece rod
Cork grip on par with other manufacturers
Clear fiberglass tip for added strength
As with other rods on our list, you can select from several power and action ratings to fit your style of surf fishing. The medium action rod suits our needs for light tackle setups. However, for other species or in rough surf areas where more weight is called for, take a look at the medium heavy Ugly Stik Elite P90 2MH.
At a price point below $70, it's hard to beat Shakespeare's Ugly Stik Elite salmon and steelhead rods for just about all surfperch fishing. It's called an Ugly Stik for a reason but it can fill your limit without emptying your wallet.
Best Rod Choices For Heavy Surf
Sometimes you just need more power and the Penn Prevail II can deliver. Whether you are targeting multi-species in the surf or you just need to cast more lead farther, a rod that can handle the challenge is a must.
The Penn Prevail II surf spinning rod is a top of the line performer without breaking the bank. Its durable construction can withstand the power of the ocean all while still feeling every nibble of a cruising surfperch.
The one piece stainless steel guides provide smooth casts and corrosion resistance. We also like the Diamond-X rubber wrap grip. It's comfortable yet long lasting in harsh elements and the extended length gives you leverage for bomber range casts.
You can tailor your rod selection to surfperch with the Penn Prevail II medium light 815 S90 rod. With a weight rating of up to 3 ounces, it can easily cast any setup for multi-species surf fishing.
Key features of the Penn Prevail II Surf Spinning 815 S90:
9'0" length with long handle for extra casting leverage
Medium light power can cast heavy weight and haul in large fish
Moderate fast action for sensitivity
8-15 pound test line
Cast up to 3 oz weight due to high strength graphite composite construction
Stainless steel guides
2 piece rod
EVA rudder shrink tube handle won't damage as easily as cork
For only $90, you can have a well rounded surf fishing machine that is plenty capable of catching surfperch, and more, on any beach.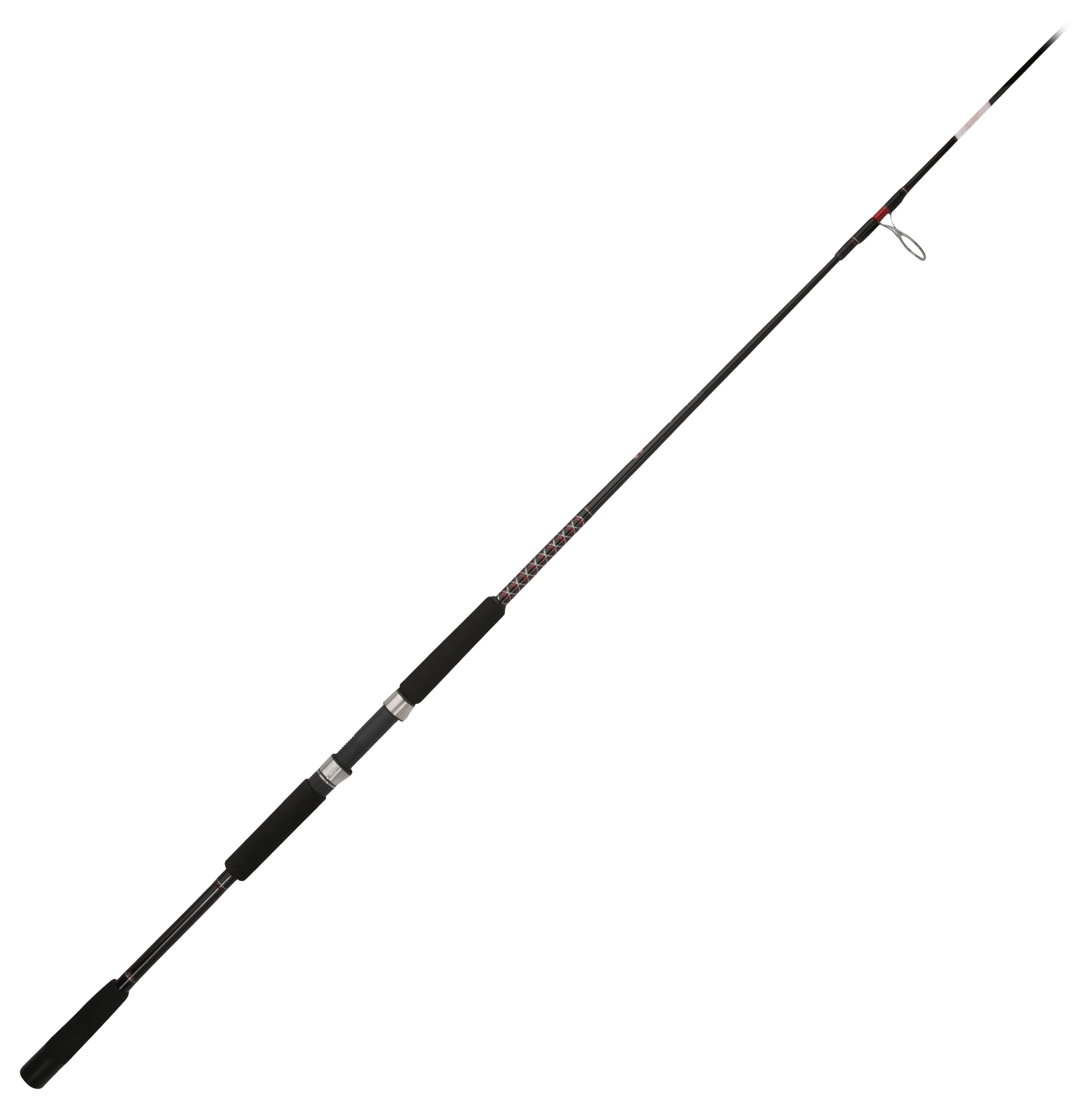 The Ugly Stik surf spinning rod is a workhorse for sure. It's not going to win any beauty contest but it sure will catch fish from a frothy surf. Shakespeare has you covered for all of your surf fishing desires and that includes surfperch addicts.
We think you'll find the 8' medium power 1025 S8 well suited for anything the Pacific may throw at you. Light tackle approaches may not pair well with this rod but for casting stouter chunks of lead up to 3 ounces, it does impress.
Key feature of the Shakespeare Ugly Stik Surf 1025 S8:
8' length is adequate for all situations
Medium power for fighting bigger fish
Moderate action (pair this rod with braid to boost sensitivity)
10-25 pound test line
Up to 3 ounces of weight may be used
Stainless steel guides
Durable EVA foam grips
2 piece rod
Coming in at only $60, this Ugly Stik is an eye catching bargain for any surf fishing enthusiast. It's not only a great starter rod for surfperch, it also performs well above its class. We think it's worth checking out.
Best Rod For Surf Fishing On A Budget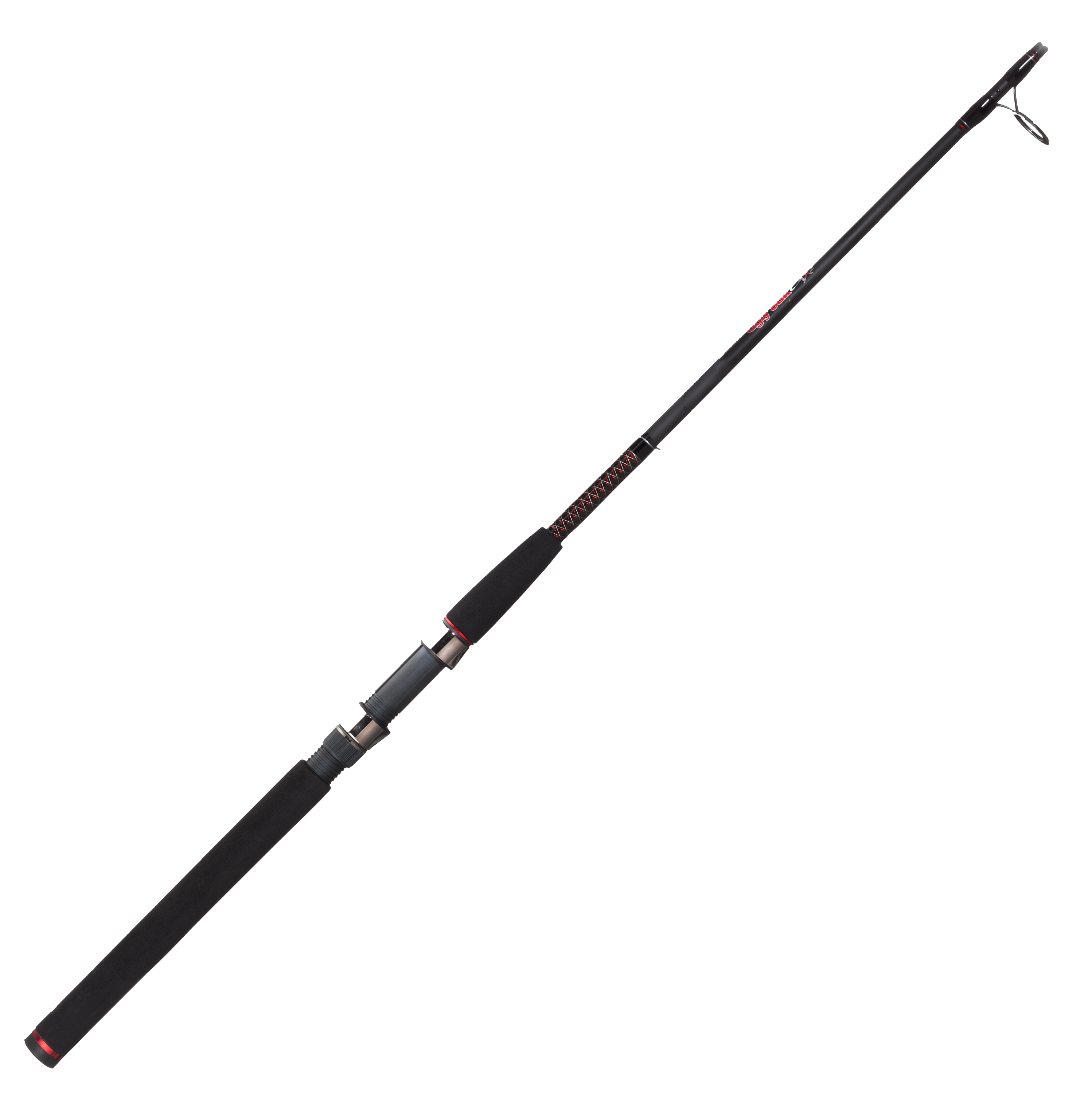 Yep, you read it right. The Shakespeare Ugly Stik makes the list once again. We aren't trying to be cheerleaders for these rods but few other rod makers supply the same options with acceptable levels of quality and affordability.
If you are a "once a year" surf fishing angler then spending over a $150 on a surfperch setup may not be reasonable. For the ultra budget conscious, the Shakespeare Ugly Stik GX2 9' spinning rod will do the trick.
Light tackle surfperch fishing with the GX2 P90 2M is affective and fun. It's every bit as sensitive as higher end rods and the 9' medium power backbone casts almost 1 ounce of lead even on flat beaches.
Key features of the Shakespeare Ugly Stik GX2 P90 2M:
9' length
Medium power (on the stiffer side for light tackle but still affective)
Fast action for an ultra sensitive feel
4-20 pound test line
Stainless steel guide inserts
2 piece rod
EVA foam handle with durable reel seat
There is always a lot of emphasis on quality when buying a fishing rod and Shakespeare Ugly Stiks are built to last. Shakespeare's "bulletproof" design ensures that you can use this rod in any condition and still catch fish year after year.
At only $40, it's a great rod for first time surfperch anglers and kids alike to learn how to fish the surf. Get it outfitted with a good reel, line and an assortment of tackle and you'll be money ahead.
Choosing the right rod for you
Whether you approve of our top rods for surfperch or not, you still need to know what makes a good surf fishing rod. Here are a couple considerations to help you decide what's right for you.
Tackle considerations
How you intend to fish for surfperch is the primary factor in choosing a rod. Light tackle Carolina rigs with bait or Berkley Gulp sandworms are our favorite. It requires no more than an ounce of lead to cast into the surf. Light surf conditions are ideal for this setup.
Take a look at this great video to see why we prefer light tackle tactics.
If instead you like the idea of blasting out heavy pyramid sinkers with multi-hook rigs then a heavier rod is needed. Either way, pick a rod that's at least 8' long to help keep your line off the waves. Otherwise, it's hard to feel the bites.
Be sure to check our in-depth article to learn everything you need to know about tackle, gear and bait for surfperch fishing. You'll find lots of useful tips that are sure to take your surfperch skills to the next level.
Casting distance
Most anglers new to surfperch fishing feel like they need to cast a nautical mile to reach the fish. That's just not true. Surfperch feed on organisms stirred up from the sand by crashing waves.
This means they are usually between the first and second breakers out from the beach. Therefore, the distance you need to cast depends on the steepness of the beach.
On flat beaches you may need to cast 20 to 50 yards and steep beaches may only need a 10 yard cast. Every rod on this list is capable of making a cast that reaches perch from just about any beach.
When the surf is really rough it takes more weight to keep your bait in the strike zone, so a heavier rod is necessary to cast 2 or 3 ounces of lead.
Pairing a rod with the right reel
Once you have the rod picked out it's time to choose the right reel for surf fishing.
Pacific ocean beaches are tough on equipment so a reel that functions after being dowsed in sand and saltwater is imperative. You should choose a reel that resists corrosion and has an indestructible drag system.
There are many choices on the market that are perfect for surfperch. Here are a couple of our favorites. You can learn more about them at BassPro Shops' website.
Remember, the size of your reel depends on the style of surf fishing you choose. Use lighter spinning reels for light tackle rigs.
Final thoughts
Hopefully with our help, you've developed your own opinion on the best rods for surfperch fishing. We made our selection based on our time spent in the surf. We feel confident that one of these rods is right for you.