When you are passionate about ice fishing, you'll brave frigid temperatures and blinding snow without complaint. But if there is one thing that annoys just about every ice angler, it's the constant battle to keep their ice fishing hole from freezing.
In sub-zero temperatures it's hard to beat the cold. However, keeping your tip-up spool from freezing solid or your jigging hole free from slush is a battle you can actually win.
Having your ice fishing hole freeze up a little doesn't seem like a big deal until it costs you a fish. So, to give you a fighting chance, we've compiled the 9 best tricks to keep your fishing hole ice free and ready for action.
1. Ice Skimmer
Sometimes the simplest solution is the best. Nothing beats an ice skimmer for the job of keeping your ice fishing hole from freezing. It's cheap, effective and perfect for just about every ice fishing situation. All it takes is a quick scoop in the hole and you're ready to go.
Whether you are hole hopping or sitting in an ice shack, an ice skimmer is a must have tool for any angler. For all but the coldest ice fishing trips, a skimmer is enough and it's cheap too.
Check out the Scheels Outfitters Chipper Skimmer for the only ice skimmer you'll ever need.  The 15 inch handle keeps your hands dry and includes stamped on measurements for gauging the thickness of early ice.
As great as skimmers are, it probably won't be sufficient enough for avid tip-up anglers. Especially, in northern areas where holes freeze up fast. Racing from one tip-up to another every 5 minutes to keep the hole clear is not practical, which brings us to trick number two.
2. Thermal Hole Cover
Nothing is more bothersome than a frozen hole when ice fishing with tip-ups. Luckily, the solution is simple. Get a thermal hole cover. These 3/4" thick, closed-cell foam covers slip under your conventional tip-ups. It's wide enough to cover a 10" hole and comes pre-slotted for easy removal.
The thermal cover keeps ice at bay for hours at a time, even when the wind is howling. ThermaSeat hole covers are some of the best and easily available at Amazon.
For a cheaper alternative, try making your own from an Ozark Trail Sleeping Pad. You can usually buy them at Walmart and there is enough space on the foam pad to make half a dozen.
You can also invest a little bit more for a tip-up with an integrated hole cover.  Few ice anglers argue that the HT Enterprise Polar Thermal Extreme Ice Tip-up, sold at Bass Pro Shops, is the best there is.  It can cover a 10 inch hole and works flawlessly on even the coldest days.
3. Ice Defense Pro
You've got to love technology and when it comes to ice fishing, a little tech never hurts.  Cold Nation's Ice Defense Pro Series Water Circulator (see it at BassPro Shops) offers a huge step up in keeping your ice fishing hole free of ice. 
The Ice Defense Pro is ideally suited for anglers deadsticking or jigging an active rod with the aid of sonar or flashers. This super simple device slowly circulates warmer water from below the surface up to the top using the power supply from your electronics.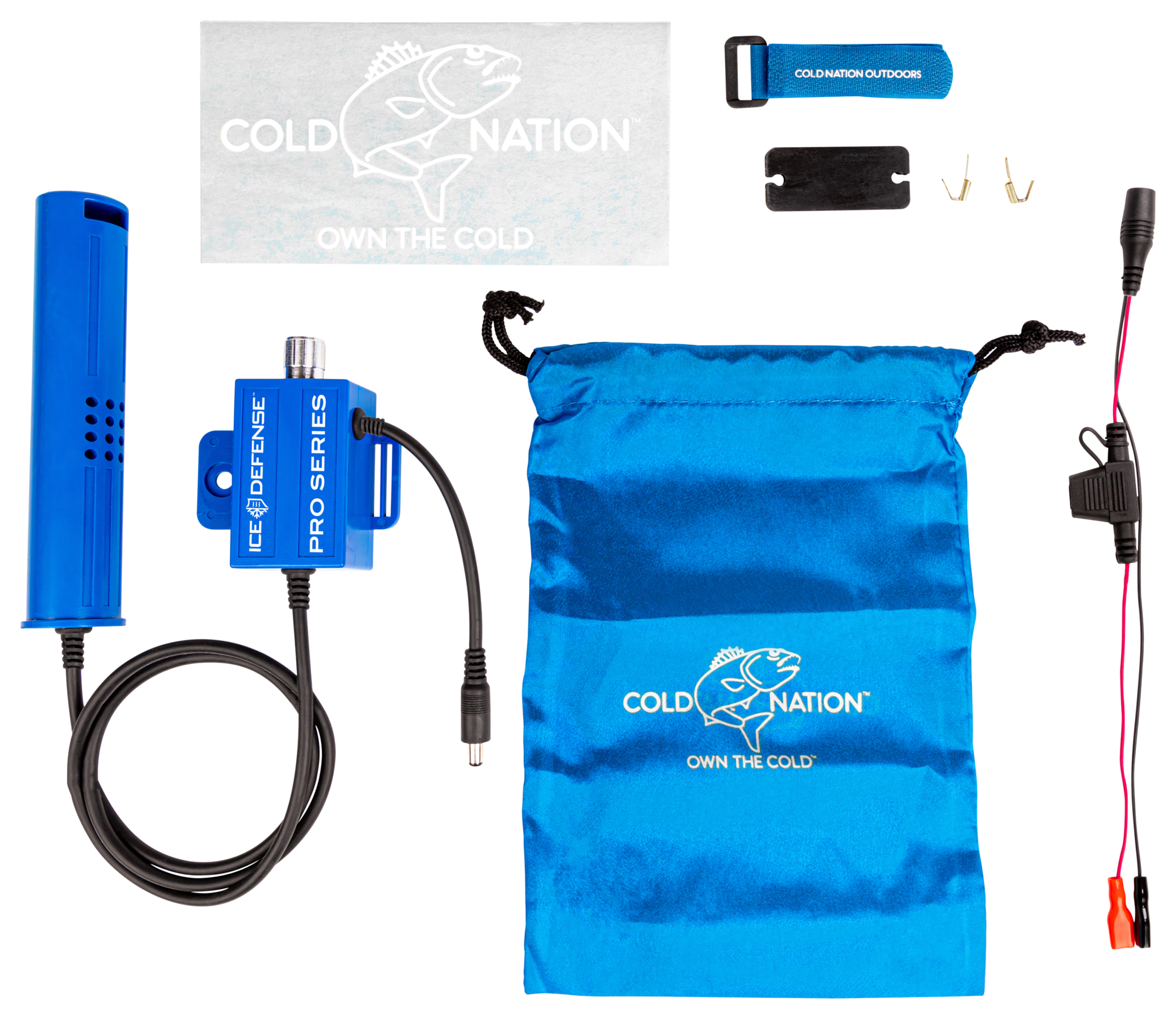 With the included power connection supplies, setup is super easy and you'll hardly notice any additional drain on your battery. While it's rated to prevent freezing down to -20°F, I'm not sure it will really keep up in negative double digit temperatures with severe wind. Then again, I probably wouldn't hold up long either without a shelter.
The best part of the Ice Defense Pro is how is couples nicely with your electronics. The pump hooks to your transducer line for tangle free hole hopping and all the wire connections stay tucked away. The price is a bit high compared to other options on this list but it just might be worth the money if your holes never freeze again.
4. Ice Shelters
The roughest ice fishing conditions call for ice shelters. When nothing I do keeps my ice fishing hole open then it's obviously time for the comforts of my insulated pop-up.
Today's ice shelters are even portable enough for anglers who like to run and gun from hole to hole. Clam and Otter make some of the best thermal ice shelters and they are a cinch to setup. Get yours for this ice fishing season at Bass Pro Shops.
Combine a good pop-up with a Buddy heater and you probably won't need to worry too much about your hole icing up. In fact, check out all of these safe heaters for your ice fishing shelter. For a little extra de-icing power, situate the heater close to the hole. Just be careful not to burn your line or BBQ your minnow.
5. Ripple Puck
Water in motion has a harder time freezing and that is exactly how the Ripple Puck works. It is a battery operated floating "puck" that vibrates just enough to keep the water in your ice fishing hole moving so it won't freeze.
This small device fits in the palm of your hand and uses 2 AAA batteries to operate. With a 10 hour run time it should last a full day of fishing without a problem. Simply drill your hole, drop in the puck and start fishing. Most anglers agree that an ice fishing hole free of ice is worth the cost of a few batteries.
You can find the Lakco Ripple Puck on Amazon. We don't recommend using one when you're fishing in ultra shallow water because the movement may startle finicky fish. For all other depths it works great.
6. Coal Can Magic
Even amongst all the new technologies, you'll still find plenty of use for old school solutions. The coffee can heater is still as popular as ever for keeping an ice fishing hole free of ice.
It's nothing more than a tin coffee can with a few rocks in the bottom topped with a handful of charcoal briquettes. All you need to do is drill a partial hole a few inches from your fishing hole. Then, chisel a small channel connecting them and place your coal can in the shallow hole.
The hot coals melt the surrounding ice and slush and circulates warm water towards your fishing hole through the channel that connects them. It lasts all day if you add an occasional briquette. Plus, it doubles as a hand warmer.
Some ingenious anglers take it a step further and make "spitters" that work much like a coffee percolator. Using 8-10 coils of copper tubing in the can with the end siphoning water from the hole, the heat pulls cold water up through the coils and spits it out the spout into your ice hole.
It's not the best way for mobile anglers to keep an ice fishing hole open though. You can make a smaller version from a large soup can as well. Be aware that you should never use a coal can heater inside your ice shelter.
7. Tip-up Hot Box
This next trick is for the most hardcore ice anglers among us. These people brave the coldest temperatures in the heart of the ice belt and they are serious about their tip-ups.
Insulated tip-ups work great most of the time but a tip-up hot box is the ultimate weapon against frozen ice fishing holes. The Hot Box by JT Outdoors or the Bite Me Box Tipups are rated to handle extreme cold for hours just using a few charcoal briquettes.
The Bite Me Box has a slick integrated line spool, coal can and is easily paired with a Blue Tipz Bluetooth strike indicator. If it's within your budget, be sure to check out their company websites.
8. Boil Water
A nifty trick I learned from an avid ice angler is to keep a bit of water boiling on a propane heater. Every once in a while pour a bit of boiling water in the hole and you are ice free for another 15 to 30 minutes. Just take a scoop from the hole when you need some more water to boil.
Many heaters like the new Buddy Flex or the Tank Top Heater Cooker Combo by Mr. Heater give you warmth while keeping hot water handy.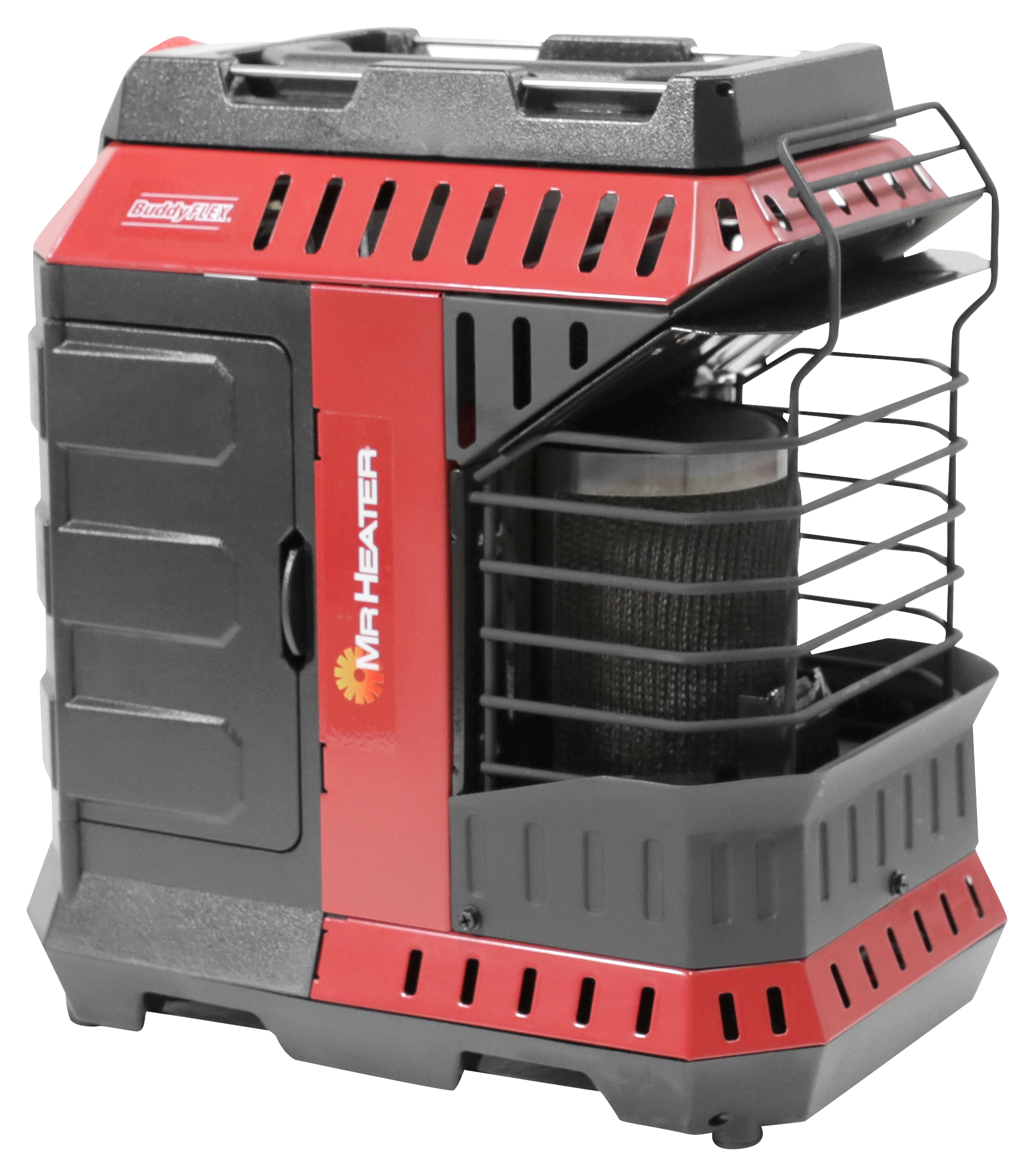 Don't like the idea of knocking over a scalding pot of water in your shack? Then securely store some boiling water in a thermos. It will keep hot all day and a splash every once in awhile into the ice hole will greatly reduce freeze ups.
9. Catch More Fish!
Go ahead and role your eyes but this is more than just tongue-in-cheek. If your ice fishing hole is freezing solid from a lack of use, as in you haven't had a bite all day, then take it as a hint to move spots.
Now I'm not saying everyday on the ice is going to be non-stop action. Just that there's no point fussing over a hole that keeps freezing if fish aren't getting yanked up through it. Make sure the odds of success are worth the effort to keep the hole clear of ice. If not, spend your time locating more fish.
Not only will the occasional splash of a tail fin stop an ice fishing hole from freezing, the thrill alone of catching the next trophy should keep you warm too.
Want to get the most out of your ice fishing season? Check out our Washington State Ice Fishing Secrets ebook. Our book highlights the 10 best lakes for ice fishing in Washington State with actual coordinates to some of our most productive holes. Plus, we thoroughly cover everything from gear selection, tactics and travel planning. To top it off, you also get information on 41 other lakes with superb ice fishing! Check it out before ice fishing season passes you by!