Anglers around the world are practicing catch-and-release fishing more than ever before. With an eye towards conservation and ethical fishing habits, taking care of the fish we catch means better fishing opportunities for everyone.
Nets have come a long ways since I scooped up my first trout. That nylon net did the trick but it left my fish in no condition to be released (not that I planned to anyway). I eventually graduated to knotless mesh nets which helped reduce harm to fish and made releasing fish less traumatic.
It wasn't long before rubber nets became available. I was skeptical at first, especially about the claim of being snag free but I decide to try one out. I'm glad I did.
So, are rubber nets better for fish? Yes. Rubber nets are better for fishing and greatly reduce harm to fish. Unlike nylon nets with knots, rubber nets won't remove scales or the protective slime coating on fish, making them ideal for catch-and-release fishing. As an added bonus, it's almost impossible to get your hook and tackle tangled in a rubber net.
Even if you like keeping some of the fish you catch, there are a few good reasons to consider using a rubber net. Are you looking to upgrade your net this season? Then read on to see why we really like using rubber nets and what ones we recommend.
Nylon vs. Knotless vs. Rubber
There's a lot to love about using a rubber net but let's take a look at the pros and cons of the three main types of net material readily available at most tackle stores.
Nylon
These nets are the classic design used by catch-and-keep anglers across the country, especially for stocked trout. They are cheap and readily available at big box stores like Walmart.
Pros
Inexpensive
Great for fish you plan on keeping
Readily available at most stores that sell fishing equipment
Come in a wide variety of sizes and handle lengths
Cons
The knotted nylon is harmful to fish (not for catch-and-release)
Tangles and snags hooks easily
Not very durable (UV and temperature sensitive)
Knotless Mesh
Knotless mesh is still one of the most popular net types among many anglers. It is a fantastic catch-and-release net material and several manufacturers offer a wide variety of loop and basket sizes, perfect for all species.
Pros
Gentle on fish for catch-and-release fishing
Light weight
Available in the most sizes of all three types of nets on this list
Some have painted rulers on the inside mesh that allows for quick and easy measuring
Cons
More expensive than nylon nets
Mesh material holds fish odors
Generally not snag free unless it is PVC coated
No stretch
Rubber
By far, the most gentle and snag-free nets available. Rubber nets have fast become a favorite among anglers looking for a trouble-free net. Everything from small trout nets to giant muskie nets are available.
Pros
Gentle on fish for catch-and-release fishing
Odor free (fish scent washes off easily)
Completely snag and tangle free
Decent selection of sizes for any type of fish
Durable stretchy rubber material lasts many years
Cons
Heavier and stiffer than other types of nets
More expensive than other styles of nets
Will rubber nets work on big fish
Rubber nets come in a variety of sizes. Ranging from compact nets for fly anglers to giant hoop nets for pike and muskie, rubber nets are plenty capable of landing big fish.
The first thing to consider when picking the right size net is to think about the species of fish you catch the most. You also need to factor in how much space you have in the boat.
My advice is to get the largest net that you're comfortable with using in most situations. Remember, you can always land small fish in a big net but you can't land big fish in a tiny net.
One of the benefits of a rubber net is that they stretch with weight inside. So a net may look too small for a fish but it will stretch once you land it.
Keep in mind that if your focus is catch-and-release fishing, you also need a net large enough so that the bag hangs in the water when the handle sits across the gunnel of the boat. That way you don't have to drag the fish into the boat and cause unnecessary harm.
Are rubber nets actually snag free
I know that handling fish with care is important, but I honestly was more excited about switching to a rubber net because they are snag free. Unless you really try to tangle your gear in the net, hooks pop right out without catching on the rubber.
This is really helpful when the hook pops out of their mouth while thrashing in the net. You can quickly get the hook out of the way without worrying about it getting buried in the net, snagging the fish or your hand.
Snag free also means that it won't snag on the fish. Toothy fish tend to catch on mesh or nylon nets which makes releasing a fish without harm all the more difficult. This is a problem of the past with rubber nets.
Best rubber nets on the market for 2022
Now that you're ready for a new rubber landing net, take a look at the best nets available in 2022.
Ego definitely offers the widest selection of rubber nets and they hit the mark with their compact landing net. Perfect for boat and kayak anglers when space is at a premium. The super soft handle extends from 18 inches to 36 inches with the push of a button. Larger versions are available for those of you fishing from bigger boats and need the extra reach.
Key Features
Handle extends from 18 inches to 36 inches
15 inch bag depth
17 inch X 19 inch medium hoop
Tangle free clear rubber mesh
Soft grip for control and comfort
Flat bottom bag for gentle handling of fish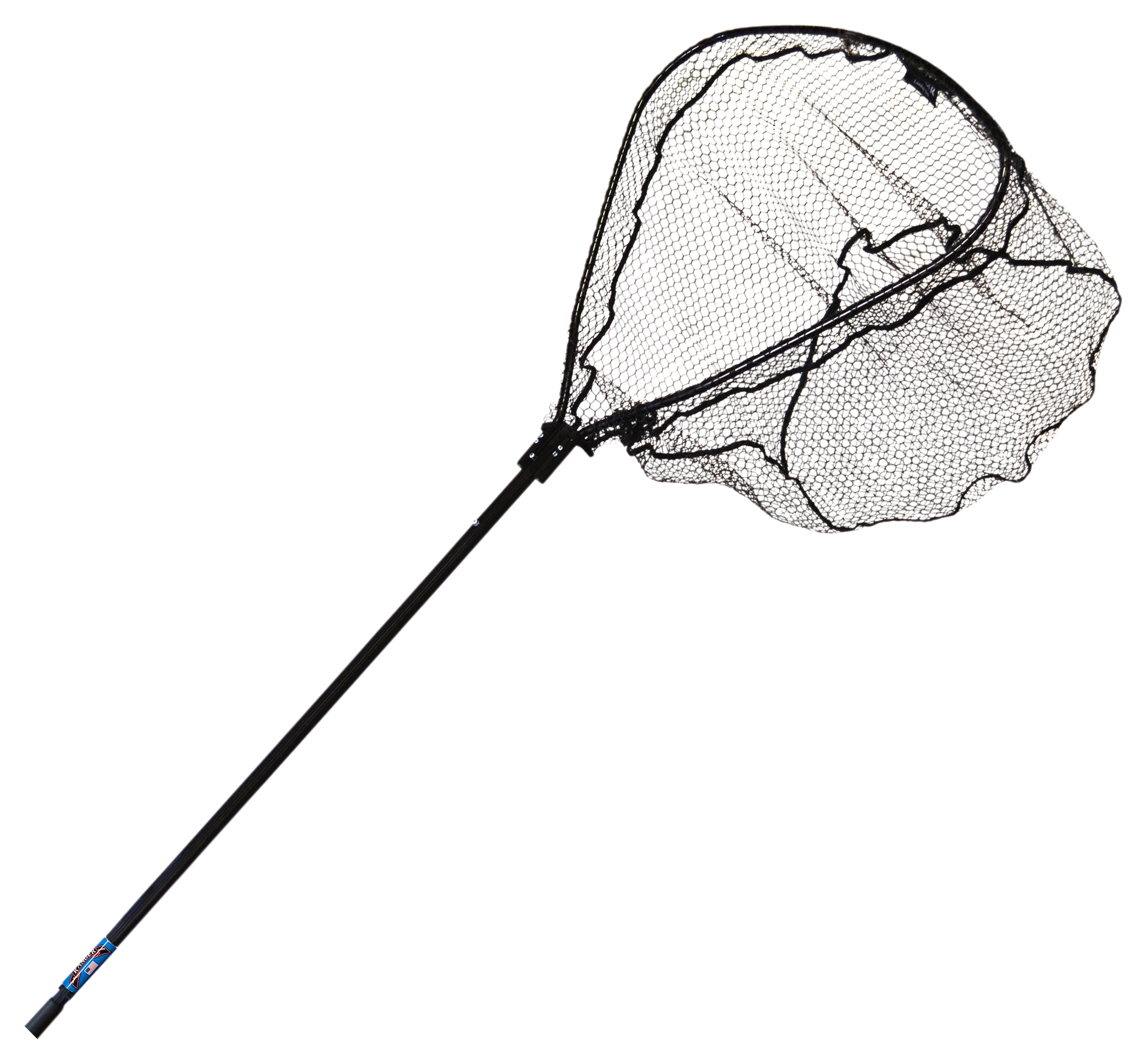 For an all around awesome net, look no further than Ranger Big Game Landing Net.  This light weight net features corrosion resistant anodized-aluminum for fresh or saltwater use.  Built with heavy duty hoops, this net can handle just about any fish you can get to the boat.  The handle is collapsible on some models and extends or retracts with a self-aligning push button for easy use.
Key Features
Tangle-free rubber net
Telescoping handle (not all models)
Durable aluminum build
28 inch X 30 inch hoop size for fish of all sizes
Reinforced hoop for handling big game fish
When all you need is a reliable net for a modest price, Ranger Products has you covered. The simple design boasts a sturdy, 1 inch diamond embossed aluminum handle and 1/2 inch thick hoop that can handle just about any freshwater game fish. Great for kayak fishing or use in smaller boats.
Key Features
36 inch sturdy handle
Strong tangle free rubber bag
22 inch X 20 inch hoop size
It's tough to beat the affordability of the Wakeman collapsible rubber landing net. This rubber net has the same tangle free and fish-safe rubber netting of more expensive nets. The 35 inch collapsable handle extends to give the net a 56 inch overall length which is perfect for most situations. This is not the most durable net on the list but it does the job.
Key Features
Retractable 35 inch aluminum handle
Wide flat bottom rubber basket
20 inch net width with a net depth of 17 inches
Most affordable
Final thoughts
Hooking a fish is only half the battle. The fight isn't over until the fish is in the net. Landing a fish requires a quality net designed to suit your needs. When the action is hot, don't waste time hassling with hooks tangled in a mesh or nylon net. Make the switch to rubber nets and you'll spend more time fishing. The fish will thank you too, since nothing beats the gentleness of rubber on fish scales.