You can't go ice fishing without first drilling a hole in the ice. All the different ice augers on the market give anglers plenty to choose from. Yet, how do you know which one is right for your situation and fishing style?
Selecting the best ice auger means knowing what you need. Not only will we discuss the best ice augers on the market today, we'll also go over the comparative advantages of hand, electric and gas powered augers. This way you can make an informed decision for which ice auger is right for you.
Hand Powered Ice Augers
The simplest and most budget friendly way to get through the ice is using a bit of muscle and a hand powered auger. Anytime I am testing out a new ice fishing spot, the hand auger comes along. They drill fast and stay sharp but are they right for you? Let's take a look.
Who should use manual
Hand powered is certainly not for everyone. So, who will this style of auger work best for? It is a great option for those just learning to ice fish. At less than $50 for basic models, it is the most cost effective way to get started. You won't be out much cash if you later decide sitting on the middle of a frozen lake isn't your thing.
It is also great for anglers that only make a few trips to the ice each season. Drilling a couple dozen holes in 8 to 10 inches of ice isn't too big of a deal. A hand auger will excel at this style of ice fishing.
That's not to say you can't manually drill through thick ice. All that separates you from the water below is a bit of work. I have seen head-to-head competitions of hand augers vs. gas augers on thick ice. Let's just say that a sharp hand auger is a force to be reckoned with.
Who should avoid manual
A hand powered auger will work for many anglers in a variety of situations, but for some it just doesn't make the cut.
Anyone fishing where the ice is thicker than 18 inches should think twice before buying a manual auger. Cranking the handle for more than a minute gets exhausting. Not to mention, sweating while on the ice will chill you to the bones.
It's not just thick ice that makes hand drilling difficult. Hand augers are best suited for holes 8 inches or less in diameter. Some anglers prefer fishing through larger holes and the larger the hole, the harder it is to drill by hand. If you need 10 to 12 inch holes, consider an electric or gas powered auger.
Best Manual Ice Augers
This auger is hard to beat for anglers needing a fast cutting, primary or backup, auger. Insanely sharp blades tip this auger and it really does cut like a hot knife through butter. It is a solid starter option but the blades seem to dull fast. The Swedish replacements are better quality but the extra cost is hard to swallow.
Features:
Cushioned handles
Adjustable length from 48-57 inches
Available in 4 to 8 inch models
8 inch auger weighs only 8.5 pounds
Replaceable stainless steel blades and blade cover included
Disassembles into two pieces for easy transport
Pros: A fast, lightweight and affordable auger right out of the box. It definitely cuts with less effort than other budget hand augers.
Cons: The stock blades dull easily. The replacement blades are a little pricy but they are top notch in quality.
You won't find a more budget friendly auger than an Eskimo. The low price and great quality make it an easy choice for first time ice anglers. There's nothing fancy about it. It cuts smoothly through early season ice and can serve as a backup to electric or gas augers.
Features:
Handle and pommel knob for easy drilling
Adjustable length from 49-58 inches
6, 7 and 8 inch models available
8 inch model weighs only 7.5 pounds
Replaceable straight edge, stainless steel blades
Cross-bolt takedown system for easy disassembly
Blade protector included
Pros: You simply can't beat the price for the quality. The Eskimo chews up ice fast and is the best option for packing light on remote trips.
Cons: The bolt holding the handle to the bit tends to work itself loose while drilling. Keep an eye on it so your auger doesn't fall into the abyss.
Electric Powered Ice Augers
There is a lot to love about the new generation of electric ice augers. They are light weight, powerful and just plain awesome. The recent improvements of lithium battery technology really boosted the usefulness of electric ice augers. A single charge can drill more holes than ever before. Now, let's see if it's right for you.
Who should use electric
When you are drilling lots of holes in deep ice (12 inches or more), then electric or gas is the way to go. If you also don't like the idea of listening to the earsplitting whine of a two-stroke gas auger all day, then the quiet electric motor is an added bonus.
Another benefit of the electric auger is portability. Most weigh under 30 pounds which is great for on-the-go anglers who walk to remote locations or drill many test holes to find fish.
Don't forget about exhaust. Not everyone appreciates the smoky plumes of gas powered augers. This is especially true if you are drilling inside an ice shanty. It doesn't get much cleaner than electric.
An often overlooked benefit of electric ice augers is the ability to put it in an enclosed vehicle without breathing fumes from the fuel. It can get really messy to throw a gas powered auger in the trunk of a car, not to mention unsafe.
Who should avoid electric
Electric augers should work for most anglers but they do have their fair share of faults. Ice fishing, by nature, is a cold sport. Battery performance suffers greatly if it's not kept relatively warm before use. For anglers in the extreme northern latitudes, sub-zero temperatures could lessen the longevity of the battery.
It's not as bad as it sounds though. Keep the battery in your pocket or near a heater and it should perform just fine.
Electric augers are also not for you if cost is a priority. Electric is going to cost 3 times more than most manual augers and just as much, if not more, than gas powered.
Best Electric Ice Augers
Ion augers are at the top of the game when it comes to drilling holes. The fast, quiet and clean power obliterates the ice all day long. The 5 amp battery is rated for drilling a whopping 1600 inches of ice on a single charge. However, all this performance comes with a higher cost than other auger options. The steep price tag aside, most anglers who have used one say it's worth every penny.
Features:
Ergonomic handle with easy push button operation
Reverse flushing clears out hole
34 inch length increases to 46 inches with include extension
8 inch model weighs 22 pounds
Battery charger included
Sharp precision cutting blades
LED hole light for operation in the dark
6, 8 and 10 inch models available
Pros: Super long battery life lets the average angler drill all week. Perfect for tight spaces like an ice shelter. Cuts through ice faster than almost any auger on this list and it is incredibly light weight for a powered auger.
Cons: Using this auger in the coldest environments can drain some battery life. Keep it in a pocket or near a heater to avoid this issue. Ion augers are a bit pricey for most consumers. Gas is still cheaper if you don't mind the noise and mess of gas.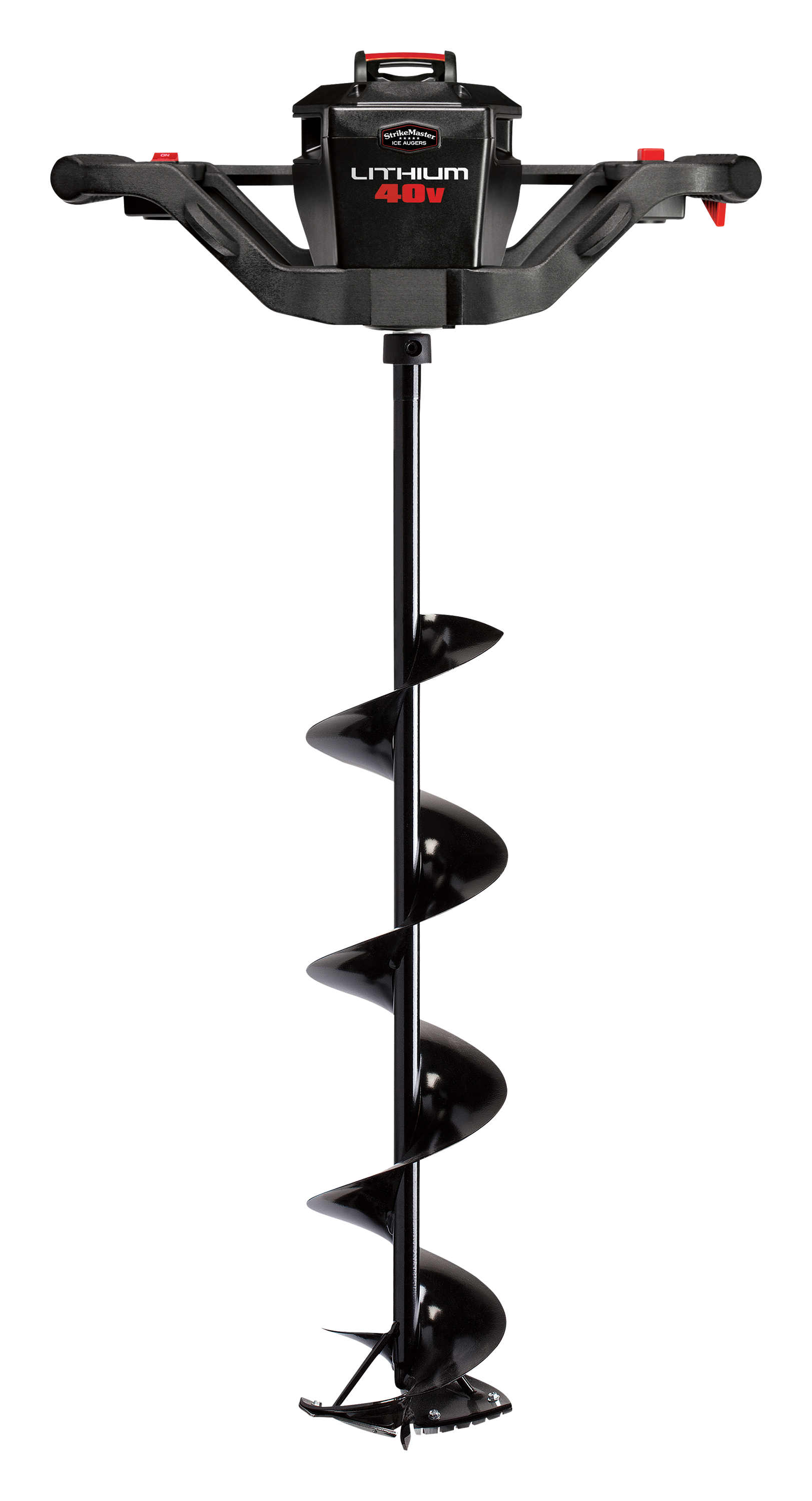 While Ion might be considered the Cadillac of ice augers, Strikemaster is fast becoming a favorite on the ice. Strikemaster lithium ice augers separate themselves from the pack with a versatile line up sure to appease any avid hardwater angler. You, of course, can get the big 40V powerhouse that melts 10 inch holes through thick ice like butter. However, you can now scale down to the 24V Strikemaster auger designed for hole hopping anglers who prize mobility over power. And the 8 inch 24V lithium ion Strikemaster is no slouch, drilling up to 50 holes in 16 inches of ice on a single charge. Need more holes? Its 40V big brother punches an incredible 115 holes through 16 inches of ice.
Don't miss our full on-the-ice review of the 24V Strikemaster!
Features:
Ergonomic handle with easy push button operation and deadman's switch
Speedy reverse flushing
Proprietary Lite-Flite resin molded bit
24V, 8 inch model comes in at a scant 14.3 pounds
Battery charger included
Twin serrated steel blades with power point for precise drilling
LED hole light for operation in the dark
8 and 10 inch models available in 40V and 6 or 8 inch available in 24V
Pros
Among the lightest powered augers on the market. Plus, it has all the bells and whistles you want in a premium piece of fishing equipment. Having the choice between a superbly mobile 24V auger or a 40V beast is a big bonus. Highly attractive option at a competitive price too.
Cons
Like all lithium ion augers, battery life takes a hit in extreme cold. Remedy this by keeping your battery warm. Not as smooth as ION augers but plenty fast none the less. Resin molded flights might not be as durable as steel flights.
Like the idea of electric but not willing to pay the premium price? Enter the RAZR. At over $100 less and with more power and longer lasting batteries, it is a true contender to the ION. The 7 amp, 40 volt battery is rated to drill through over 1700 inches of ice. With many of the same features, it's no wonder RAZR is climbing its way to the top of the list.
Features:
Ergonomic handle with easy trigger
Reverse flushing for fast clean out
40 inch bit, no extension needed
Sharp, long lasting blades
Rapid charger station charges battery in 2 hours
8 inch model weight 28 pounds
Push button LED hole light
6, 8 and 10 inch models available
Pros: Great performance in an affordable package. Drills through over 3 feet of ice without the need of an extender and even has reverse for flushing the hole.
Cons: The RAZR is a bit heavy at 28 pounds, making it comparable to gas powered augers. The build quality and aesthetics is also lacking compared to the ION augers but that does not impact its functionality.
Gas/Propane Powered Ice Augers
Gas powered ice augers have been the work horses of ice anglers for years. Electric and manual augers have their place, but gas is still in the running as the best tool for the job.
Who should use gas
When the ice is super thick and you're on the hunt for trophy fish. Thirty plus inches of ice with a manual auger? Forget about it. Electric augers hold their own, but only gas has the power and stamina to keep going all day.
It also takes gas augers to dig deep and wide holes. 10 to 12 inch holes require some muscle and torque. Electric augers are getting better, but wide holes really drain the juice. If you need 10 inch holes to pull up fat lake trout, consider gas for getting the job done.
If a two-stroke auger doesn't strike your fancy, there are also four-stroke and propane versions as well. The four-strokes burn cleaner, quieter and drill just as fast. Although, they will cost a bit more than two-stroke models.
Propane has the added advantage of easy ignition and cleaner operation with less maintenance. The quiet operation of propane has made it a real contender on the ice, but it comes with a higher price tag.
Who should avoid gas
There are some draw backs to having the power of gas. Just like any gas operated motor, it requires regular maintenance to function reliably year after year. Propane gas versions definitely need the least amount of maintenance, but it still must be done. If small motor maintenance gives you the shivers, think about using electric.
A lot of anglers drive cars or SUV's to go fishing. Throwing a gas auger with extra fuel and oil in the trunk or back seat of a vehicle is not the best idea. Gas fumes in an enclosed vehicle are not healthy or safe. To make matters worse, you will probably also have the heater on. Still want a gas powered ice auger? Propane is the cleanest fuel and is fume free for transporting in any vehicle.
Gas augers all cost a pretty penny. Unless you're serious about ice fishing, save your money and get a manual auger. However, two-stroke augers are among the most affordable options for powered ice augers.
Best Gas/Propane Ice Augers
The tried and true workhorse of the ice is the gas auger. It is affordable and powerful enough for any ice all day long. If you want the power and don't mind the maintenance and noise, gas powered is a no brainer. The modern two-strokes start reliably in the cold and last a lifetime. The Eskimo ice augers will be drilling holes for generations to come.
Features:
Foam cover handles for vibration reduction
Quick response starting with prime button
42 inch auger length
8 inch model weighs only 28 pounds
Centering ring and blade protector for extend blade life
See-through gas tank for easy level detection
8 inch model has 33cc Viper 2-cycle engine
10 inch model has 43cc Viper 2-cycle engine
5 year warranty
Pros: More affordable than premium electric augers with the same power capabilities. A single tank of gas can drill dozens of holes in thick ice before needing a refill. Excellent durability for a lifetime of drilling through ice.
Cons: High maintenance gas motors require regular care. Gasoline, oil and grease make for messy transport and storage. Not ideal for drilling inside ice shelters. The vibration on the Eskimo's 33cc engine gets tiring after a full day of fishing.
The clean burning, 4-cyle, propane engine is a step up from the Eskimo Quantum series of gas augers. For the die-hard fan of gas augers, this is the perfect blend of ice demolishing power with a clean burn. Not to mention, no more messing with gas and oil. The Eskimo propane motor requires less maintenance and is safe to transport in enclosed vehicles.
Features:
Foam covered handles to reduce felt vibration
42 inch auger comes in 8 or 10 inch diameters
Easy prime with a flip of a switch
Blade protector included
Centering ring for accurate cuts
40cc high compression engine run on 1 pound propane canisters
10 inch model weighs 28 pounds
5 year warranty
Pros: Plenty of power in a cleaner, quieter package. Low exhaust fumes means it is safe for using in an ice shelter but hearing protection is still recommended. Incredibly easy to maintain and keep clean. Eskimo augers use 1 pound propane canisters that are readily available and easy to bring along for all day use. One tank is said to last over 150 holes in 12 inches of ice.
Cons: Slightly more expensive than standard gas augers and a bit heavy once you step up to the 10 inch auger.
Important Ice Auger Considerations
What size ice fishing hole is best
There is plenty of debate about the best size hole for ice fishing. The answer depends on what you need for your situation and the type of fish you are after. In general, an 8 inch hole is sufficient for the majority of ice fishing.
An 8 inch or smaller hole can be drilled with manual and electric augers without problems. It is also plenty wide for most fish to get pulled through. If you need a 10 to 12 inch hole, think about getting a gas powered auger.
Want a definitive answer on the best hole size for ice fishing? Take a look at another ice fishing article of mine that goes over everything you need to know about hole sizes.
How thick is the ice
Ice thickness is probably the most important consideration when drilling holes. As a rule of thumb, ice less than 18 inches thick can be drilled by a manual auger. More than 18 inches of ice is better suited for electric or gas.
How heavy are ice augers
You are going to be hauling around plenty of gear while ice fishing. Try to lessen the burden by buying the lightest auger that works for you.
Hand powered augers are the lightest with an average weight of 7-8 pounds. Some of the lightest electric augers come in at 21 pounds and gas augers weigh about 30 pounds.
Blade replacement and sharpening
Like any cutting tool, ice augers perform best with razor sharp edges. Your auger should be an efficient ice cutting machine so take the time to inspect the blades and sharpen them periodically.
You can also purchase replacement blades or send them back to the manufacturer for sharpening but that gets expensive fast. Sharpening is a simple process and requires nothing more than a sharpening stone and some time.
To get the longest life out of your blades, follow these tips:
Avoid drilling through dirty ice. Sand and soil trapped in the ice can cause a lot of dings and nicks to a blade. If the ice is dirty, move to a new location before drilling.
Don't bang the auger. Sometimes it is tempting to bang the auger down as you drill. It may seem like chipping at the ice speeds things up but the few seconds you gain is not worth damaging the blade.
Keep your blades dry. Most auger blades are stainless steel but if you allow them to stay wet, they eventually rust. Rust and corrosion are a sure fire way to slow you down on your next ice fishing outing.
Use a blade cover when not in use. A blade cover not only protects you from the sharp blades, it also protects the blade from abuse. Most blade damage happens while in storage or transport. Keep the cover on to stop unintentional damage.
Want to get the most out of your ice fishing season? Check out our Washington State Ice Fishing Secrets ebook. Our book highlights the 10 best lakes for ice fishing in Washington State with actual coordinates to some of our most productive holes. Plus, we thoroughly cover everything from gear selection, tactics and travel planning. To top it off, you also get information on 41 other lakes with superb ice fishing! Check it out before ice fishing season passes you by!