Of all the gadgets that revolutionized modern ice fishing, none have given anglers the edge like electronics. Flashers and fish finders have helped anglers of all skill levels consistently catch more fish.
However, just like everything else, the market is flooded with numerous models of ice fishing fish finders. This makes picking the right one confusing. If you can read through the chatter and ignore the spam reviews and bogus buyer guides, choosing the best ice fishing electronics does not need to be hard.
One of the most difficult decisions is whether you need a flasher or a fish finder for ice fishing. I had to make this hard choice myself and luckily, I've already done all the research and leg work so now you don't have to.
Here is all the information you'll need to make a full comparison between flashers and fish finders. Now, you can make an educated and informed decision and select the best electronics for your style of ice fishing.
What is the difference
Whether you use a fish finder or a flasher, the goal is the same. They both show you the depth, the presence or absence of fish and how fish respond to your lure. Plus, they both offer real time sonar (RTS) that lets you know what is happening at every moment under the ice.
So, what is the difference?
Display
Obviously, the display is the biggest difference and it really comes down to your preference.
Flashers have a simplified dial with multicolored lights that represent everything the sonar detects below you including the bottom, the presence of fish and the movement of your lure.
Die-hard flasher fans generally like the display on flashers because they can be fine tuned to show you every detail. Everything from the size of fish to the way they look at the lure can be seen with a flasher. Use the zoom feature to see it all happen, even within inches of the bottom.
Most anglers need a bit of practice to interpret a flasher dial. They are not as intuitive, especially since the water column is represented in a circle instead of a vertical display.
Fish finder graphs have the advantage of being easier to understand. If you've ever used a fish finder on open water, you have one less feature to learn.
The display on most new fish finders have an RTS window to the right of a scrolling chart that shows a history of what happened moments ago. This is particularly nice if you look away for a second as a fish swims through the sonar cone. You might miss it on a flasher but the scrolling history records it.
For the fish finders without an RTS window, detecting and tracking fish movement is tricky since there is a significant delay from the time something happens to when it records on the sonar graph.
Both types of electronics have incredible detail and separation. Both are relatively easy to interpret with some practice. The flasher does have an edge when it comes to real-time information but fish finders have come a long ways in catering to ice anglers.
Battery life compared
One of the primary disadvantages when using a fish finder for ice fishing is the poor battery life. The bright LCD screens suck up a lot of juice and battery life suffers. You can always turn down the brightness of the display but then it gets difficult to see on bright days.
Depending on the model and the battery size, you can expect anywhere from 4 to 12 hours of use on one charge. That is a best case scenario. If GPS is enabled or the temperature is extremely low, you'll be hard pressed to make it through the morning bite.
Flashers, on the other hand, have simple displays that only sip at the battery supply. With a flasher, you can fish all weekend without worrying about recharging. Most units last 18 hours or more on a full charge.
GPS and mapping
Ice fishing is all about finding the right spots where fish are in the highest concentration. Fish finders with built in mapping and GPS make this so much easier. Most modern fish finders have base maps for lakes along with detailed contour maps. All you need to do is use the built in GPS and maps to position your holes over submerged points, humps or reefs.
With flashers, finding new hot spots under the ice is going to require a bit more planning and maybe the aid of a handheld GPS.
Multi-season use
Another benefit of using a fish finder compared to a flasher is its usability during open water season. Humminbird and Lowrance both make multi-season fish finders that come with both transducers, one for ice and one for boats. The dual function screens allow for a customizable flasher or chart displays and mapping.
Unfortunately, flashers are best utilized for ice fishing. However, it is possible to use a flasher in open water but its uses are fairly limited. In general, fish finders work while moving and flashers are specific to vertical and stationary fishing.
Cost
It's tough making any large purchase without factoring in the price. Most of us would rather avoid spending money unnecessarily so here's our thoughts on the matter.
A high quality ice flasher is going to cost at least $300 to $750 and a good quality fish finder for ice fishing is going to be between $250 and $700 (see our list of top rated fish finders below).
If you already have a fish finder, it may be cheaper to purchase a new transducer and power supply instead of buying an ice specific flasher. For around $200, you can get the transducer and battery. Although, it will take a little DIY to create a portable package.
For first time buyers, think about buying a multi-season fish finder. These are suited for anglers who plan to fish mostly from a boat but may go ice fishing a few times each year. These units can be pricey for top models but it is still cheaper than having separate devices for open water and ice.
When you live and breath ice fishing, a flasher is a must have piece of equipment.
Still having a hard time deciding between a flasher and fish finder for ice fishing? Hopefully, this handy chart will help you choose what features are most important to you.
Fish Finder vs. Flasher
| | | |
| --- | --- | --- |
| | Fish Finders | Flashers |
| Battery life | Poor (4-12 hrs) | Excellent (18+ hrs) |
| Display type | LCD with real-time and sonar history | Multi-colored LED with real-time |
| Screen brightness | Difficult to see in bright light | Very bright in any conditions |
| Depth capability | CHIRP for deep water (200+ feet) | Zoom range from 0 to 160+ feet |
| Target separation | Average to good | Excellent |
| Transducer angles | Variable or fixed | Variable or fixed |
| Multi-season | Yes | No |
| GPS and Mapping | Yes | No |
| Ease of use | More Complex | Simple |
| Portability | Must buy separate carry system | Highly portable |
| Cost | $$ – $$$ | $$ – $$$ |
Top rated Flashers for ice fishing
Generally speaking, the world of flashers is dominated by 3 companies; Vexilar, MarCum and Humminbird. All three make excellent flashers with the most advanced technology available.
Each company has a lineup from budget models to the "Cadillacs" of ice fishing sonar. Now we will go over the top rated models that have proven their worth season after season.
There are more Vexilar units on the ice than any other brand. They offer simple and intuitive displays with just what you need to be successful on the ice. In the Vexilar lineup, the FL-18 offers the perfect balance between price and function.
1/2" target separation to help you see the smallest details
12 degree transducer angle
Zoom feature to pick out detail in the bottom 6 feet
Sonar works in 0 to 200 feet
MarCum is one of the most innovative ice fishing companies in the world. They know how to appeal to the demands of ice anglers. Excellent technology, coupled with just the right amount of attention to detail has produced an elite flasher for any serious ice angler.
20 degree transducer angle for a wider search area
Customizable zoom range at any depth in the water column
Easy to use transducer cable arm instead of float
Sonar works in 0 to 160 feet
Humminbird has long been known to produce top-of-the-line sonar units for both open water and ice. Their lineup of flashers are sure to please even the most discerning anglers. The Ice 45 is the perfect unit for anglers on a budget without sacrificing quality and functionality.
2.5" target separation (lowest on the list but sufficient for most applications)
9 and 19 degree dual transducer angle
Digital depth display built in
Sonar works in 0 to 200 feet
Top rated Fish Finders for ice fishing
More options for multi-season fish finders are out there than ever before. When all you want is one solution to year round fishing, fish finders are hard to beat.
Lowrance and Humminbird make excellent units that should fit the bill for many anglers looking to get on the ice. These models have proven themselves to be versatile electronics that work just as well on the ice as they do on open water.
By far, Humminbird multi-season fish finders rank among the best for anglers looking to hit the ice after open water season ends. The Helix 5 is packed with advanced fish finding technology and tailored software to match what ice anglers want, making it a winning combo.
Dual transducer angles of 20 and 60 degrees
Built in base maps for over 10,000 lakes
Boat mount transducer for true multi-season use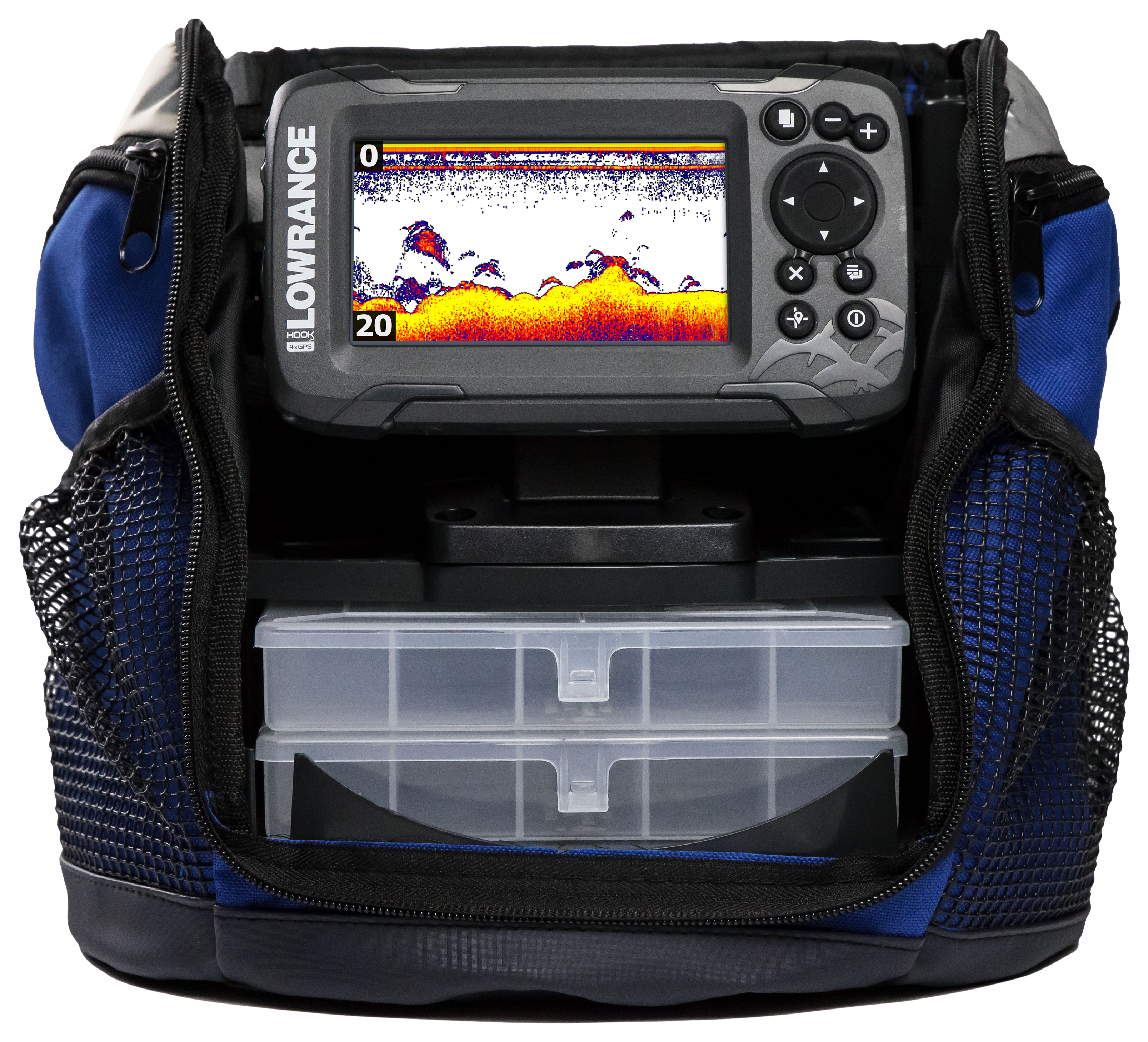 A tough contender to the Humminbird is Lowrance's Hook2 4X Bullet GPS Plotter fish finder.  Deciding between the two is difficult but you can't go wrong with a Lowrance.  Easy to navigate menus with high resolution sonar yields just as many fish through the ice as from a boat.
Boat mount transducer for true multi-season use
Can you use a regular fish finder for ice fishing
I get asked all the time whether or not you can use a regular fish finder and standard boat mount transducer for ice fishing. The simple answer is yes. You get the best of both worlds, multi-season use without spending too much money. It is not without draw backs though, so check out our comprehensive guide to see how to make a regular fish finder work on the ice.
The bottom line
Whether you are a once a year ice angler or among the devoted few, electronics can help up your fishing game. It can be a daunting task sorting through all the different types and brands of fish finders and flashers to find the one best suited for you.
It helps to take a step back and ask yourself what do you really need for your style of fishing. If you want to quickly hop from hole to hole and have a no-fuss solution to finding more fish, then a flasher is worth serious consideration. But if you need a one-size fits all option for year round potential, definitely take a look at what fish finders have to offer.
Regardless of the one you choose, you probably won't ever want to fish without electronics again.
And speaking of electronics, don't forget about underwater cameras! Between flashers and cameras, which one will help you catch more fish? Don't worry, we've got you covered on that topic too. Read our in depth comparison of flashers versus underwater cameras to help narrow down your perfect ice fishing electronic setup.
Want to get the most out of your ice fishing season? Check out our Washington State Ice Fishing Secrets ebook. Our book highlights the 10 best lakes for ice fishing in Washington State with actual coordinates to some of our most productive holes. Plus, we thoroughly cover everything from gear selection, tactics and travel planning. To top it off, you also get information on 41 other lakes with superb ice fishing! Check it out before ice fishing season passes you by!