Stepping into the world of ice fishing is a bit daunting for the newly initiated. One of the more intimidating topics is ice fishing electronics. From basic flashers to the most advanced technology like the Garmin Panoptix, picking the right fish finder is tough.
Luckily, open water anglers that have already invested in sonar technology for their boats have a simple way to convert it to winter time use. Most major manufacturers of today's fish finders have ice fishing conversion kits designed to work with open water sonar units.
Among the most popular manufacturers of fish finders is Humminbird. Their super popular Helix units are perfect for ice fishing. That's why I converted my Helix 7 to a phenomenal ice fishing unit this winter.
Most of the information online about the Helix Ice Conversion Kit is only created to sell it to you. Our aim is to actually help you figure out whether the conversion kit is worth buying. We are not sponsored by Humminbird in any way.
In this article, you'll get a complete and honest review from unboxing to catching fish on the ice. Keep reading to get all the details.
Who should get the Helix Ice Conversion Kit
Humminbird's Helix 5/7 Ice Conversion Kit is intended for anglers who already own a Helix 5 or 7 CHIRP G2 or newer control unit for use on open water. Your standard fish finder will become a year-round fish catching machine. There is also an ice conversion kit for Non-CHIRP Helix units but we will discuss the ICE PTC CHIRP H57 FB kit (#740178-1NB).
Here is a full list of compatible units for the Humminbird Helix 5/7 CHIRP Ice Conversion Kit:
Helix 5 CHIRP GPS G2
Helix 5 CHIRP DI or SI GPS G2
Helix 7 CHIRP GPS G3
Helix 7 CHIRP MDI or MSI GPS G3
Helix 7 CHIRP DS, MDI or MSI GPS G3N
Software requirement – 1.540 or newer
*Note – To find your Helix Model and Software Version: Power on unit. At the startup screen, use the 4 way curser to select System Status. You will be shown the model and software version as shown below.
If you don't already own a Helix 5 or 7 for use on a boat, you can buy the full Ice Helix 7 kit. It comes with the 7 inch screen control unit, ice transducer, carrying case and all the hardware and components needed for on the ice. Sometimes you can find the Ice Helix 7 kits that come with a bonus boat mount transducer for a decent price.
Converting your Helix 7 for hardwater use is especially awesome because of the built in mapping and GPS capabilities. You don't have to drill dozens of test holes to find a drop off or piece of structure. Just use the lake maps and GPS to guide you to the spots you think will hold fish.
Anglers that don't have a boat and don't care about the mapping and GPS features on the Humminbird Helix 7 might be better served with a dedicated flasher.
How much does it really cost
When it's not on sale the ice conversion kit costs around $250. Not bad considering a base model Vexilar flasher, whic does not have mapping, will run you over $300. The only downside to the cost of this kit is that a lead acid or lithium battery is not included. Most flashers or sonar bundles include a battery of some sort. A battery for this kit requires a separate purchase which adds cost and hassle.
12 volt 7 or 9 Ah lead acid batteries are fairly cheap, around $30. Lithium ion batteries, on the other hand, cost about $99 for a 12 volt 10 Ah version. It's well worth the money though since lithium batteries have increased power capacity and an over all longer life. However, it adds some cost to the actual price of the conversion kit.
The true cost breakdown for the Helix 7 CHIRP Ice Conversion Kit is as follows:
Helix 5/7 CHIRP Ice Conversion Kit = $250
Lithium ion battery/Lead acid battery = $99/$30
Lithium battery 3 Ah Charger = $25
Total cost to get on the ice = $315 to $375 before tax and shipping.
That also doesn't factor in the initial cost of the Humminbird Helix control unit but we will assume you already have that. Don't forget to factor in the $125 cost for the LakeMaster map chip for your region if you need it. Most G2N or G3N units come with the Humminbird base maps and LakeMaster chip included.
As you can see, the $375 price tag is still a fair bit cheaper than a mid-level ice flasher which comes in at an average of $450. Anyone who already owns a compatible Helix 7 will get a good value as opposed to buying a separate dedicated ice fishing flash or sonar.
Amazon usually has the best price and it's in stock most of the time.
What's in the box
Now, let's get to the exciting part. What comes in the box? My kit arrived with all the components nicely package and easy to open. There was some assembly required but the only tools you need are a phillips and flat head screw driver.
Here is what the Ice Helix 5/7 kit includes:
Durable plastic shuttle with control unit mounting brackets and hardware
Additional hardware for cable management
Battery straps and insulator pad
Helix power connection cable and piggyback terminal connectors
XI 9 1521 Dual spectrum CHIRP ice transducer (8 ft cable) with float and adjuster
Versatile weather resistant carry bag with dual flap access
Easy to follow instructions and Quickstart Guide
Again, the battery is not included. Overall, the quality of all the components seems very good at first glance. The test of durability will take a few trips on the ice. It's a tidy package that is well thought out and has everything you need.
Putting the kit together
The entire kit is simple to assemble and took maybe 20 minutes to figure everything out. The instructions are clear enough for just about anyone to follow. The only screws needed are the 4 philips head screws to attach the shuttle handle to the base and 2 flat head screws used to install the cable management hooks to the base.
Once the shuttle is assembled you can mount your control unit using the appropriate sized bracket hardware. The kit comes with the mounting hardware for both the Helix 5 and 7.
Next, the battery is strapped in and connected. The battery straps seem very secure and rigidly held the battery in place during transport. Finally, the ice transducer can be connected and coiled around the cable hooks on the base. The spring loaded hooks on the cable management system is a nice touch for quickly undoing all the cable. When that is all done, you can load it in the bag.
It was at this point the first flaw in the design of the kit became apparent (see the image below). For those who have the Helix 7, you'll find that the bag is a bit snug and zipping up the front flap on the bag puts pressure on the control unit. If you are not careful, the zipper could scratch your control unit. Also, the tight fit may occasionally push the power button on.
With the front flap open, I also find the sides of the bag block easy access to the menu buttons and navigation curser. It's a minor problem but still an inconvenience. You would think Humminbird could have spared a half inch more of fabric for the case to give it a cleaner fit on the Helix 7. The Helix 5 looks like it fits without a problem.
In all fairness, the carry case does stretch out after some use. My Helix 7 fits a little looser than the first time I loaded it in the bag. I've never experienced an accidental powering on and if you pull outward when using the zippers, it won't cause screen damage.
Ice fishing startup
Firing up the unit the first time is fairly straight forward. If you normally use the Helix for open water, you need to switch it into ice fishing mode. To do that, the ice transducer needs to be hooked up.
All you need to do is power on the unit and get to your main navigation screen. Press menu until you get to the primary unit menu and arrow over to the "Sonar" selection. From there, scroll down until you see ice fishing mode. Arrow over to select and the unit will reboot.
After that, I would check to make sure the transducer your unit detects is the correct one. To get it back into the open water mode just repeat those same steps.
I really appreciate how easy it was to startup. It is explained sufficiently in the Quickstart Guide as well.
Settings and features
The benefits of using the Humminbird Helix 7 for ice fishing becomes most apparent when you start fiddling with all the settings and menu options. Granted, the ice fishing settings are trimmed down from what's available in open water mode, but they are powerful none the less.
Right off the bat, I love the ability to access a conventional flasher mode alongside the standard scrolling sonar mode. You get so much extra information about what's beneath the ice that a flasher alone won't show you.
In addition, the mapping and GPS really seals the deal for me. Having all the ice fishing technology wrapped in one package is insanely useful.
Physically, the carry case is well designed with on-the-ice-functionality (beside the tight fit). It is easy to grab and go while keeping the sensitive electronics protected.
The grab handle is cleverly sealed to keep out snow and slush and the back flap gives quick access to the battery for charging. I also like how the front flap uses well placed velcro to accordion fold on top, forming a snow and glare protector over the screen.
There are plenty of ways to customize the Humminbird Helix 7 Ice Conversion Kit to your liking. Wondering what the best settings are for ice fishing with the Helix 7? Then you'll definitely need to check out our best settings guide for the Ice Helix 7. We cover every setting in detail so you can start ice fishing hassle free.
First impressions on the ice
Helix units with the newest software update really shine out on the ice. Our first trip on the ice with it was impressive. After refining the settings to our liking, it wasn't long before we were marking fish.
I was very impressed with the real time response on the flasher and sonar screens. Virtually all display lag that plagued older generation sonar units was eliminated with recent software upgrades.
My jig movements and fish strikes translated beautifully on the graph and flasher without any noticeable delay. That means you are truly getting real time information. Keep in mind that this is at depths above 20 feet. Sonar lag could be slightly more noticeable in deeper water. Although, I doubt it will be a problem for most anglers.
Getting down to the nitty gritty, the sonar returns are amazingly sensitive. A tiny 3mm tungsten jig showed up nice and strong and even smaller fish registered as good solid marks right under the cone.
The variable brightness and color adjustments add a nice touch for customizing your view. With all the blinding snow and ice, the black background lighting was softer on the eyes. The LCD screen does suck up a fair bit of power but bringing it down to half brightness was still plenty visible and greatly reduced battery usage. The on-screen battery life meter is a bonus too.
Paired with a 10 Ah Dakota Lithium battery you can expect about 20 hours of run time depending on the outside temperature and your screen brightness. The black background on the LCD screen also uses less power than the white.
Detecting light bites in tandem with the Helix 7 was a cinch. To top it off, using mapping to narrow down our fishing spot saved us time and effort. Because of the mapping, we drilled one hole and were on the fish. Overall performance of the Ice Helix 7 Conversion Kit is beyond what I expected it to be.
What should be improved
The first big improvement on this kit that would make it a better value is to enlarge the case. It seems like a minor cost on the manufacturer's part to improve user experience. Again, it's not a deal breaker but it is annoying.
I would also like to see the Helix Ice Conversion Kit sold with a battery option. It seems pretty simple to pair the kit with a Dakota Lithium 12 volt 10Ah battery and charger. Obviously, the price would adjust accordingly but it would save me the hassle of purchasing a separate battery and charger.
Beyond that, we have yet to find enough to complain about the kit. I guess that's a good thing.
Is the Ice Helix 7 Kit worth the money
So, after all that is the Humminbird Helix 5/7 Ice Conversion Kit worth the money?
Absolutely. The Helix 5/7 Ice Conversion Kit is definitely worth the money as opposed to buying a separate dedicated flasher for ice fishing. You get the best of both worlds with a highly tunable flasher/sonar combo plus integrated mapping and GPS capabilities. That's hard to beat.
There is one caveat to all that praise though. The XI 9 1521 transducer alone only costs $100. That means the portable shuttle, hardware and case fill up the other $150 price tag.
Humminbird seems to put a fairly high premium on the convenience factor of getting a self-contained kit. Technically, you could make your own mount and just buy the ice transducer to save over 50 percent of the cost.
With that in mind, I could see the Humminbird Helix 5/7 Ice Kit appealing to more anglers if the manufacturer lopped off $50 or so. Occasionally, you can find sales on the kit that will drop it close to $200. When you see a deal like that, I would jump on it right away.
I paid full price but I am far from disappointed. It was worth every penny. Since we already had the Helix 7 control unit for our boat, getting the kit still saved me hundreds compared to buying a dedicated ice unit. The amount of fun it provides puts a smile on my face. Not to mention, it also puts more fish on the ice every time.
I honestly think most ice anglers would truly enjoy the benefits of the Humminbird Helix 5/7 Conversion Kit.
Get your own Humminbird Helix 5/7 Ice Conversion Kit from Amazon and start catching more fish this ice fishing season!
Update: New conversion kit for Helix 7, 8, 9 and 10
Humminbird has recently out done themselves with the introduction of their new Helix Ice Conversion Kit. It has been redesigned from the ground up to be infinitely more functional. Most importantly, it is tailored to ice anglers with larger Humminbird Helix models. This ice conversion kit will fit the Helix 7, 8, 9 and 10 models without a problem.
Best of all, you get multiple 1/4"-20 attachment points for mounting phones, cameras mounts or any other accessories you can think of. Pair that up with an open shuttle design, a master power switch, several accessory USB power connectors and you'll have yourself the most useful fish finder on the ice.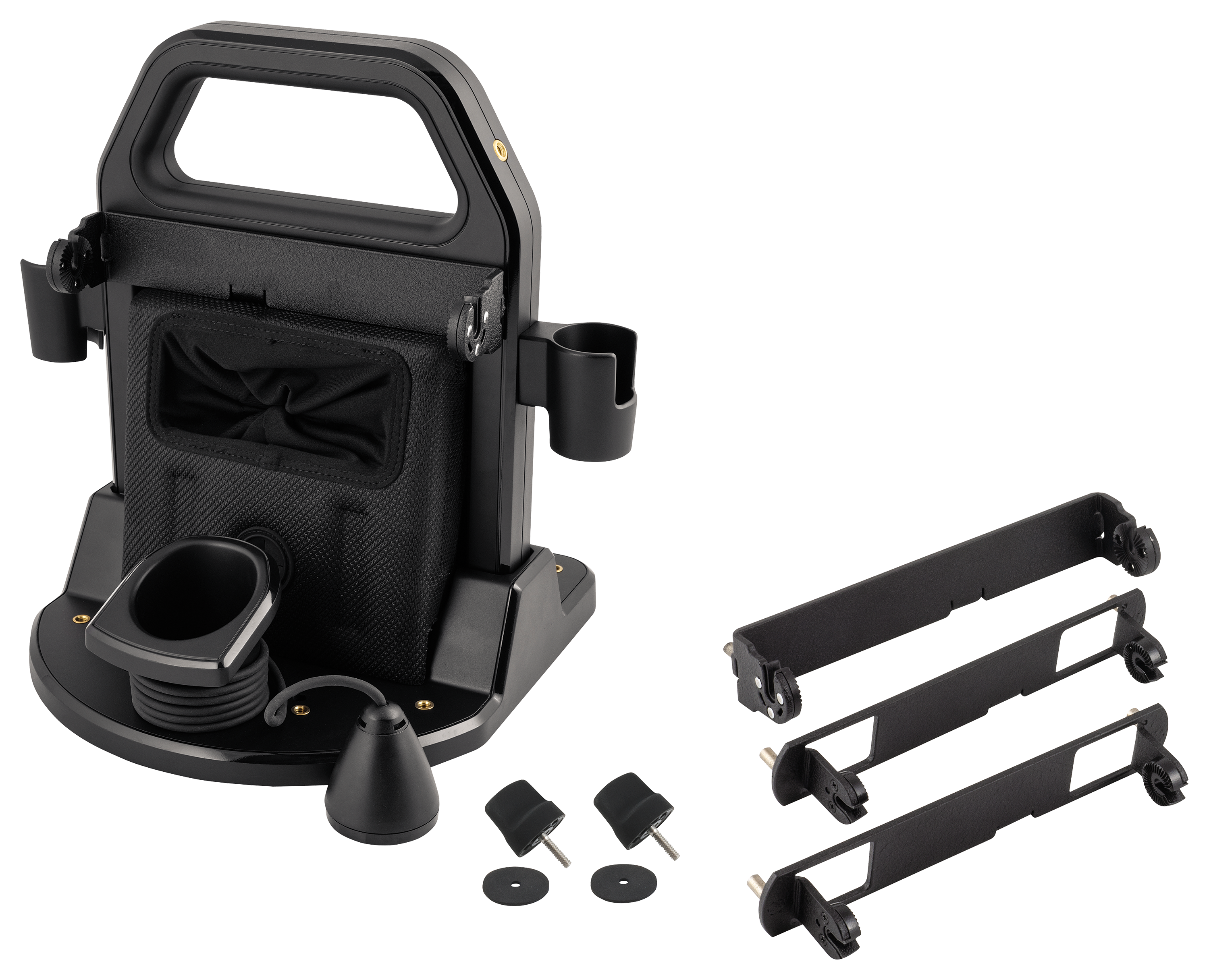 You'll notice that the shuttle is completely redesigned for better adaptability with accessories while still protecting your electronics from the elements. No more soft sided case to deal with. Instead, you get an open concept with a protected battery compartment and a clever cable management system that makes this conversion kit less frustrating to use. Also included are two rod holders, mounting brackets for different sized Helix units and a Dual Spectrum CHIRP ICE transducer.
Supplies are limited!
Want to get the most out of your ice fishing season? Check out our Washington State Ice Fishing Secrets ebook. Our book highlights the 10 best lakes for ice fishing in Washington State with actual coordinates to some of our most productive holes. Plus, we thoroughly cover everything from gear selection, tactics and travel planning. To top it off, you also get information on 41 other lakes with superb ice fishing! Check it out before ice fishing season passes you by!