There is nothing more satisfying than watching a big rainbow rise to a dry fly tied by your own hands. Whether you are new to the sport of fly fishing or a seasoned pro, you have probably thought about learning to tie flies.
Before I jumped down the rabbit hole of fly tying, I had one simple question. What is it going to cost to get started and what do I need?
So, how much does it cost to start tying flies? On average, with a decent quality vise, tools and tying materials for several common patterns, you can expect to spend about $175 to start tying flies. Entry level beginner kits help reduce the start up cost to around $100.
There is a lot to consider when first getting started. Keep reading to hear beginner advice and everything you need to know about the costs of tying flies.
What tools do you need to start
There is actually very little in the way of tools required to tie a wide range of fly patterns. At a minimum, you need a vise, bobbin, scissors, and a whip finisher.
Once you have the basic tools, you don't need to spend much more adding to your collection. As you branch out, you may purchase additional tools such as a bodkin, hair stacker and hackle pliers.
The cost of a complete fly tying tool set up will look something like this:
Vise: Low End (Colorado Anglers 102 Supreme – $25) High End (Mongoose Griffin Montana Cam Vise – $168)
Bobbin: Griffin Ceramic Bobbin – $15
Scissors: Dr. Slick Scissors – $19
Whip finisher: Creative Angler Whip Finisher – $12
Bodkin: Dr. Slick Bodkin $9-13
Hair stacker: Dr. Slick Hair Stacker – $15
Hackle pliers: Dr. Slick 4 inch Rotary Hackle Pliers – $7
Total Cost: $102 to $245
Your final cost for a full set of fly tying tools will depend on the quality and brand you choose. The items I listed are all fine quality and will last you many seasons.
The largest cost variable is the vise. I am particularly fond of Griffin vises but you only need something that can solidly hold a hook. A full set of entry level tools and a vise at the cheapest price can cost less than $40 if you shop around or buy a kit.
What material do you need
It won't take long until your foray into fly tying leaves you drowning in feathers, hair and thread. Even so, when you first get started, try focusing on tying the flies you intend to use most and only buy what you need for each specific pattern.
During my years of fly fishing, I found that simplifying my equipment and techniques to what catches the most fish has also made fly tying simpler and more affordable.
If I could only have 7 flies to put in my tackle box, here are the ones I would choose and the materials to tie them.
Adams Dry Fly
Hook: Standard dry fly, size 18-10
Tread: Black, size 6/0
Wings: Grizzly hen-saddle tips
Tail: Brown and grizzly hackle fibers
Body: Dubbed muskrat
Hackle: Brown and grizzly
Elk Hair Caddis
Hook: Standard dry fly, size 18-8
Thread: Tan, size 3/0
Rib: Fine gold wire
Body: Hare's mask dubbing
Hackle: Brown
Wing: Elk hair
Griffith's Gnat
Hook: Small-wire, size 18 or smaller
Thread: Black, size 8/0
Hackle: Grizzly
Body: Peacock herl
Woolly Bugger
Hook: 4X shank, size 14-2
Thread: Black, size 8/0 (use other colors for variations)
Tail: Olive marabou
Hackle: Brown
Body: Olive chenille, large or medium diameter
Soft Hackle
Hook: Standard dry fly, size 16-10
Thread: Yellow, size 8/0
Abdomen: Yellow single-strand floss
Thorax: Hare's mask fur
Hackle: Partridge flank or hen saddle hackle
Pheasant Tail Nymph
Hook: Regular wire, standard shank, size 18-10
Thread: Brown, size 6/0 or 8/0
Abdomen/wing case/tail: Pheasant-tail fibers
Thorax: Peacock herl
Rib: Small copper wire
Gold-Ribbed Hare's Ear
Hook: Heavy-wire 1X, size 18-8
Thread: Black, size 6/0
Weight: No.2 lead
Tail: Hare's mask guard hairs
Rib: Fine oval gold tinsel
Abdomen/Thorax: Hare's mask fur
Wing case: Brown turkey-quill section
Total Cost for Material: $60 to $80
I have estimated these costs based on average quality material.
You will quickly learn that many patterns use the same materials. This comes in handy for more expensive items like hackle, which can be upwards of $40. A package of high grade hackle will tie hundreds of flies and is completely worth it.
Keep in mind that you don't need to buy it all at once and this supply will tie more flies than you could ever use in a season.
Should you buy a fly tying kit
A basic beginner fly tying kit is a great way to test the waters before making a larger financial plunge into the hobby.
There is definitely a loss in quality components with some of the cheaper kits, but if your goal is to save money then kits work great. I tied hundreds of flies with a $25 kit for several years. Eventually, the vise broke and I upgraded to a higher quality one.
What I like about kits is the ability to get all the tools you need at one time. Even if the vise eventually fails, the tools will last a long time. Certain tools like the hair stacker, bodkin and whip finisher are never upgraded because even low quality versions get the job done.
In my opinion, the only tools not up to snuff in some of the basic kits are the scissors, bobbin and hackle pliers. When you are getting started they serve their function fine, but eliminate some frustration and buy higher quality when it fits into your budget.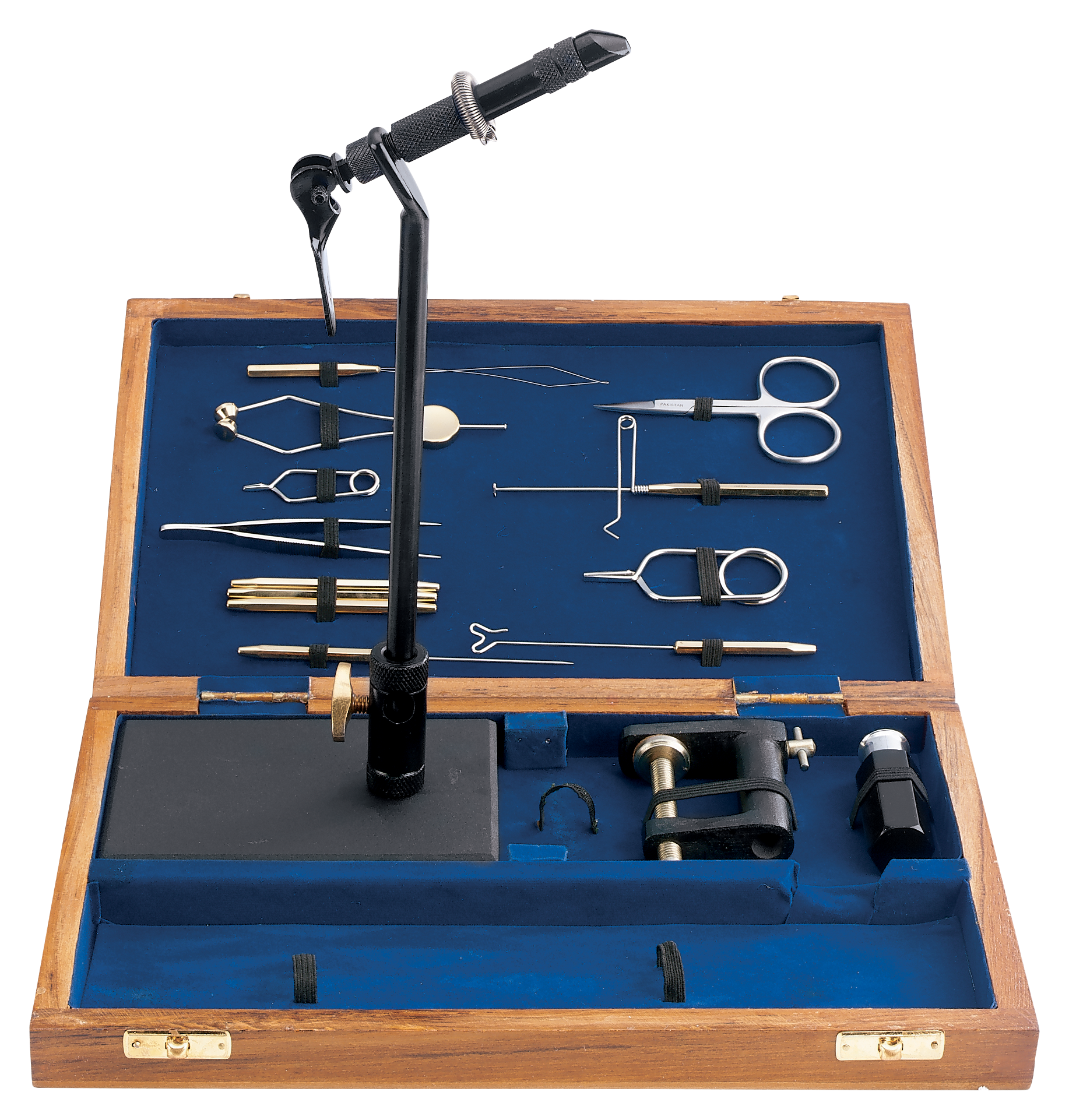 Many kits also come with the tying material for a few common fly patterns. These are hit or miss in terms of value. The feathers, dubbing and hackle always seem to be sub-par. That is not to say the flies you tie with them won't catch fish, they will. However, the lower quality material is just less enjoyable to work with and the end product is not as appealing to the human eye.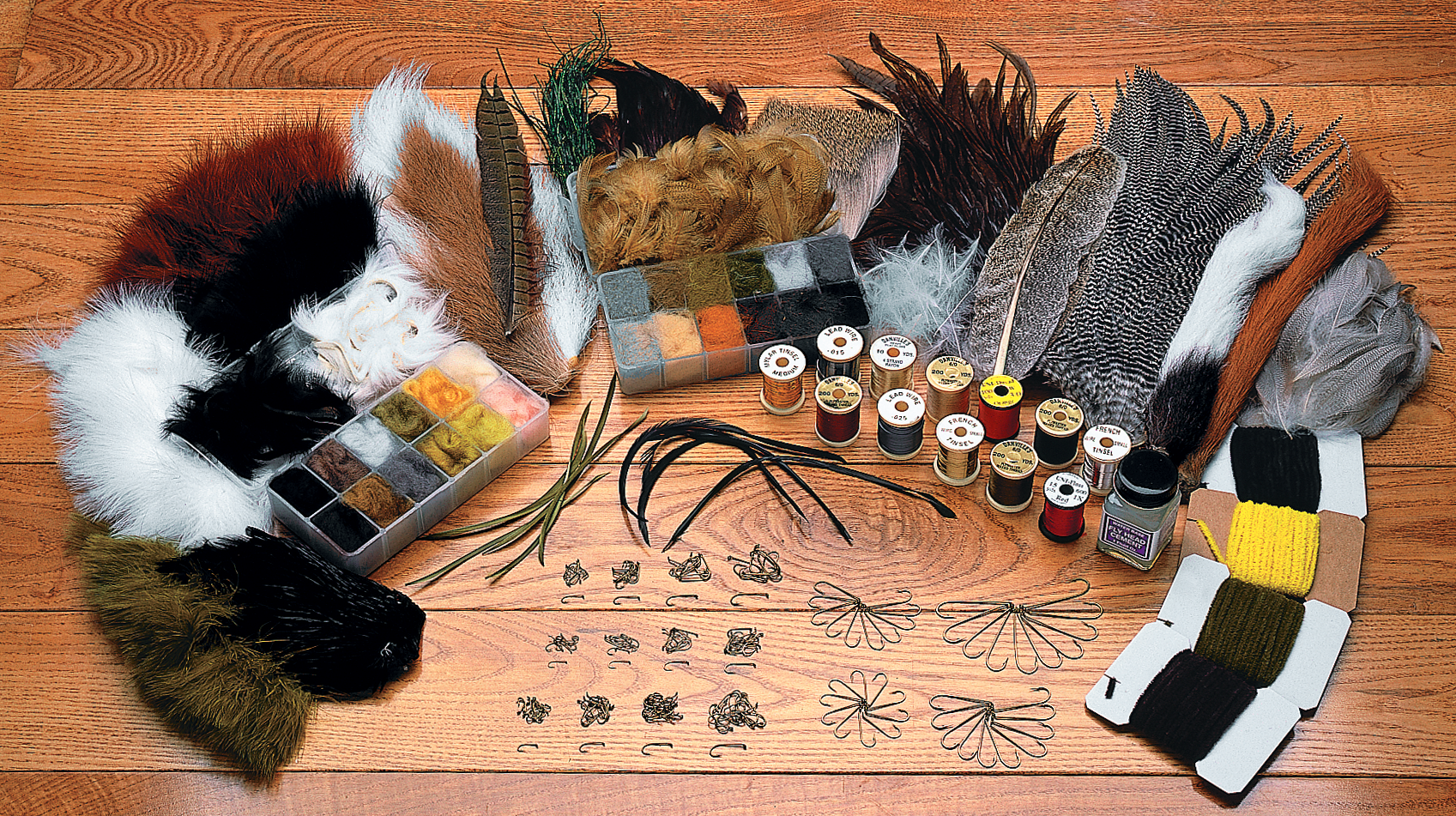 There are several fly tying kits available online. If you live near a specialty fly shop, they may offer fly tying packages as well.
Do I need fly tying lessons
When I started tying flies as a kid, I just winged it. I started with whatever material I could find; yarn, sewing thread, craft feathers and even my dog's hair. I plopped them on a standard fishing hook and guess what, I caught fish.
Even if you lack artistic skill, the flies you tie will look buggy enough to land some fish. The question is, will fly tying lessons help you catch more fish? I will argue that, yes, you will. Tying lessons teach more than just how to tie pretty flies, you will also learn how to fish better.
In person lessons offered at your local fly shop will help you learn when, and how, to fish different flies. It is also a great opportunity to meet fellow anglers who might be able to improve your skills.
The only problem with lessons is the price. Lessons in my neck of the woods range from $80 to $150 for two, two-hour classes.
Luckily, lessons are not the only way to learn proper fly tying techniques. Books and online resources make things easier for beginners. Youtube is especially useful for learning the skills needed for tying every fly you can imagine. Better yet, it is free!
Is it worth it to tie your own flies
If you are expecting to save money tying your own flies rather than buying, I am afraid you will be disappointed.
The average store-bought fly costs around $1.50 to $3.00, whereas tying your own costs around $3 for each of the first 100 or so flies. The price per fly will drop after awhile since you will not be buying a new vise or tools repeatedly. Once you tie several hundred flies, you may start to see a financial advantage.
Money may be important but it is certainly not the only worthwhile part of tying your own flies. Fly tying is a hobby in itself that adds more depth and enjoyment to fly fishing. When I am not able to get out and fish, I can relax and tie a few flies for my next adventure on the river.
In the dead of winter when I am itching to get out and fish, fly tying is just the activity to pacify my angling addiction. Wether it saves money or not, it is fun and worth a try.