There are a ton of ice fishing rods on the market these days. Rods for jigging, rods for bait and even rods designed for specific species of fish. But if there is one rod that has stood the test of time, it's the noodle rod.
Few anglers hit the ice without at least one noodle rod in their bucket. With super soft tips, noodle rods are designed to "see" the bite. Their supple action combined with the ability to deliver delicate jigs to wary fish has likely put more fish on the ice than any other rod.
So, is a noodle rod right for you? Will a noddle rod help you catch more fish this ice fishing season?
We'll give you the answer to these questions and more in this article. Keep reading to learn everything you need to know about noodle rods for ice fishing.
What is a noodle rod
Before we get into the nitty gritty of noodle rods, it's a good idea to explain what they are in terms of ice fishing.
True noodle rods are slow action ice fishing rods that give uniform flex from tip to butt. Their fiberglass construction incorporates a brightly colored, and super sensitive, tip designed to help you visually detect even the most subtle bites from panfish and trout. They are best used for ice fishing with small tungsten jigs and bait.
Generally, noodle rods are an ultralight option for smaller gamefish. Although, that doesn't mean it can't handle a fight with bigger quarry. Light power noodle rods will tame all but the biggest predators like trophy pike and lake trout.
Paired with quality reels and smooth drag systems, my noodle rods have withstood blistering runs and thrashing head shakes from big rainbows and the occasional large walleye.
For the casual ice angler, a quality noodle rod should be the first rod in your arsenal and could very well be the only rod you need.
Noodle rod pros and cons
As much as I like my assortment of noodle rods, it's not all sunshine and roses. In many ways, a top notch noodle rod will satisfy my needs and for other scenarios it falls short.
The basic pros and cons list will help illustrate some of the benefits and pitfalls you may encounter with noodle rods.
Pros
Entry level noodle rods are very inexpensive. Rods as cheap as $10 will deliver acceptable bite detection and longevity on the ice.
Awesome for "seeing" light bites from finicky fish. The bright tip is easy to see and even the gentlest nibble registers on the soft tip. The key is detecting the bite before the fish detects tension from the rod. Noodle rods excel at this.
Fighting fish on "whippy" noodle rods is a blast. A small perch or stocked trout feels like a trophy.
Ultra durable. A noodle rod's flexibility makes it nearly indestructible. Ice anglers are hard on gear and fiberglass noodle rods will handle the abuse.
Noodle rods are highly versatile. While they are best suited for finesse baits, you can do everything from deadsticking live bait to jigging small spoons with one rod.
Cons
Getting good hook sets with larger baits is a challenge. Sometimes you really have to swing for the fences to drive the hook home. This is especially apparent in deep water.
Easily out-classed by big predators. It's certainly possible to battle pike or lake trout with a noodle but you'll struggle to maintain control. More backbone is needed to steer trophy fish up through the ice.
Some anglers struggle to detect "up-bites" from crappie on noodle rods. Crappie tend to strike from below which lifts your bait. A good noodle rod in the hands of experienced crappie anglers will show up-bites but some argue that spring bobbers are superior for this application.
The slow action tip on noodle rods reduces jig control with larger baits. It's hard to get the action you want on some baits. A stiffer, fast action graphite rod is better suited for jigging.
Noodle rods help you see the bite but fall short of graphite for feeling the bite. Feeling the bite in your fingers as it's transmitted through the rod is often the only way to detect a strike when the bite is negative. A fish may do nothing more than suck in your bait for only a fraction of a second without the slightest movement.
What fish can you catch with a noodle rod
It's probably easier to ask what fish you can't catch with a noodle rod. I would definitely steer clear of muskie, northern pike and lake trout. Now I'm not saying a noodle rod won't hold up to a surprise encounter with one of these sizable fish. Just, it wouldn't be my first choice rod for targeting large predatory species.
Ice fishing with a noodle rod is ideal for targeting crappie, yellow perch, bluegill and stocked trout. An appropriately sized noodle rod will be more than capable of handling these species.
However, the powers of a noodle rod doesn't stop there. Walleye, whitefish, burbot, chain pickerel and even bass are fair game with a noodle rod. As long as you have a decent reel with smooth drag you are good to go. Just remember to use finesse tactics with small jigs and bait.
How do you ice fish with a noodle rod
There is nothing complicated about ice fishing with a noodle rod. Since these fiberglass rods have plenty of softness to them, ice fishing with light tungsten jigs or small spoons is essential.
Use 3-5mm tungsten jigs and 1/12 ounce or lighter spoons. Some noodle rods can handle slightly larger lures but you loose some control in the presentation. Deadsticking live bait with a noodle rod is also a viable option.
I am a big fan of small tungsten jigs tipped with plastics or bait. Combine that with super light 2-4 pound test mono and you'll get the best sensitivity for mid to shallow water depths. Some anglers like to watch the line movement to detect bites but I prefer capitalizing on the hair trigger tip typical on high quality noodle rods.
Getting the right action out of your baits is the easy part. It's learning what different bites look like on a noodle rod that takes practice.
There are two types of bites. Those that dip the tip and those that raise the tip. The latter bite is the hardest to recognize. I had no idea how many subtle strikes I missed until I learned how to see the rising bite.
When the rod is under tension from the weight of your jig, watch for lifting bites as a slight straightening of the tip. The bright orange tip pays off here. Compared to typical pulling bites, it takes a keen eye and a steady hand to see.
Are noodle rods better than spring bobbers
The spring bobber versus noodle rod has been a classic debate among avid ice anglers for years. However, I avoid picking sides. Instead, it's just a matter of personal preference and confidence in the technique.
Whether you prefer spring bobbers or noodle rods, the primary goal is to detect light bites.
The spring bobber has long been a staple tool for boosting the sensitivity of stiff graphite rods. You kind of get the best of both worlds with spring bobbers. The sensitive "feel" of graphite plus the visual cue of a bite on the spring. Several pro anglers argue that spring bobbers are superior to noodle rods for this reason. And they aren't necessarily wrong.
With a noodle rod, that ultra soft tip takes the place of a spring bobber. Yet, even the softest noodle rod tips don't come close to the responsiveness of premier titanium spring bobbers.
In a nut shell, spring bobbers are not necessarily better than noodle rods. Both are phenomenal at letting you visualize bites. However, it all depends on which method you feel most confident with.
I would try out both to see which technique allows you to consistently connect with more strikes.
Need to learn more about spring bobbers? Check out our popular article where you'll learn how to become a spring bobber guru.
Best noodle rods for the money
There is a wide array of noodle rods designed with ice anglers in mind. Whether you get a budget or top end custom noodle rod, here are the best ones for the money.
No regrets budget noodle
There is a lot to like about this rod. Coming in at less than $20 you can hardly go wrong. The HT Blue Pro fiberglass blank is incredibly flexible yet still has plenty of backbone for tough fights.
The high-vis orange tip definitely helps to detect soft bites. Our recent trip on the ice with this rod yielded several large 16-18 inch brookies and rainbows that where barely breathing on our bait. Yet, we felt every bite.
The 24" or 32" ultralight versions are our favorite. Just the right length for sensitivity yet no so long that huge sweeping hook sets are required. Our only complaint is the small guides. On especially cold days, the eyes near the tip freeze up fast. It's easy enough to clear the ice build up, but larger guides would improve the value.
Overall, as an entry level budget noodle rod, you can buy one to try and not even regret the purchase.
Price balanced noodle
Frostbite Dipstick
When it comes to quality, Frostbite rods are a true contender.  There are few companies that can blend superior construction with a fair price that makes any purchase pain free.
The Frostbite Dipstick noodle rod could be the only panfish noodle rod you'll ever need.  It feels light in the hand and the cork handle is beautifully constructed with an integrated reel seat.  However, don't expect the same level of feel you get with a graphite blank.   
The line guides are slightly larger than our budget pick, so ice up wasn't such a problem for us.  The 39 inch glass blank is longer than average but we find it to be a good balance for hole hopping or staying put in an ice shelter. Plus, it works fantastic with a Jawjacker.
At $60, the Frostbite Dipstick is our favorite price balanced noodle rod that is worth every penny.
Also, don't forget to check out our full review of Frostbite rods.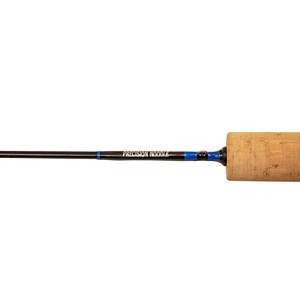 When you are serious about ice fishing, it's time to cross into the realm of truly custom ice rods. You'll get everything you want with the performance to justify the price. Custom noodle rods are among the best panfish rods money can buy.
Some of the best custom rods are made by Thorne Bros, Tuned Up Custom Rods and DH Custom Rods. Our pick for this list is the Tuned Up Custom Precision Noodle.
It is among the best noodle rods for detecting every single bite. The Precision noodle sets the standard for seeing even the most finicky crappie bites. You'll appreciate the full cork handle for taping on your favorite reel plus you get the best recoil guides. Ice up on the guides still happens but it's better than average.
Add a Tuned Up Custom Precision noodle to your arsenal and you'll soon see why it's a favorite top end rod.
Conclusion
Ice fishing is an ever evolving sport but noodle rods will always have a place on the ice. With improved bite sensitivity and plenty of versatility, a noodle rod is a must for every serious ice angler.
Even if it isn't the only rod you own, we are sure you'll put more fish on the ice with a noodle rod.
Want to get the most out of your ice fishing season? Check out our Washington State Ice Fishing Secrets ebook. Our book highlights the 10 best lakes for ice fishing in Washington State with actual coordinates to some of our most productive holes. Plus, we thoroughly cover everything from gear selection, tactics and travel planning. To top it off, you also get information on 41 other lakes with superb ice fishing! Check it out before ice fishing season passes you by!