With so many ice fishing flashers to choose from, how do you sort through the duds and pick the one that is best for you? Well, for starters, try picking a brand with a long proven track record for quality.
At least that was our reason for taking a closer look at the Vexilar lineup of ice fishing flashers. If you follow our blog, then you know we love our Humminbird ICE Helix 7. But when it came time to find a second flasher so we didn't have to share one screen, Vexilar was an obvious choice.
But which Vexilar flasher should you get? Everything from the FL-8 to the FLX-30 is built with the same amazing quality. But that is where the similarities end. Ultimately, we decided on the FLX-12 and we couldn't be happier. It's not perfect but we still fling plenty of fish on the ice with it.
Want to see if the Vexilar FLX-12 is right for you? Then stick around because we dragged this flasher all over the ice and tested it out in just about every situation we could think of. You'll get our unbiased thoughts on the unit so read on for the full review.
Vexilar FLX-12 key features
The Vexilar FLX-12 has all the features you need for ice fishing without overwhelming the unit with extra fluff. In other words, it's simple but powerful. Let's review all the features that make this a highly capable unit in most fishing scenarios.
Easy on/off dial with 6 depth ranges up to 120 feet
Low power mode for enhanced shallow water performance
Sensitive gain control dial
Push button interference rejection with 20 settings
Weather proof display with flattened dial and 3 color LED lighting
Long lasting brushless data transfer technology delivering a crisp, bright display
2.6 inch target separation with 1 inch resolution on target ID
12° or 19° transducer angle (varies by seller)
Genz pack includes durable shuttle with semi-enclosed battery compartment, 9Ah battery (lithium or SLA) with automatic battery charger and easy connect jack plug, pre-drilled holes for accessories and a self leveling transducer with float. The Genz pack is designed to fit securely on top of a five gallon bucket.
Pro pack has a round shuttle that fits into a five gallon bucket. Comes with battery and charger like the Genz pack, attached rod holder, small tackle box, cable management system and is pre-drilled for all optional accessories.
Both style packs are suitable for open water fishing as well.
What is it missing
Overall, the FLX-12 is thoughtfully designed with ice anglers in mind. However, there are some things it's missing that would elevate this flasher to the next level.
First, we wish it had a zoom feature. This is especially useful when fishing deeper water where target separation gets harder to discern. Second, a digital depth reader integrated into the unit seems like it should be standard. Currently, the FLX-12 has a numbered dial that requires a little math to figure out the depth at 2x or higher settings.
Unfortunately, you have to buy a separate, optional DD-100 digital depth gauge and battery indicator device for $50. This feels like a sneaky way to make a few extra bucks instead of just including it on all units and charging a bit more for each.
Finally, all their flashers should just come standard with lithium batteries. Why they still include SLA batteries with some units, I don't know. However, you can find deals from retailers that bundle the FLX-12 with a Vexilar 9Ah battery and charger.
Obviously, Vexilar has taken a tiered approach to their lineup of flashers so you can get all those added features by upgrading to more advanced models. That of course, comes with a higher price tag.
Genz pack or Pro pack: Which is better
With the FLX-12 you can choose between two different carrier configurations. The Genz pack or the Pro pack. In both setups, the head unit and transducer are the same. So, which is a better buy? Honestly, it depends on personal preference. Would you like adding as many accessories to your flasher as possible? Do you prefer a flasher that stows inside a 5 gallon bucket? If so, opt for the Pro pack.
The Genz pack is far more basic. It has a simple, yet durable, design without any frills. Although, you can still add accessories like a glo-ring, flex light or DD-100 digital depth gauge. What you don't get is the extra tackle box, rod holder or cable storage system. Certainly not a deal breaker in our book. Plus, you usually end up paying a bit more for the Pro pack.
We chose the Genz pack but if we could do it again we might have opted for the Pro pack for the sole reason that it fits inside a bucket. When sled space is limited that is a nice feature.
Battery upgrades
Vexilar primarily sells their lower end flashers including the FL-8, FLX-12 and FL-18 with sealed lead acid batteries (SLA). They work fine and hold a charge that lasts a full day on the ice but they are heavy and won't last more than a few years.
If at all possible, only buy a Vexilar if it comes with a lithium battery. Places like BassPro Shops, Scheels and Reeds put together exclusive packages that include lithium battery options.
If you can't find an FLX-12 with a lithium battery then consider upgrading the battery after you buy it. You can either buy Vexilar lithium ion batteries or another brand like Dakota Lithium. In either case, a 9Ah 12v lithium battery will last several days on the ice between charges and cuts the battery weight by half. Not to mention, lithium batteries will last the lifetime of the flasher unit without any degradation in performance.
Does the Vexilar FLX-12 have zoom
We are often asked if this flasher has a zoom. Unfortunately, the Vexilar FLX-12 does not have a built in zoom feature. Zoom is not always necessary but if you are fishing in deeper water or targeting bottom dwelling fish like perch, zoom is incredibly helpful for discerning separate targets. Zoom is only available in the FL-18 and higher models.
Performance on the ice
Okay, now we can get to the stuff you really care about. How does the Vexilar FLX-12 perform on the ice? And most importantly, what can it do in real ice fishing situations? We will definitely answer those questions and more.
Setup
Right off the bat, we love how simple the FLX-12 is to use. Turning on the unit and dropping the ice ducer in the hole is as easy as it gets. With a slight tweak in the gain control, we are ready to fish in no time.
It does take a little while to decipher the depth readings built into the dial but once you figure it out, it's straight forward. The depth adjustments are fairly intuitive and flipping between settings to find bottom is quick.
The interference rejection setting became a huge advantage when fishing among other anglers and we never had trouble finding a clean channel among the 20 different IR settings.
In addition, the flat dial screen makes viewing the flasher from any angle much easier. This is a vast improvement over the FL-8 dial which limits your view if you are not looking straight at it.
Fishing with the FLX-12
Our first test on the ice was targeting perch in 30-40 feet of water. The line separation was reasonably sharp but not perfect and some fish were easy to miss. At times, the 2.6 inch target separation showed it's weakness when we could not figure out where our bait was when fish crowded the screen. Definitely not the end of the world but something to think about.
The target ID size is sensitive enough to pick up on tiny tungsten jigs without an issue. Even on the lowest gain setting.
For us, this flasher passed our perch fishing test but our Helix 7 definitely has superior target separation and clearly defined lines.
The next big test was shallow water trout. With the low power setting, we got a clear picture in less than 10 feet of water with little echoing or mess on the screen. In all honesty, a flasher is not essential for shallow water trout but the Vexilar proved to be useful when the time between bites started to grow. It helped to alert us when a fish checked out our bait. However, the 12° angle ducer is a bit limited in less than 12 feet of water. The cone size is very narrow so you miss what is really going on under the ice.
For trout fishing, the Vexilar FLX-12 worked fine and was comparable to our Helix 7 and other flashers we've used in the past. The low power setting is a nice feature.
Next, we tried a crappie bite after dusk. This was more of a test to see how the night mode worked. By pushing and holding the gain button, you activate night mode. It dims the LED lights and illuminates the depth gauge. It worked as expect and dimmed the lights to a better level which was easy to see in low light. We don't use that feature much but it's good to have.
In all ice fishing situations we tried there was no sonar delay. Some digital flashers suffer from sonar delay which gives you a less than real time view. Vexilar units don't suffer from that at all. Every twitch of your jig instantaneously registers on the dial so you'll never miss any of the action.
Short comings
As we mentioned before, the lack of zoom is an issue. For our perch fish test, having zoom would have prevented a lot of missed bites. Especially, since the target separation is not that great.
In addition, the 3-color LED dial is great but nothing compared to more expensive models or digital flasher/sonar units like our ICE Helix 7. The lights are plenty bright but just don't provide enough detail to give sharply defined lines. Separate targets end up looking a little fuzzy and bunched together. Take a look at the picture below to see what we mean.
We don't fish in water depths beyond 60 feet very often but targeting kokanee in 60-70 feet of water is definitely more challenging with the FLX-12 than more advanced units. The lack of zoom and resolution makes things hard to interpret. Marks get very small and hard to see the deeper you go.
Another issue to be aware of is noise. Mechanically driven flashers all make noise and the Vexilar is no exception. Brushless motors make the constant humming sound a little more bearable but it is still there. It's not terribly loud and you do get used to it. However, if you think it is something that would drive you nuts, go with a digital flasher or sonar device.
You can avoid most of these short coming by getting an FL-18 or FLX-20 flasher instead. Target separation and LED light resolution is markedly better with those units. Keep in mind the noise these units put off is still present.
Weather proofing
Vexilar claims that their flashers are weather proof and we can't argue with that. Our FLX-12 was subjected to wet snow and plenty of fish splashing the unit with water. We have not noticed any leaking or condensation where it doesn't belong.
How do you read the Vexilar FLX-12
For anyone who has used a flasher before, Vexilar's FLX-12 is easy to read and understand. The vertical water column is represented on the round dial with the surface at the top right and increasing depth displayed clockwise around the dial until you reach the mark indicating bottom.
Bottom shows up as a thick red mark indicating a hard return. Fish vary from thin green lines to wide red lines throughout the water column depending on their position beneath the transducer. Your jig or bait, on the other hand, should be visible as a thin green line if your gain is set right.
Vexilar includes excellent instructions and a helpful interpretation guide when you buy one of their units. We encourage you to read it thoroughly to get the most from your flasher.
Difference between the FL-8 and FLX-12
A lot of you may be trying to decide if the FLX-12 is worth the extra money over the FL-8. We would argue that it is. On average, the price difference is about $40 but you get a lot of added functionality for your money with the FLX-12.
Here is what's missing on the FL-8 compared to the FLX-12:
No low power mode
Does not have night view mode
No battery life alert
Lower power output with reduced target resolution in deeper water
Fewer interference rejection settings (10 vs. 20 on the FLX-12)
Dial screen is not flat making viewing difficult from the side
In all fairness, you could live without most of those features. Plenty of anglers have used a Vexilar FL-8 for years with great success. The low power mode is occasionally useful but not a must. You can also live without night mode and the battery alert. Plus, more often than not, you'll clear out interference with the first 10 IR settings on the FLX-12 anyway.
We would pick the FLX-12 but let your wallet decide. We are confident you'll be pleased with either unit.
Who should buy this flasher
Among the most important things to consider when choosing a flasher is your style of fishing and temperament as an angler. The Vexilar FLX-12 is not for everyone. And if this is going to be your first flasher purchase you may want to consider all your options closely before buying.
So, who should buy the FLX-12? Which anglers would reap the most benefits from this unit?
We think this flasher is best suited for casual ice anglers who want to elevate their ice fishing game without breaking the bank.
From a form-versus-function stand point, the FLX-12 is a rock solid piece of equipment that any angler will be satisfied with. We think that anyone targeting trout, panfish or walleye will find it suitable. For those targeting burbot or lake trout in deep water, you may want to look at the FLX-20 model and above.
If you want only the best of the best or you need mapping and GPS capabilities then consider higher end flashers or sonar units. In our opinion, Humminbird's ICE Helix 5 or 7 is among the best. Want to learn more about the Helix 7 for ice fishing? Check out our other articles for more information.
How much is the FLX-12 and where to buy it
If you have reached this point, you might be ready to start shopping for a flasher. The Vexilar FLX-12 is competitively priced to other brands. At $369 for a Genz pack, it is a bargain. Occasionally, you can find retailers offering lithium battery upgrades for the same price as well.
The best time to shop for deals on flashers is in the fall and you can find the FLX-12 at Scheels BassPro Shops, Reeds and sometimes Amazon.
Of all the retailers, we trust Scheels the most when it comes to getting the best prices on ice fishing equipment.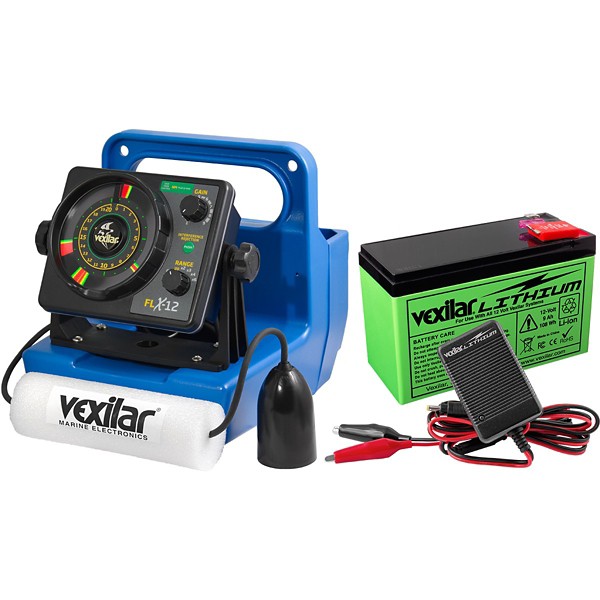 Summing it up
After spending countless hours out on the ice with the Vexilar FLX-12, we can honestly say it is a superb unit for the money. In side by side flasher tests, it held its own against more advanced units and we caught plenty of fish with it.
Sure, it is not the best but if you don't want to spend $750 or more, then this flasher is for you. You can even use the FLX-12 on open water from a boat giving you even more versatility throughout the year. You won't be disappointed as long as you have the right expectations, so try it out!