Finding secluded fishing hotspots that produce more and bigger fish can be challenging. Before heading out too far on your search, consider the fact that some of the best action on the water is at your local fishing pier.
Piers provide structure and forage for just about every fish in the food chain. As an angler, there is no better place to cast your line with the chance to catch dinner or bag a trophy fish.
Before you grab your gear and head to the nearest fishing pier, take some time to learn what it takes to boost your success. Effectively fishing from a pier in both saltwater and freshwater requires a whole new set of skills. Whether you are new to pier fishing or have some experience under your belt, utilize this guide to gain all the essential knowledge you need to become a pier fishing expert.
What is pier fishing
There is really nothing complicated about pier fishing but not everyone knows what it means to go pier fishing.
Pier fishing is nothing more than fishing from a large dock that extends into deeper water from shore. Saltwater piers are generally elevated on pilings above the high tide line. They offer a great way to access deeper water near structure and drop offs where a variety of large fish species hang out.
Many piers in saltwater are free to access for the public and permit fishing throughout the year depending on the location. Some private piers offer fishing access for a fee.
Always check local regulations and pier rules before fishing.
What can you catch from a pier
When it comes to catching a variety of species, pier fishing is tough to beat. The pilings under a pier provide perfect habitat for aquatic life to grow. Saltwater piers harbor countless barnacles, pile worms, crustaceans and bait fish that attract larger gamefish. Even freshwater piers or docks provide cover and a place for fish to forage.
The exact species you can catch from a pier depends on the body of water and the time of year. Saltwater regions have a huge diversity of fish so let's take a look at the most common species in US coastal areas.
North Atlantic Piers – From Maine to the Carolinas, pier anglers target bluefish, flounder, weakfish, occasional sheepshead and the ever popular striped bass.
South Atlantic and Gulf Coast – Some of the best pier fishing in the world is found along the coastline stretching from the eastern shores of Florida to the Gulf of Texas. Anglers have year round opportunities for a stunning diversity of fish including pompano, cobia, bluefish, spanish mackerel, king mackerel, redfish, flounder, sheepshead, black drum, speckled trout and even giant tarpon when conditions are right.
Pacific Coast – Pier fishing along the Pacific Coast of the United States is mostly limited to the calmer waters along central and southern California. Powerful storms along the northern coast make ocean piers impractical. Even so, the sunshine state hosts a grand assortment of gamefish for pier anglers to target. Among the most popular fish caught from piers include striped bass, halibut, smelt, corbina, croaker, leopard shark, guitarfish and several varieties of surfperch.
Puget Sound – While the Pacific Coast of Washington might not cater to pier fishing, the Puget Sound does have its share of saltwater action for boat-less anglers. Peppered along city ports and isolated estuaries, dozens of piers give anglers access to a wide array of fish species. Some species you may encounter include flounder, pile perch, rockfish, dogfish, and salmon. Squid fishing is immensely popular from Puget Sound piers.
What else can you catch from fishing piers
You never know what you might hook into on a pier and that's the most thrilling part. Seasonal runs and annual migrations bring all kinds of unique fish within casting distance of piers. Sharks, grouper, barracuda, snook and lesser known panfish species provide plenty of mystery with every hook set.
Do you need a license to fish on a pier
Whether you are fishing on a saltwater or freshwater pier, a fishing license is usually required. There are, of course, exceptions to the rule. For example, no license is required to fish from a public pier in Texas State Parks. Also, for some states, anglers don't need a license on private piers where the owner has a blanket-license for the pier.
You also won't need a fishing license for free fishing days in states that offer them. Just keep in mind that you are always required to follow all fishing regulations and fish limits even if a license is not required on a pier.
Take a look at the chart below to see if you need a fishing license in your state on public saltwater piers.
State
License needed
for pier fishing?
Maine
Yes
Massachusetts
Yes
Rhode Island
Yes
Connecticut
Yes
New Jersey
No
Delaware
Yes
Virginia
No
North Carolina
No
South Carolina
No
Georgia
Yes
Florida
Yes
Alabama
Yes
Louisiana
Yes
Texas
Yes (except State Parks)
California
No
Washington
Yes
Always check your local regulations and license requirements before fishing from any pier. Our list of license requirements does not cover all exceptions or rules for every pier. Public and private piers have different license requirements as well.
If in doubt, it's safest to simply purchase a valid license before fishing from a pier. Take a look at our updated list of every state's fishing license price to see what it will cost.
Essential pier fishing gear
Fishing from a pier is completely different than fishing from shore or from a boat. While you certainly don't need a ton of new gear, a few essentials should help improve your success. Let's take a look at all the gear you shouldn't be without for pier fishing.
Best rods and reels
Battling powerful fish and casting heavy lures from a pier perched well above the water requires a bit of an upgrade from your standard panfish gear. Rods and reels are the first upgrade you should make.
Rods
Top performing rods for pier fishing have plenty of backbone and enough length to steer fish away from pilings and structure close to the pier. Extra length also helps with casting further.
An ideal rod for pier fishing is 8 or 9 feet in length with a medium heavy action. Pier fishing rods should be able to handle at least 2 to 3 ounce lure weights and 20 to 30 pound test line. Obviously, the rod you choose depends on the species you are after.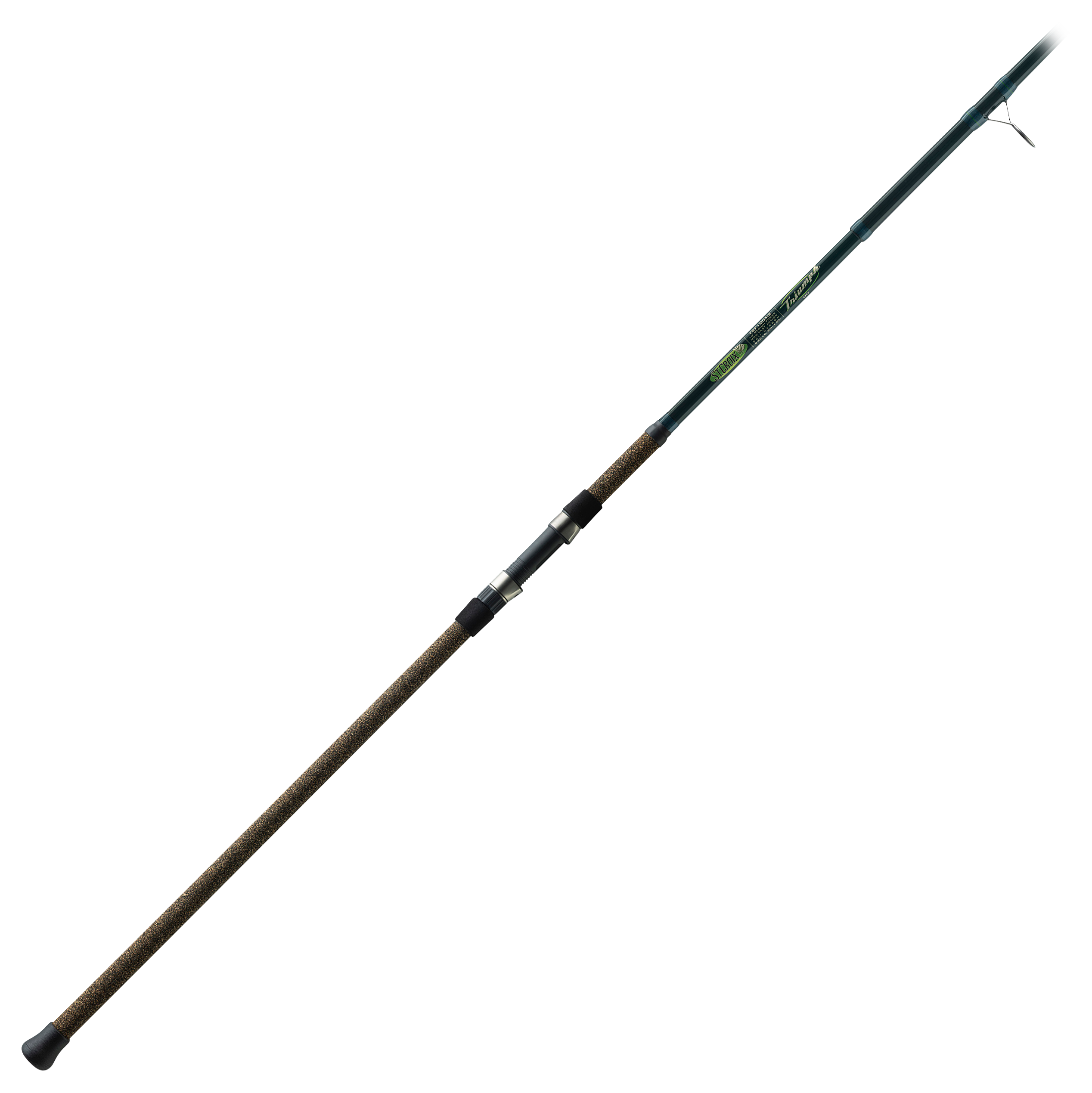 The 9 foot St. Croix Triumph Surf rod is probably the best money can buy for just about any species you might catch off a pier. As the name implies, the Triumph Surf was designed for surf fishing from the beach. However, it happens to have everything pier anglers need too. We also love the extra length on the handle for leverage when fighting large fish. Check out the St. Croix Triumph Surf at BassPro Shops for the best prices.
Reels
Just as important as a quality rod, is a reliable reel. Pier fishing is a demanding sport so don't skimp on the reel. Choose a spinning reel with smooth drag and a fast retrieval rate. One rated for saltwater is preferred but not essential.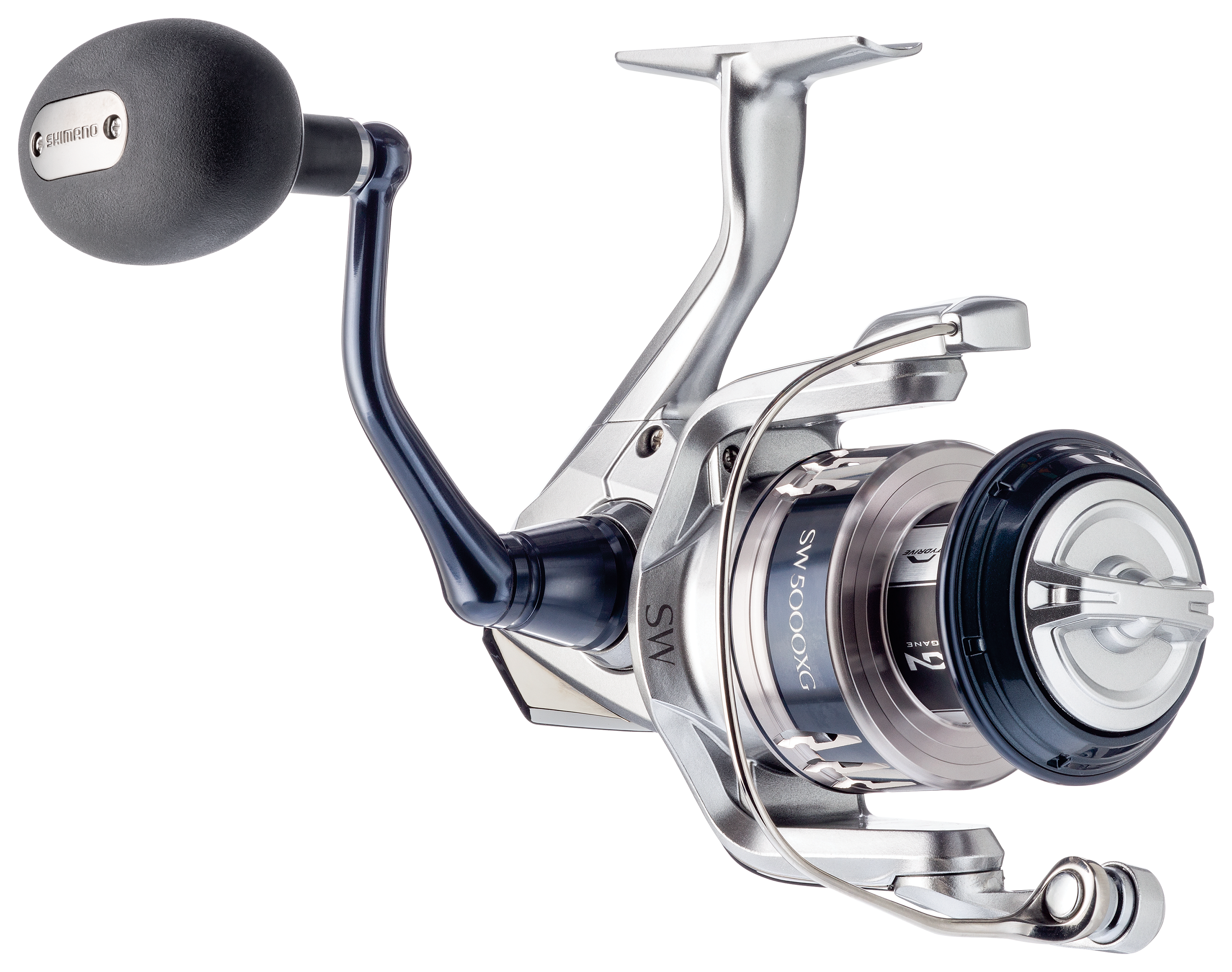 We recommend a 6000 to 8000 size reel capable of holding at least 200 yards of 20 pound monofilament line. The Shimano Stradic and Shimano Saragosa are top of the line pier fishing reels and well worth the price tag.
Penn fishing reels are equally impressive and will serve any pier angler well for years of hard fishing. The Penn Battle and Penn Fierce are both great options. See all our recommended reels at BassPro Shops.
Looking for a budget option that will still catch loads of fish without draining your wallet? Consider the Penn Fierce III Spinning Combo for under $100 at BassPro. The 9 foot, medium heavy rod paired with a 6000 series Penn Fierce reel is all you need for almost any pier fishing situation.
Best line
Except for anglers targeting the biggest saltwater gamefish, most pier anglers should use 20 to 30 pound mono or braided line. 20 pound test line is sufficiently strong, easy to manage on the reel and casts easier than heavier line.
Deciding between mono and braid is a matter of preference. Monofilament line is a cheaper option but you will sacrifice sensitivity since it has more stretch than braid. If you could choose only one line for pier fishing, go with 20 pound braid. The thinner diameter means you can load more line onto your reel which allows you to cast much further than mono.
Braid also has zero stretch which means you'll feel every bite. The only downside to braid is its tendency to form wind knots and tangles. Sometimes tangles with braid are impossible to undo so cutting a section of line off is the only solution.
You won't be disappointed with Power Pro Spectra Braided Line. It is high quality line for a reasonable price. You'll get the best deals on Power Pro line on Amazon.
Best baits for pier fishing
There are numerous baits that are effective for catching all sorts of fish off a pier. Always use a bait that most closely matches what fish are eating naturally at the time. Having a variety of baits on hand is the best way to ensure you have something fish will bite.
Here is a list of popular baits that never seem to fail out on the pier.
Cut bait
Clam necks and mussels
Squid
Sand crabs
Shrimp
Pile worms
Bloodworms
Sand worms
Anchovies
Sardines
Live bait
Artificial plastics and jigs
Of all the bait options, our favorites are pile worms and shrimp. When it comes to catching bigger fish, live bait is hard to beat.
Sometimes it seems like fish don't want any bait you throw out. When the bite gets tough and you need a change of pace, try a soft plastic swim bait or a pier jig.
Any small minnow imitation swim bait on a 1/4 or 1/2 ounce jig head will work. There are many ways to retrieve a swim bait to entice a bite. Cast it out and let it sink, then work it back with small or vigorous hops depending on the mood of fish.
Pier jigs like the Gotcha Plug or Buzz Bomb are some of the most potent artificial baits on the pier. Keep a few in your arsenal any time you head to the pier.
What size hooks for pier fishing
Anytime you fish with bait you need to select an appropriately sized hook. Using a hook that's too large may spook wary fish and a hook that's too small leads to lost fish during a hard battle.
Tailor your hook size based on the target species. Use a size 4 hook for whiting, pompano and other fish with small mouths. As you scale up to larger fish, buy a range of hook sizes from 4 to 1/0. You'll have your bases covered that way, regardless of what's biting around the pier.
Landing nets and gaffs
Once you get out on the pier for a day of fishing, it quickly becomes apparent that pulling a fish up from the water is a problem unless they are small. Some piers sit above the water 15 feet or more. Reeling up large fish on your line is not practical.
Landing nets and gaffs solve this problem. A landing net is nothing more that a hoop net with a length of rope that allows you to lower it to the water and yard it back up. This is the best option for landing larger fish and when practicing catch and release.
The Frabill pier and bridge drop net is our favorite pier net. We got ours from Amazon. It's generous 36" hoop works for salmon, stripers and everything in between. Best of all, it comes with 50 feet of rope.
Gaffs are another option but they are not recommended in most situations.  A gaff works by impaling fish.  Obviously, this kills the fish so make sure it's legal to keep first.  Otherwise, use a drop net.
Other must have gear for pier fishing
Luckily, pier fishing is pretty straight forward and there is not much gear needed to catch fish. However, a few more key pieces of gear should be on your list.
Pliers: A good, rust-resistant pair of pliers is a must. These will be invaluable for removing hooks from fish and cutting line when tying up your fishing rig.
Fillet knife: Don't leave the house without a sharp knife for cutting bait and cleaning your catch at the pier.
Bucket: A sturdy bucket not only works to haul your gear to the pier, it provides a convenient place to store your catch. It also doubles as a seat.
Cooler: When you plan to spend a long day fishing and the weather is warm, bring a cooler with ice to store your fish.
Chair: A comfortable folding chair is critical when the bite is slow and you need a break from standing.
Polarized glasses and sunscreen: Protect yourself from the sun's glare. Use sunscreen and wear polarized glasses even on cloudy days.
Rain jacket: Coastal weather is unpredictable. Prepare for wet weather or a passing shower with a rain jacket.
How to rig up for pier fishing success
There are just a few rigs you need to know to catch almost any fish from a pier. They are all easy to tie up and require minimal tackle.
Here are our 3 favorite rigs for pier fishing in just about any saltwater region.
Three way rig
The tree way rig is a staple among saltwater anglers. This rig is ideal for presenting bait just off the bottom while keeping it anchored in place in tidal currents.
At its heart is a three way swivel. One end of the swivel attaches to the main line. On the opposite end is a length of line that is tied to a heavy lead weight like a pyramid sinker. The middle portion of the three way swivel is tied to a hook with bait. Make sure the hook leader is shorter than the weight leader to avoid tangles while casting.
Carolina rig
The Carolina rig or sliding sinker is a great option for fishing with live bait. The heavy sinker helps cast your bait and pulls it to the bottom while still giving your live bait freedom to move around. It is a more natural presentation that produces trophy catches.
Tie it up by first sliding a 1 or 2 ounce sliding sinker on your main line. Follow that with a bead then attach a barrel swivel. The bead helps protect the swivel knot from damage caused by the sinker. Next, tie on a 2 to 4 foot leader to an appropriate sized hook. Bait up and cast it out. Let it sink on slack line with your bail open. Once it hits bottom, gently reel up the slack just until tight.
Drift rig
A drift rig is the most natural way to present bait. I would bet that more big fish are caught on a drift rig than any other. It is also the easiest to tie up. Keep in mind though that this is not the best setup for fishing on crowded piers. As its name implies, the drift rig "drifts" around with the current so you'll tangle with other anglers if you're not careful.
All you need is a barrel swivel tied to the main line. Attach a 2 foot leader to a hook. A foot above the hook pinch on a split shot sinker. You only need enough weight to pull your bait below the surface. Use more weight if you want to go deeper. Now hook on a shrimp or other bait. Just cast it out and let the current around the pier push your bait to waiting fish.
How to catch bigger fish off a pier
Catching bigger fish is all about location, timing, bait choice and a fair bit of luck. Not every trip to the fishing pier will result in a big fish but you can put the odds in your favor with these tips.
Use live bait – Local bait shops usually have live bait commonly eaten by gamefish species. Try to use live bait that mimics what fish feed on.
Fish at high tide – High tide pushes bait fish and aquatic forage closer to the pier. Big fish tend to follow.
Fish the migrations – Seasonal migrations often bring better opportunities to land big fish. Take some time to learn about fish movements and seasonal patterns where you fish most.
How do you land fish on a pier
Landing fish off a pier takes a little practice, especially without help. Most fish are lost right at the net so it's critical to get a system in place to consistently land fish.
Always keep your drop net or gaff handy with the rope free of tangles. We also like to keep the end of the rope tied off to the rail so we don't accidentally loose the whole setup. Once you hook a fish, focus on controlling the fish's movement and keep it from snagging on the pier. Get it properly tired out before reaching for the drop net.
Lower the net down below the water line a foot or so and gingerly work the fish to it. Pull up the net just enough to trap the fish. Now you can set the rod down and hoist your fish up with two hands.
With two people, the job is way easier. Your netter just needs to stand ready until you get the fish up to the pier. Then, they can lower the net. Make sure they don't drop it too soon or the fish could tangle the line around the net.
Still struggling to land big fish from a pier? Take a look at our how-to guide for landing any fish from a pier to improve your pier fishing skills.
Pier fishing etiquette
A fun day of fishing from a pier requires anglers to abide by some unspoken rules. Etiquette among anglers helps avoid conflicts and keeps everyone fishing.
Follow these simple tips for pier fishing etiquette:
Give people room – Sometimes it seems like only one part of the pier has the action but try not to crowd anglers who were there first. Give them space to cast and don't cast over their line.
Reel up your gear when someone hooks a big one – Eventually, someone will hook a fish that rockets up and down the pier. Reel up your line so they don't get tangled with your gear and enjoy the show. You would expect the same courtesy when it's your turn to battle a monster.
Help land fish – Everybody needs a hand now and then. When someone is struggling to land a fish, help them out.
Share some tips – We all started out as novice fishermen. When someone asks for a few pointers, don't be stingy. Help them learn and you may be rewarded with some good information too.
Best times to fish from a pier
It's hard to say when you'll stumble onto a hot bite at the pier. Quite simply, the best time to fish at the pier is whenever you have time. Fish are always feeding and cruising around piers so you can catch a limit anytime.
In general though, sunrise and sunset are prime times to fish from a pier when the weather is warm. On cloudy days or during colder months, mid-day often produces the best fishing.
Watch the tides for better fishing
You can catch fish during every phase of the tide from a pier. However, our best days of fishing occur during an incoming tide until about one hour after high tide. This period of time seems to bring large schools of fish within casting distance of piers.
Final thoughts
Some of the best fishing on the coast happens right from a pier. If you want an easy way to catch more fish all year long, consider heading to your local pier. Use the tips and techniques in this article and you'll be well on your way to becoming a pier fishing expert.