It's probably fair to say that ice anglers are a bunch of gear junkies. We love all the tackle, tip-ups, ice augers and flashers. But most of all, we love collecting an assortment of ice fishing rods. Rods for jigging, rods for deadsticking and even ice rods for different species.
The biggest challenge is finding the best ice rods among the many duds. Today's anglers are inundated with countless offerings. Our job is to weed through the gimmicks and find the true gems.
I have sorted through my fair share of ice fishing rods to discover the best. From budget to high end custom, I'll share my pick of the 9 best ice fishing rods that are actually worth buying.
1. Best for multi-species: Fenwick HMG
Gearing up for ice fishing means being ready for anything. Whether you are targeting trout, perch, bass or walleye, be ready to catch them all on multi-species lakes. Be prepared for any fish with the Fenwick HMG ice rod.
Fenwick HMG ice rods are built with quality in mind. They boast super sensitive carbon blanks and premium stainless steel guides with aluminum oxide inserts. Rounding out the package is an attractive cork handle and durable reel seat.
When it comes to pulling fish through the ice, HMG ice rods have enough backbone to pull chunky walleye and feisty trout through the ice. At the same time, Fenwick carbon blanks register even the most tender panfish bites.
Add a spring bobber for increased sensitivity and you have an ice fishing rod that tackles the full spectrum of fish. We prefer the 27" medium Fenwick HMG ice rod for the ultimate in versatility. Its talents only fall short once trophy lake trout and pike come to play.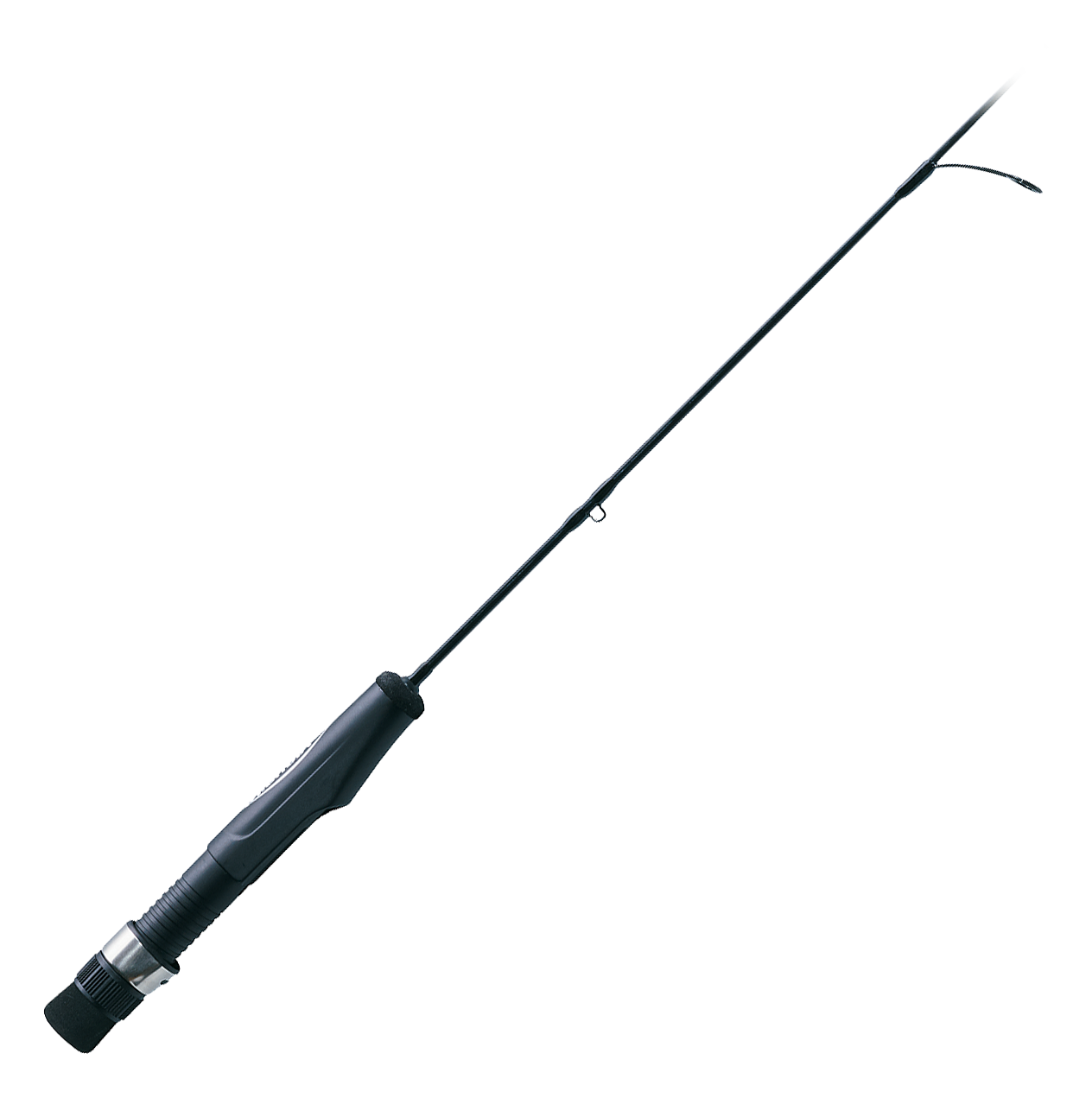 If there is one rod that lives up to its name, it is the St. Croix Legend Black Ice rod. For years, the Legend has stood out as one of the best ice rods for detecting the lightest panfish bites possible.
Avid panfish anglers have their ice fishing gear selection down to a science. So it's no wonder St. Croix's Legend Black Ice rods are a favorite. Tapered carbon blanks deliver every vibration down through the custom quality reel seat straight to your hand. You'll feel every twitch of your bait.
St. Croix takes bite detection to a new level with the integrated stainless steel spring bobber. If a crappie, perch or bluegill so much as breathes on your jig, you'll know. The bright bead helps you see the bite even in extreme conditions. St. Croix could improve the setup by using a titanium spring bobber with a larger ring to resist freeze ups.
Few fish garner the attention of ice anglers like walleye which means there are loads of rod options on the market. For us, one rod stood out for its quality and versatility for taking on any size walleye. That rod is the St. Croix Mojo Ice.
St. Croix did a masterful job pairing tough solid carbon blanks with top of the line guides and a durable EVA foam handle. On top of that, the skeletonized grip adds sensitivity and feel that most other rods can't match.
It is a balanced rod that provides excellent jig control while retaining hook setting capabilities when walleye run deep. In addition, the power in the base of the rod is capable of steering trophy walleye up through the ice.
While the St. Croix Mojo Ice excels at every jigging technique out there, it will disappoint anyone looking for a walleye deadstick rod. Even so, the St. Croix Mojo Ice is an outstanding choice for all walleye ice anglers.
Ice fishing for trout demands a rod that is both sensitive yet strong. Don't be fooled. Not all stocked trout are small. Stocked trout can follow up feather light bites with blistering runs that strain even the best rods.
Powerful trout pushing 5 pounds or more are a handful for any rod. However, the 13 Fishing Widow Maker is up for the challenge. It has the flexibility to bend deep into the base so trout won't throw the hook with violent head shakes. On top of that, the tip is delicate enough for using finesse jigs and baits while feeling every strike.
Like all fine fishing instruments, the 13 Fishing Widow Maker is made using high grade materials. Every component, including the diamond coated guides, Toray graphite blank and cork handle, make this ice rod a top performer for trout. Go with the 32" medium or medium light Widow Maker for most stock trout applications.
Trophy lake trout and pike are some of the biggest fish that swim below the ice. Battling a 30 pound laker or a 42" pike on your panfish rod is a recipe for disaster. If trophy fish is your aim, come well armed with a rod to handle them.
One such rod ready for the task is the Shimano Convergence ice rod. Among the most popular sizes for lake trout and pike is the 42" heavy power with a fast action tip. This allows you to drop the big baits needed for deep water behemoths. The heavy power also gives you the strength to drive solid hook sets and wrangle thrashing fish up the hole.
The most important feature of any good trophy ice fishing rod is a deep bend that stays loaded during huge head shakes. The Convergence handles this reasonably well. For the price point, Shimano utilized quality material to assemble this rod. The Convergence ice rod is a fish fighting machine that delivers power when it matters.
The HT Enterprise Ice Blue rods provide amazing fish catching capabilities for a price that barely lightens your wallet. With the HT Ice Blue, you get more than you pay for without all the fluff of high end rods. This fiberglass rod is well suited for panfish, small trout and even light tackle walleye.
A comfortable corkalon handle with sturdy, black ring reel mounts help create an ergonomic fishing setup for a full day on the ice. Subtle bites are easily noticed with the super soft hi-vis tip. In addition, the ultra-light action has enough strength to battle most fish under 18 inches.
If you are looking for a cheap way to try out ice fishing or you are looking to add a second deadstick rod to your arsenal, the HT Ice Blue rod is for you. Be aware that the guides on this rod are small so freeze up is an issue when fishing outside a shack. However, it is still the best budget ice fishing rod we have ever found.
St. Croix brand yet again makes the cut on our list of best ice fishing rod. But it isn't without good reason. St. Croix rods are among the highest grade rods anglers can buy and the St. Croix Custom Ice is no exception.
When you want a custom ice rod that is as beautiful as it is deadly, then this is the rod for you. Choose from 3 performance blanks in a variety of lengths to match your situation and fishing technique.
You'll also get a smooth split-cork grip and oversized REC recoil guides that shed ice with a single flick. When price is not the priority, spring for a St. Croix Custom Ice rod and you won't be disappointed. Be sure to check it out on Amazon to see the custom configuration that will work for you.
Rod and reel combos for ice fishing are gaining in popularity. When all you need is a well priced way to start out, it's tough to beat the convenience of a ready made package. One of the best rod and reel combos for ice fishing is the Shakespeare Ugly Stik Gx2.
Not only is the most popular ice fishing combo available, it is also the top choice for ice anglers looking for an easy way to target a diverse range of species. The unbreakable rod blank Ugly Stiks is famous for also sports a super sensitive tip that performs admirably on panfish.
The included reel isn't going to impress anyone used to handling high end reels. However, it is still plenty functional for any novice ice angler just getting started. For the price, you can't beat the Shakespeare Ugly Stik Gx2 ice rod.
Despite decades of ice fishing rod development, there is still plenty of room for innovation. Everything from high end custom shops to established brands are all competing to find the next ice fishing rods that every angler loves.
Among the most enticing new ice fishing rod companies is Frostbite Co. Started by Youtube fishing stars, Frostbite Co. has a cult following that is heading toward mainstream.
And it's not just the momentum of fame that drives this company's marketing. The creators of Frostbite Co. have put together a full line up of rods that truly cater to what avid ice anglers want. There are loads of custom features that make these rods powerful competitors to other top brands. Not to mention, Frostbite Co. rods are priced well below similar offerings.
Check out our complete on-the-ice review of Frostbite Co. ice fishing rods to see if you'll like them as much as we do.
Time to pick a reel
Once you spend money on a decent ice fishing rod, you've got to do it justice by pairing it up with a worthy reel. There are two main types of reels that ice anglers prefer. The most common is a conventional spinning reel. However, for some applications you may choose to get an inline reel.
Not sure what the difference is? Then read our comparison guide of inline vs. spinning reels for ice fishing to see which you should choose.
For those that want the tried and true spinning reel for their ice fishing rods, check out our list of 6 affordable spinning reels.
What to watch for when selecting an ice fishing rod
Finding the best ice fishing rod to match your particular situation is not always easy. There is a lot to consider. Several factors like species, fishing technique, sensitivity, power, length and quality all go into making an informed decision.
Let's take a quick look at all the things you need to watch for when selecting the best ice fishing rod.
Species: The first factor for narrowing down your search is the species of fish you target most. Panfish require a completely different set of features in a rod than northern pike. Start by figuring out what fish are most likely to be your favorite quarry.
Length: By far, rod length is the hardest thing for ice anglers to nail down when choosing an ice fishing rod. Most ice fishing rods are short for a reason, which we covered in detail in another recent article. Whether you fish in a pop-up or prefer to stay mobile, an ice rod ranging in length from 28" to 36" is the most versatile.
Power: The power refers to the bend of the rod. Heavy power rods are geared towards large fish and light power rods are ideal for panfish and small trout. Not only that but how you like to fish should also be a consideration when selecting the right power. If you like using large lures and jigs, a stiffer power is better. Prefer finesse tactics instead? Consider a medium light or light rod.
Sensitivity: Sensitivity of a rod is especially important for hardwater anglers. Primarily because many species are much less aggressive during the winter. This rings true mostly for panfish. Always get the most sensitive rod you can afford if you are targeting perch or crappie.
Quality: Not all rods need the highest quality parts to successfully land fish on the ice. However, if you want long lasting reliability from an ice fishing rod, get the best quality you can afford. Things like aluminum oxide guide inserts, premium cork handles and top quality carbon or glass blanks go a long ways toward improving your success.
Reel Seat: Ice fishing rods often don't have built in reel seats. Instead, solid cork handles require reel attachment with tape or bands. Not sure what you prefer? Read our article to help you decide if reel seats are better than tape for ice fishing rods.
What about custom ice rods
For some of you, a store bought ice fishing rod may not cut it. Everyone loves the idea of a custom rod and there are some awesome rod builders that can make any ice rod to your specifications. Find out if custom ice rods are truly worth the money.
Want to get the most out of your ice fishing season? Check out our Washington State Ice Fishing Secrets ebook. Our book highlights the 10 best lakes for ice fishing in Washington State with actual coordinates to some of our most productive holes. Plus, we thoroughly cover everything from gear selection, tactics and travel planning. To top it off, you also get information on 41 other lakes with superb ice fishing! Check it out before ice fishing season passes you by!