Winter is here and we've got crappie on the brain. Whether you are targeting slab crappie the size of dinner plates or just looking to get some tasty fillets, gearing up with a few top lures is essential.
Crappie are not alway easy to catch but you don't need a million and one lures to get the job done. Assembling a few of the best crappie lures is all it takes to hook more and bigger fish through the ice every time.
Looking to put together the ultimate crappie ice fishing tackle box? Well, you've come to the right place.
On this list, you'll find 11 unbeatable crappie lures that have been proven choices among experienced ice anglers for years. Take a look at the selection below to see what you've been missing.
Custom Jigs and Spins Demon Jig has a long, time-tested history of success on the ice. Take a peek in any diehard crappie angler's arsenal and you'll see one of these classic lures.
We put the Demon Jig at the top of this list because it may be the only lure you need to catch crappie all winter long. Its beetle shape profile and vertical hook presentation makes it ideal for delicate bait presentations that crappie often crave. And the Demon Jig's powers don't stop there. Choose from several tantalizing glow colors and a range of sizes that will make it your go-to bait on the ice.
How to ice fish with a Demon Jig
Demon Jigs excel at targeting early ice crappie that suspend over shallow weed beds. However, you can scale up in size to target crappie all season long at any depth. These tiny jigs require a delicate delivery with light 2-4 pound test line. We even like to add a small split shot 12 inches above the jig. This puts tension on the rod tip to help transmit bites better.
As a vertical hanging jig, it pairs well with live bait. Use a couple maggots or a juicy wax worm to tip a size 8 or 10 Demon for a finesse approach. Short, small hops just above suspended crappie drives them wild.
When live minnows are the ticket for a tough bite, switch to a size 4 or 6. Hook a minnow how you see fit and drop it down. This is a great option for a deadstick rod.
We thought it would be nice to include a newcomer to the crappie ice fishing scene. It may be new, but it is fast earning its place in the ranks as a killer crappie bait.
The Sling Blade gets its name from a unique pivoting hook that imparts a vertical swing to any plastic or live bait on the hook. When you need to show finicky fish something fresh, grab an Acme Sling Blade. Sizes and colors for any situation are available.
How to ice fish with an Acme Tungsten Sling Blade Jig
As with any horizontal tungsten jig, tip the hook with your favorite plastic or bait. For most of ice season, a size 3 jig is fine but step up to size 5 when crappie are aggressive and you need to get back down fast.
Use a quick, consistent jigging motion to get that hook swinging. Soft plastics develop a special action on the Sling Blade that you can't get on any other tungsten jig.
Some anglers think the swinging hook interferes with good hook sets but we find the opposite to be true. Almost every crappie gets the hook right in the top of their mouth.
Without question, the VMC Probe Jig is a prerequisite for any ice angler wanting a universal crappie lure. The TriggerX plastic has a profile that mimics a diverse range of natural forage found in most crappie waters.
Coupled with a 1/16 or 1/32 ounce tungsten jig, this lure tempts all crappie with its seductive tail flicks. Even the slightest quiver of your rod sets the Probe Jig in motion. The 1.25" long plastic is just the right size to grab the attention of hungry fish.
How to ice fish with a VMC Tungsten Probe Jig
Like most soft plastics aimed ate getting crappie to bite under the ice, the VMC Tungsten Probe Jig is best fished with subtlety. Drop down on a school but stop short about 1 to 3 feet above them. Give a few moderate hops then make it stutter on the spot. Interested crappie will rise fast and gulp it down.
We recommend having both the 1/16 and 1/32 ounce sizes in a few different colors. Black chartreuse glow, pink chartreuse glow, natural glow, and chartreuse glow are our favorites. Tipping the Probe with a single maggot is often the best way to seal the deal on finicky fish.
Custom Jigs and Spins makes another entry on our list with the ever popular Ratso Jig. This horizontal, lead-head jig yields big results on slab-sized crappie. No ice fishing kit is complete until you get a few of these.
Once you drop down through the ice with a Ratso, you'll see why they earn their reputation year after year. The super soft, flexible body supplies the ultimate in finesse. Shake it on the spot or hold it in place. Either way, that delicate Ratso tail will mesmerize even the most clever panfish.
How to ice fish with a Custom Jigs and Spins Ratso Jig
The Ratso is ideal for shallow water applications. That's why this is the first jig we tie on our line for early ice panfish. Choose a 1/32 or 1/64 ounce jig in chartreuse, orange sherbet or any glow color you like.
No need to tip this lure with bait. Just bounce it on the spot and that is all the convincing crappie need.
Sometimes it takes a more natural approach to yank a stubborn crappie through the ice. Enter the Lindy Little Nipper Feather Jig. This supremely simple jig gives all the right action using nothing but a feather.
Each barb on the feather jig moves with bewitching gentleness that not even modern soft plastics can match. Each lead jig has a contrasting feather hand tied and glued securely in place. When the bite gets tough, we reach for the Lindy Little Nipper.
How to ice fish with a Lindy Little Nipper Feather Jig
The Little Nipper isn't necessarily the first lure we tie on for winter crappie but it certainly should be part of every ice angler's repertoire when all else fails. Both the 1/16 and 1/32 ounces sizes in white and chartreuse are a staple in our box.
It's hard to fish the Little Nipper Jig wrong but a slow approach highlights the fine action of the feathers. Keep it above suspended crappie where they see it best. This is not the most durable jig but it out lasts most plastics 9 times out of 10.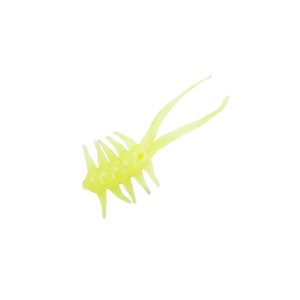 Deep in the heart of ice fishing country, Maki is a household term heard in just about every conversation. Clam Maki Plastics aren't just a recommended bait, they are a requirement for serious anglers chasing big crappie.
Maki Plastics come in all shapes and sizes. From minnow mimics to alien-like squids, all are capable of slaying monster crappie in every lake, pond and river. Each type is expertly designed to imitate some form of aquatic life for an unrivaled "match the hatch" look. Popular Maki include the Maki Jamei, Maki Mino and Maki Polli.
How to ice fish with Clam Maki Plastics
Tungsten jigs are among the best way to serve up Maki Plastics to all panfish. You'll get the most enticing action using horizontal jig presentations. But don't limit yourself. Some anglers like to use Maki Plastics to tip spoons or lipless crankbaits for added flare.
We prefer to pair Maki Plastics with 1/16 and 1/32 ounce tungsten jigs. Go with glow colors. Especially, when crappie are holding over deep basins where less light penetrates through ice and water. Use a gentle jigging cadence to make the Maki fingers dance.
Little Atom Nuggies have all the right curves in all the right places. These soft plastics feature the ingredients needed to sleuth up a full limit of crappie on the ice. An ultra-finesse tail and an egg shaped body match up nicely with small tungsten jigs.
With over a dozen colors and scent impregnated into every Nuggie, this small bait packs a big wallop. When downsizing becomes the name of the game, reach for the Little Atom Nuggies.
How to ice fish with Little Atom Nuggies
There are days on the ice when schooling crappie are right below you but not a single fish wants to bite. That's when you put on a Little Atom Nuggie. Drop it down on a small tungsten jig and work it with a light touch. The super soft tail wiggles all on its own.
This is not a search bait. The inch long plastic has a tiny profile so it's best reserved for enticing panfish that you know are nearby.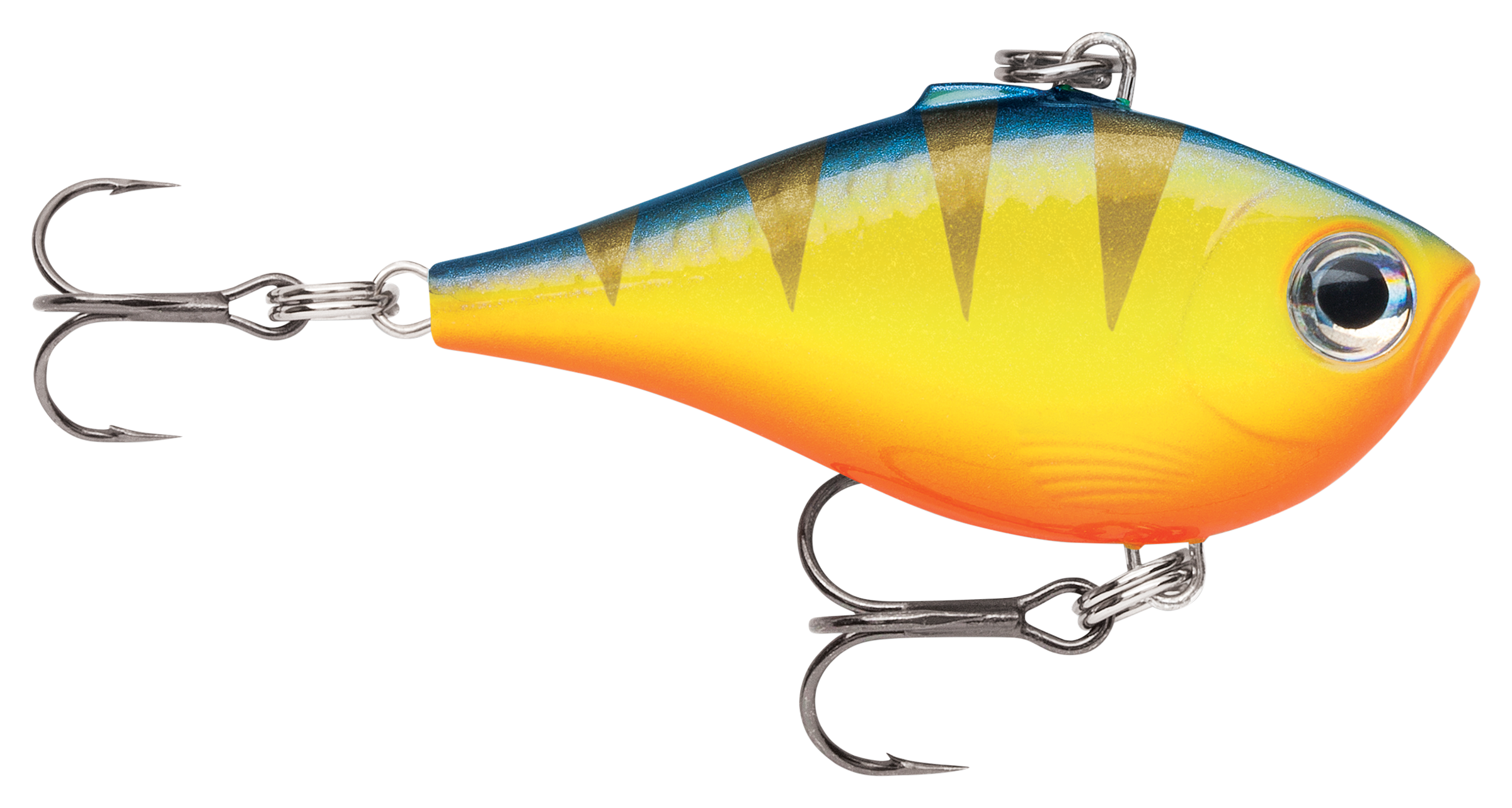 You would be hard pressed to find any top lure list that doesn't have a Rapala lure on it. Then again, Rapala produces some of the finest baits around so it makes sense. Keeping with that trend, the Ultra Light Rippin' Rap claims a top spot as one of the best lipless crankbaits for tackling slab crappie on the ice.
Rippin' Raps have a full compliment of vibrating BB rattles, realistic holographic eyes and textured finishes that single out big fish in the school.
How to ice fish with the Rapala Ultra Light Rippin' Rap
Staying on top of schooling winter crappie is a constant challenge and search baits are a must. The Rippin' Rap is among the best lures for calling in fish. Jig it aggressively to engage the intense rattles. Let it drop with a slow flutter followed by a short pause.
Once you mark fish on the flasher, tone your action down and keep it above the fish. With subtle twitches, raise it up as fish rise to strike. Color choice depends on water clarity but pearl grey shiner and glow never fail.
Salmo hit a home run with the Chubby Darter. For ice anglers there is no better alternative to live bait. The plump minnow profile and potent action entice strikes when the bite gets tough.
The Chubby Darter is a vertical wobbler with no equal. Its high density foam body combines a slow sink rate with wobbling maneuvers that drive crappie wild. You'll find this lure in two sizes and nearly a dozen life-like colors.
How to ice fish with the Salmo Chubby Darter
When ice fishing for crappie, go with the smaller 1/16 ounce size 3 Salmo Chubby Darter. As far as color choice, stick with what works where you typically fish. We like the gold yellow perch and silver red orange combinations.
Start out jigging with quick rising snaps to get the Chubby Darter wobbling. The intensity of the wobble will send this lure far outside the area of your hole. Don't be surprised if it disappears momentarily from your flasher screen. Now, let it drop with a controlled fall. Most crappie come in for the kill as it sinks so watch for sudden slack in the line.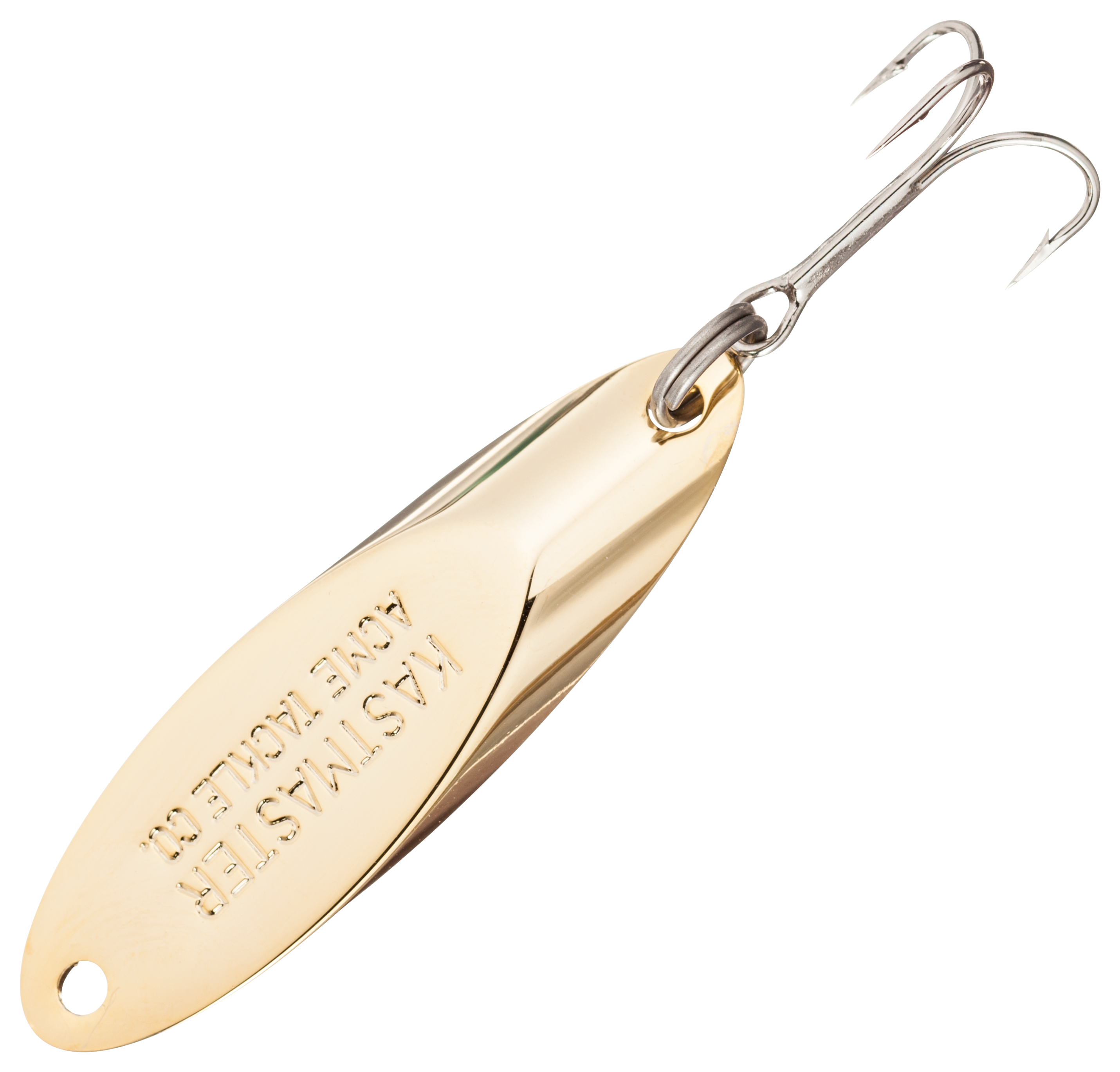 No tackle box is complete without the addition of a Kastmaster Spoon. That's why most serious ice anglers have a few on hand. The unique beveled cuts and fast sinking design lets you drop down quickly with a captivating flutter.
No spoon is better for sharp shooting crappie holding tight to structure or in deep water. With nearly limitless color and size options, the Kastmaster is one of the most versatile spoons on the ice.
How to ice fish with a Kastmaster Spoon
Kastmasters don't get the love they deserve from ice anglers looking to take advantage of hot crappie bites. This is the ultimate spoon for picking off eater crappie without spooking the school.
Start with 1/12 ounce Kastmasters and drop them down just above marked fish. Pound it on the spot with aggressive 6 inch lifts of the rod tip to get the best jittering flash and vibration from the lure. Once fish start rising to the bait, give it a quivering lift and get them to chase. To call in fish from a distance, try a Kastmaster Rattlemaster. Tip these spoons with waxies or maggots as well.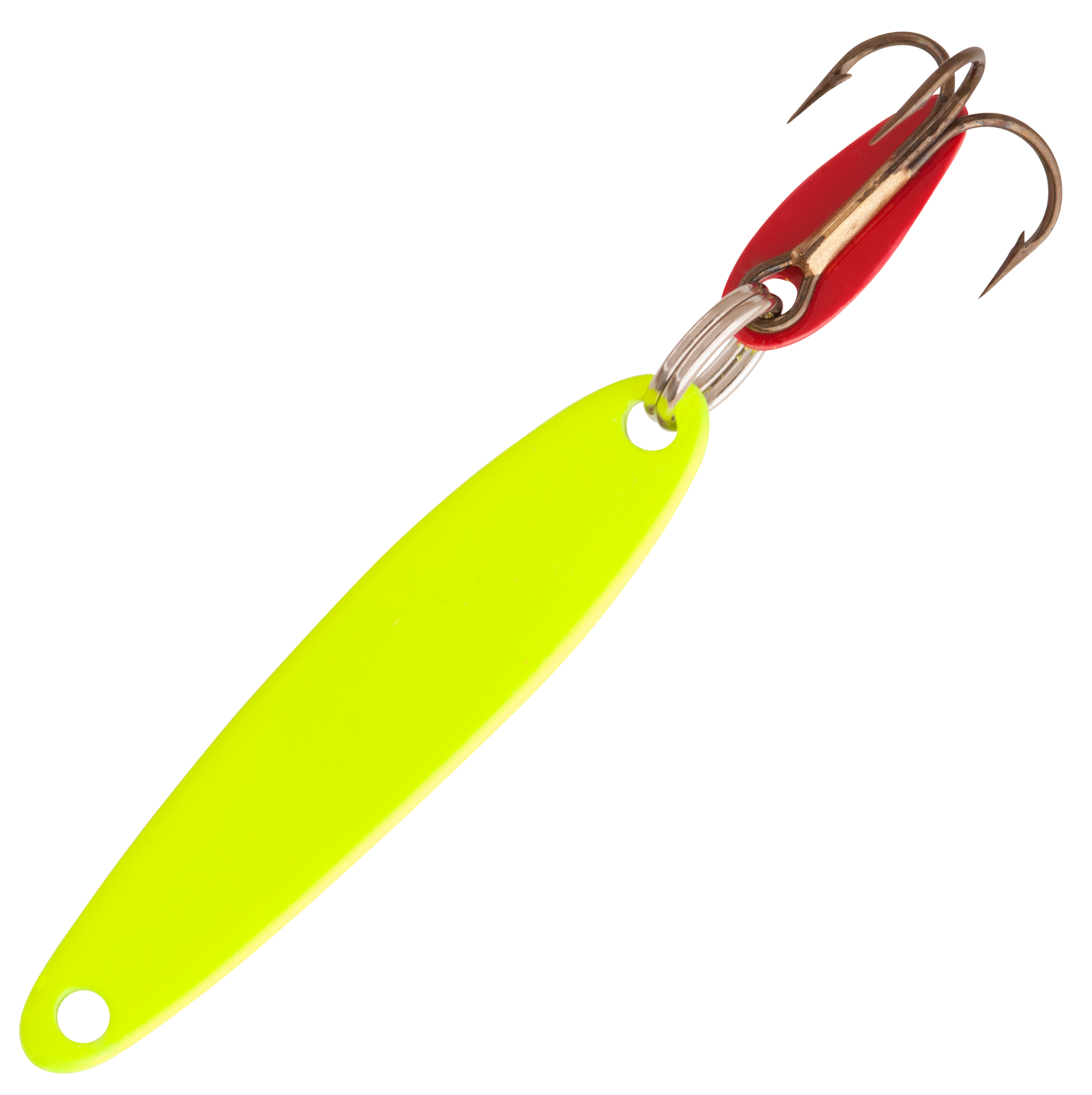 It takes true greatness to earn the mythical status Swedish Pimples hold among ice anglers. Decades of proven fish catching power means that stepping on the ice without one is ill-advised.
Great care was taken in the Swedish Pimple design to make it the best spoon under the ice. It's delicate flutter when jigged and the classic red "flipper" keep crappie coming back for more season after season.
How to ice fish with a Swedish Pimple Spoon
The Swedish Pimple shines brightest as a finesse spoon. We opt for the small 1/10 ounce size for fussy crappie and the 1/5 ounce size when fish are deep. Keep a variety of colors on hand to accommodate different water conditions but chartreuse and yellow prism colors as well as the "Ice" lineup are our favorites.
Jig the Pimple as you would any other spoon. To really engage the mouth watering action of the flipper produce rapid twitches with your rod. Minute movements are all it takes to close the deal on curious crappie. Also, don't forget to tip Swedish Pimples with bait.
Ice fishing for crappie
Now that you know which ice fishing lures are the best for crappie, let's take a look at when and where to put them to use.
Finding crappie under the ice
Crappie seldom pick a spot and stay put all year long. They move from location to location to meet their basic needs as the season changes.
Early ice crappie tend to hold along the edges of shallow weed beds with healthy vegetation. Food is prolific and crappie will school up in the 7 to 12 foot zone on many lakes.
As winter progresses, you'll often find dispersed schools of crappie suspended over deep basins. Find them anywhere from 20 to 40 feet deep, sometimes over the deepest part of the basin.
Once late winter arrives, crappie push to the edges of the basin adjacent to weedy flats. These weedy flats are usually the same areas crappie stage in for the spring spawn.
Tactics to catch more crappie
Ice fishing for crappie is not always a sure bet. Increasing the odds that you go home successful takes more than just luck. Put the odds in your favor with a few tips the pros always follow.
Fish efficiently: Pre-scout your lakes to eliminate unproductive water. By keying in on likely habitat and topography, you'll spend more time in productive areas. Lake maps and GPS are critical components to catching more crappie.
Fish the prime-time bite: It's easy to want to pack up and call it a day before the sun hits the horizon. However, some of the hottest crappie fishing on the ice occurs after dark. Check out our complete guide to ice fishing at night to make the most of the night bite.
Watch the weather: Cold snaps and sudden changes in weather can turn off a crappie bite. Even below the ice, crappie are sensitive to weather. Change your tactics and practice patience when the going gets tough.
Move, move, move: Crappie are a schooling fish. During ice fishing season, finding crappie means drilling lots of holes. Find likely spots but make sure you move around to track down the school. (Bonus tip – drop your transducer through the ice and swing it slowly from side to side to pick up fish from a wider area)
Don't forget about live bait
If there is one bait that rarely fails to catch crappie, it's a small live minnow. Hook a minnow on a plain hook with a split shot 6 inches above it for a killer deadstick technique. You can also try hooking a live minnow on a tungsten jig for a more active jigging approach.
Among the best live baits for crappie are maggots and waxies. As we mentioned before, tipping any lure with a waxy or maggot usually results in more strikes.
A complete crappie ice fishing arsenal should always have a little live bait on hand. Don't miss our recent article to see the best live bait for ice fishing.
Parting words
Can't get enough lure recommendations? Stock up this season and take a look at more of the best ice fishing lures for trout, perch and walleye.
Want to get the most out of your ice fishing season? Check out our Washington State Ice Fishing Secrets ebook. Our book highlights the 10 best lakes for ice fishing in Washington State with actual coordinates to some of our most productive holes. Plus, we thoroughly cover everything from gear selection, tactics and travel planning. To top it off, you also get information on 41 other lakes with superb ice fishing! Check it out before ice fishing season passes you by!