Mark your calendars because ice fishing season is upon us. There are plenty of species to chase beneath the ice but none induce as much fervor among avid ice anglers as the yellow perch.
Anglers across the country storm the ice, itching to fill their buckets with limits of tasty perch. Dense schools of yellow perch inhabit countless iced over lakes across the country. From jumbos to pan friers, getting your fair share is all but guaranteed.
Want to put a pile of perch on the ice this season? A handful of tried and true lures will help you get the job done without spending a fortune.
Here is a quick peak at the top 7 ice fishing lures that big perch can't seem to resist.
Rapala Jigging Rap
Rapala Ultralight Rippin' Rap
Acme Rattle Master
McGathy's Slab Grabber
Northland Tackle Forage Minnow
Lindy Perch Talker
Tungsten Ice Jigs
Read on to see why these ice fishing lures are in a class of their own.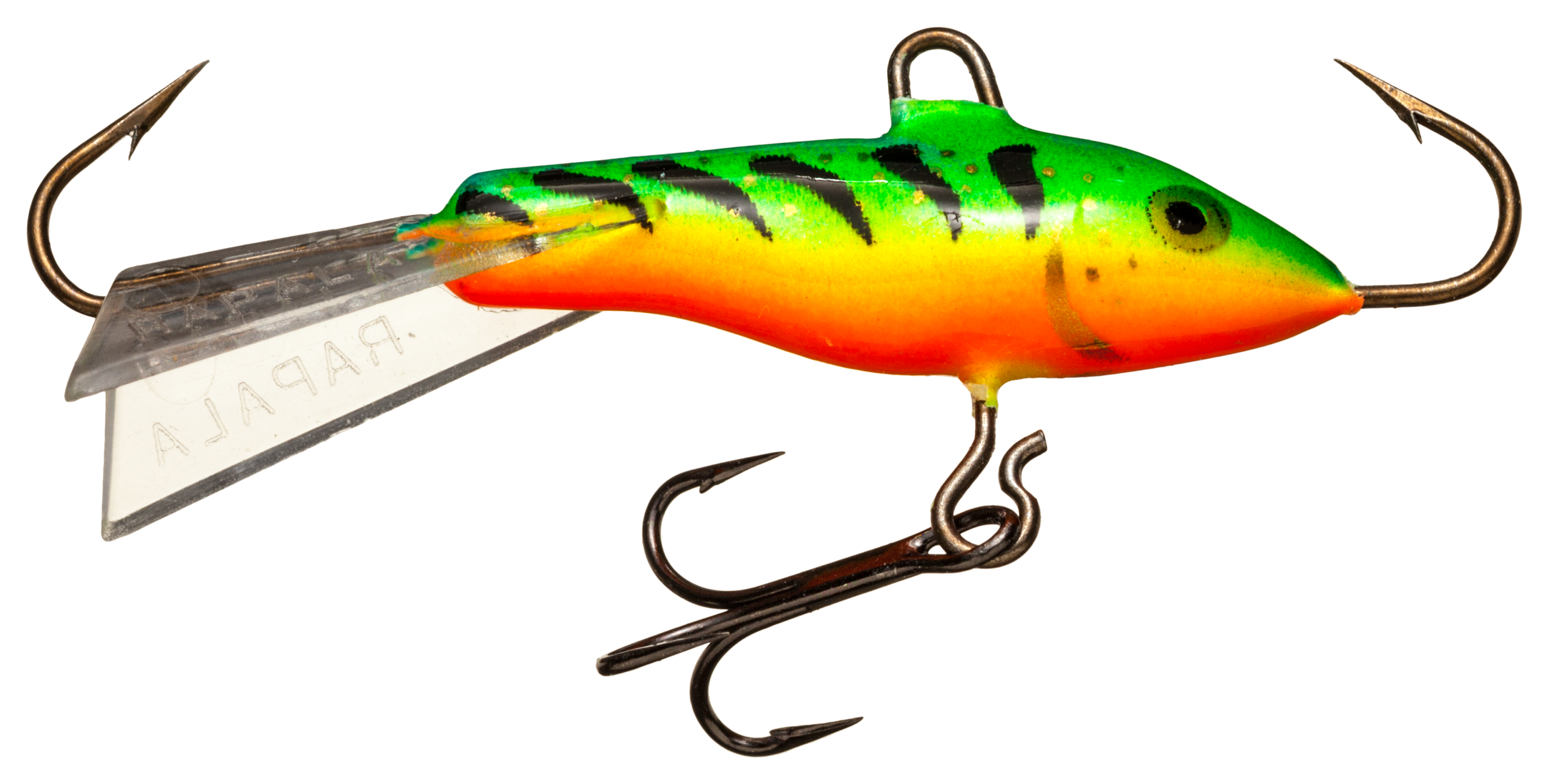 Jigging Raps are fast becoming a staple among all hard water anglers. And for good reason. From fast darting spirals to subtle dainty twitches, vertical jigging with this minnow imitation delivers a one-two punch that slays perch.
A whole slew of colors and sizes means customizing to match conditions in your favorite lake is a cinch. The sleek profile drops to the bottom fast so you can pluck several fish from the school before they even know what hit them.
For a more brawny profile, try out the Rapala Shad Rap. Whether you need to draw perch in from far and wide or entice a bite from finicky fish, the Rapala Jigging Rap can do it all.
How to ice fish with a Jigging Rap
It's hard to fish a Jigging Rap incorrectly. However, a few tricks will ensure you get consistent strikes every time. A combination of aggressive jigging and slow dancing spirals lets you tailor the action to the fish's mood.
When perch eye your bait without committing, try pounding it on the spot with rapid twitches. The resulting vibrations are hard to resist for even the most finicky fish in the school.
For perch, we prefer the #2 or #3 size (1-1/4" or 1-1/2") in Perch, Glow Tiger, Gold or Silver colors. Adding a little bait like a minnow head, perch meat or maggots to the belly hook gives a Jigging Rap irresistible appeal.
When jigging through the ice, start with aggressive flicks on the rod tip to engage the darting motion that imitates injured bait fish. Keep your Jigging Rap near the bottom to call in fish from the surrounding water. Once they arrive, slow it down or you'll drive them away. Little hops and twitches are all it takes.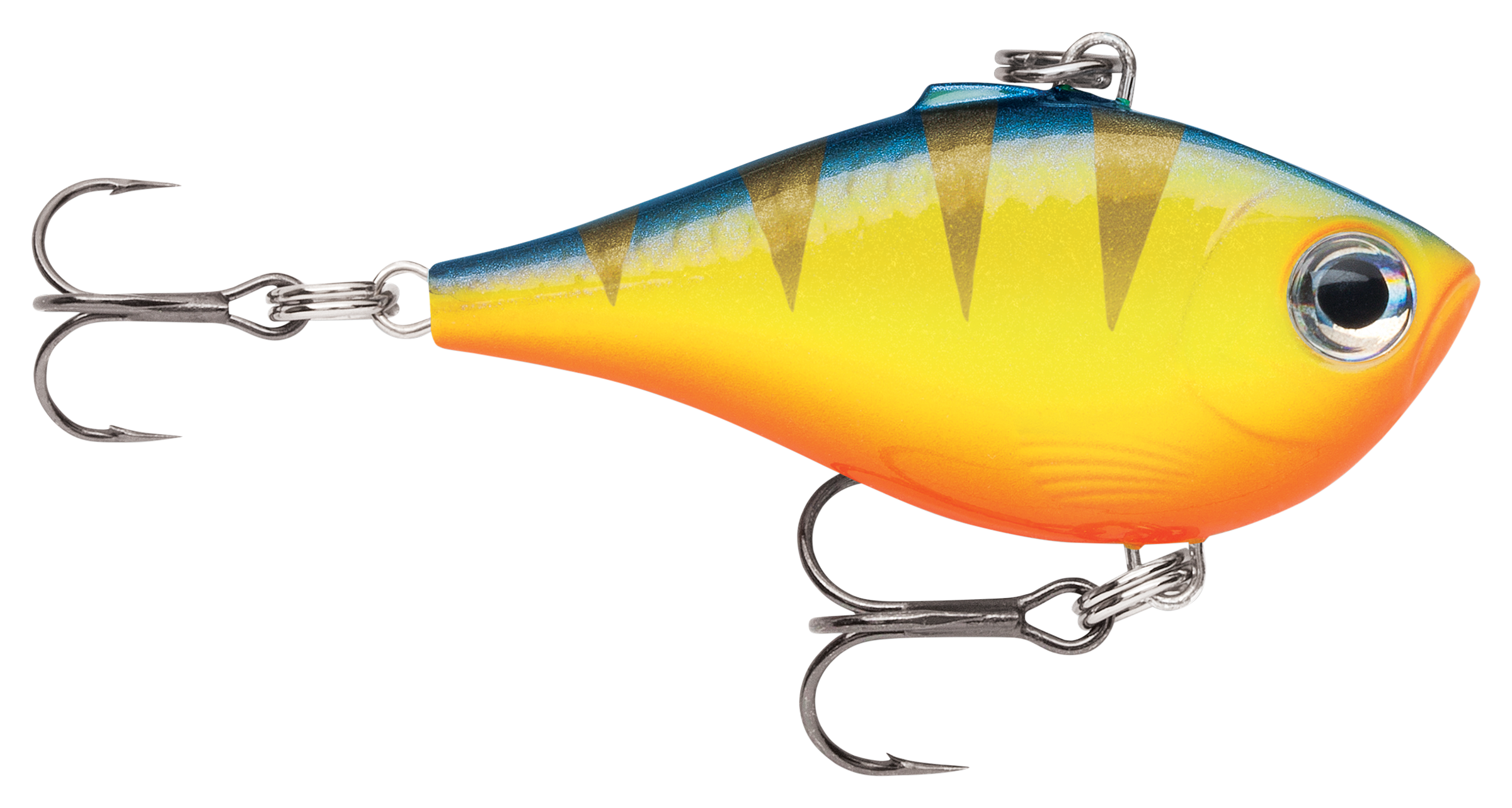 When fat jumbo perch are the target, the Ultralight Rippin' Rap is a must. It's plump, deep belly design appeals to any fish looking for a tasty morsel to feast on. This lipless crankbait isn't just for open water. The Rippin' Rap excels on the ice too.
Vertical jigging engages frantic vibrations on the up-tick and lip smacking quivers on the drop. Combine that with an integrated BB rattle and perch will flock to your bait in no time.
The Rapala Rippin' Rap comes in a variety of colors for any water clarity. Plus, the ultra sharp VMC black nickel hooks deliver confident hook sets in deep water.
How to ice fish with a Rippin' Rap
Like it's cousin the Jigging Rap, the Rippin' Rap delivers versatile action for any situation. Use forceful jigging in stained water to make your presence known. Capitalize on the noise and vibration of this lure. Even pound it in the mud to arouse the curiosity of nearby perch.
Once you start marking fish on the flasher, ease up on the action and transition to more docile movements. Add in a few erratic twitches if you think you've lost their interest. When a perch starts staring down the lure, I like to slowly twitch and lift it off the bottom to encourage a strike.
As always, add bait when the bite is not aggressive. Although, the realistic profile of the Rippin' Rap is usually enough to start a feeding frenzy.
The Ultralight Rippin' Rap comes in 1-1/8" or 1-1/4" sizes. There are loads of colors to choose from but Firetiger and Glow Hot Perch are dependable producers.

If you could only have one lure in the tackle box, make it an Acme Rattle Master. Just like the beloved Kastmaster, the Rattle Master spoon flutters with tantalizing realism. The integrated rattle is icing on the cake and perch love it.
With its slender, fast sinking profile and flashy finish, the Rattle Master is ideal for calling in roaming schools of fat perch. Color choice is somewhat limited but fish don't seem to mind. For a wider color palette go with the original Kastmaster.
How to ice fish with an Acme Rattle Master
Come ice fishing season, most perch hang around muddy flats feeding tight to the bottom. The Rattle Master thrives in that mid-depth zone. Use a 1/12 oz or 1/24 oz spoon to jet down to the bottom.
Give it a few smacks on the bottom and jig the Rattle Master a foot or two off bottom. The wild action sends plenty of flash and vibration to indicate dinner is ready. When perch arrive, I like using staccato twitches on the rod tip to seal the deal.
Don't forget to add a juicy bit of bait. One or two wax worms will suffice. Avoid covering all the hooks or you'll prevent solid hook ups. A half piece of minnow or a perch eye helps single out larger fish in the school.
The Slab Grabber deserves more attention than it gets for landing loads of jumbo perch through the ice. Quality craftsmanship and a unique flared design sets this spoon apart from all others. It's broad fan shape and stainless steel or brass construction blends to create an irresistible treat beneath the ice.
Your fellow ice anglers will be knocking on your ice house door wanting to borrow a Slab Grabber. Paired with some of the sharpest nickel forged hooks, perch don't stand a chance.
How to ice fish with a Slab Grabber
There really is no wrong way to fish a McGathy's Slab Grabber. Fish can't help but bite it whether you are actively jigging or deadsticking. Unlike other lures on the list, tipping this spoon with bait won't always enhance the bite.
The colored bead on the hook helps perch zero in for the bite. We recommend the 1-1/2" or 2" stainless steel fan or diamond cut versions with a blue, chartreuse or red bead.
Add a small snap swivel to allow a full range of motion when jigging. Just don't over do it. Erratic jigging scares off most perch and a gingerly approach lands more fish. Controlled, 4 to 6 inch hops every once in a while will pique the interest of nearby schools. Once you have their attention, simply hold it still until you feel the bite.
You can also rig up a drop shot rig with a Slab Grabber on the bottom and a small plastic or bait 12-14 inches above it. The tandem rig lets you see what the preferred meal of the day is. It's a safe bet that the Slab Grabber is the main course.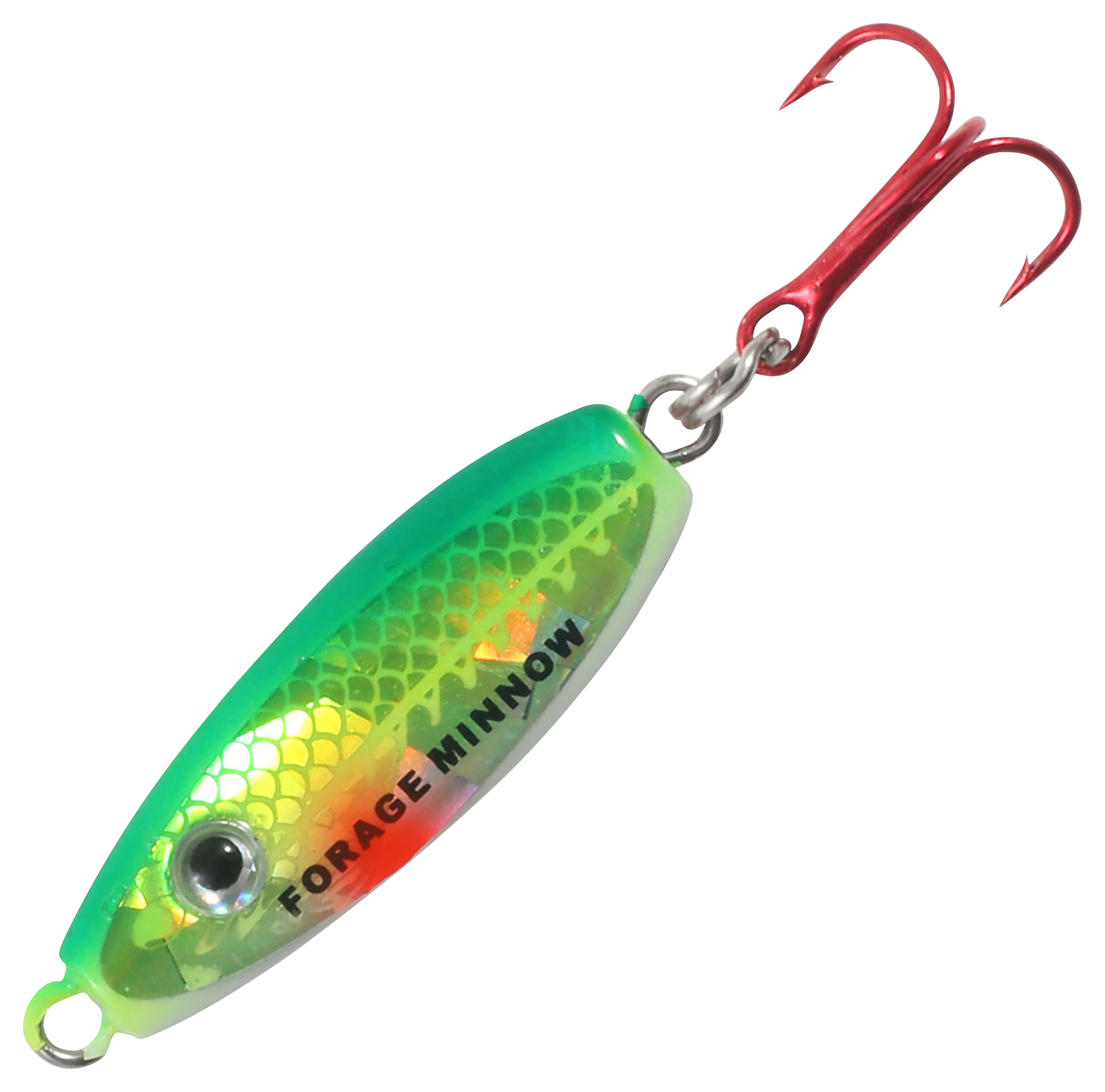 For years, Northland's Forage Minnow has had a top spot on every ice anglers list of favorite perch lures. We see no reason to change that. It's tough to beat perfection and the Forage Minnow is about as close as it gets.
The jigging action of the Forage Minnow is eerily similar to a real crippled minnow and the number of fish laying on the ice every year proves it. The holographic bait fish patterns and a variety of Glo colors are a level up in realism. From the standard 1/8 oz size down to a miniature 1/16 and 1/32 oz size, you can size up for hot bites or scale down when finesse is the answer.
How to ice fish with a Forage Minnow
A simple approach is best when using a forage minnow. The realistic minnow appearance means you can keep it right in their face without spooking wary fish.
Add a small plastic trailer for added appeal. Tipping the hook with bait is a valid tactic as well. Jig the spoon with deliberate motions to draw them in. Add a stutter hop every once in awhile to spice things up. When an interested party shows up, twitch in place and feel for the bite.
A few colors in a couple different sizes is enough to cover your bases. We like Super-Glo Redfish and Super-Glo Perch. The most often used size is a 1/16 oz although light biters may prefer the 1/32 oz.
Let this jig do the talking and perch will listen. With its combination of flashy discs, colored beads and water displacing vibrations, the Lindy Perch Talker hits all the right notes. Fish come in hot beneath the ice when they feel all that commotion right in their lateral line.
The two inch dropper chain leads down to a super sharp treble hook that swings your bait around just right. Perch slurp it up without a second thought. Several enticing colors are available with a choice of sizes for fishing any depths.
How to ice fish with a Lindy Perch Talker
Like any vertical jigging lure, ice fishing with the Lindy Perch Talker is as easy as it gets. When all other lures fail to bring fish onto the ice, put on the Talker to heat things up.
Start by dropping the lure quickly to the bottom to let the flash work its magic. In clear water, the vertical drop often draws perch in because of sheer curiosity. Once your near the bottom, jig the Talker with fast small pops to fully engage the clicking brass discs and beads.
Perch are sensitive to the sound frequency emitted by the water displacement and vibration. However, they like to strike during a short pause in the movement when they can hone in on the dropper hook with bait. Watch for the not so subtle bite once they decide to devour this jig.
The brass Perch Talkers with green discs are our favorite but glow and metallic colors all work fine. The 1/16 oz size is great for most situations but opt for the heavier 1/8 oz when the big schools show up. That way you can more quickly pick off a few before they move on. Be sure to get a few variations in your ice kit this season.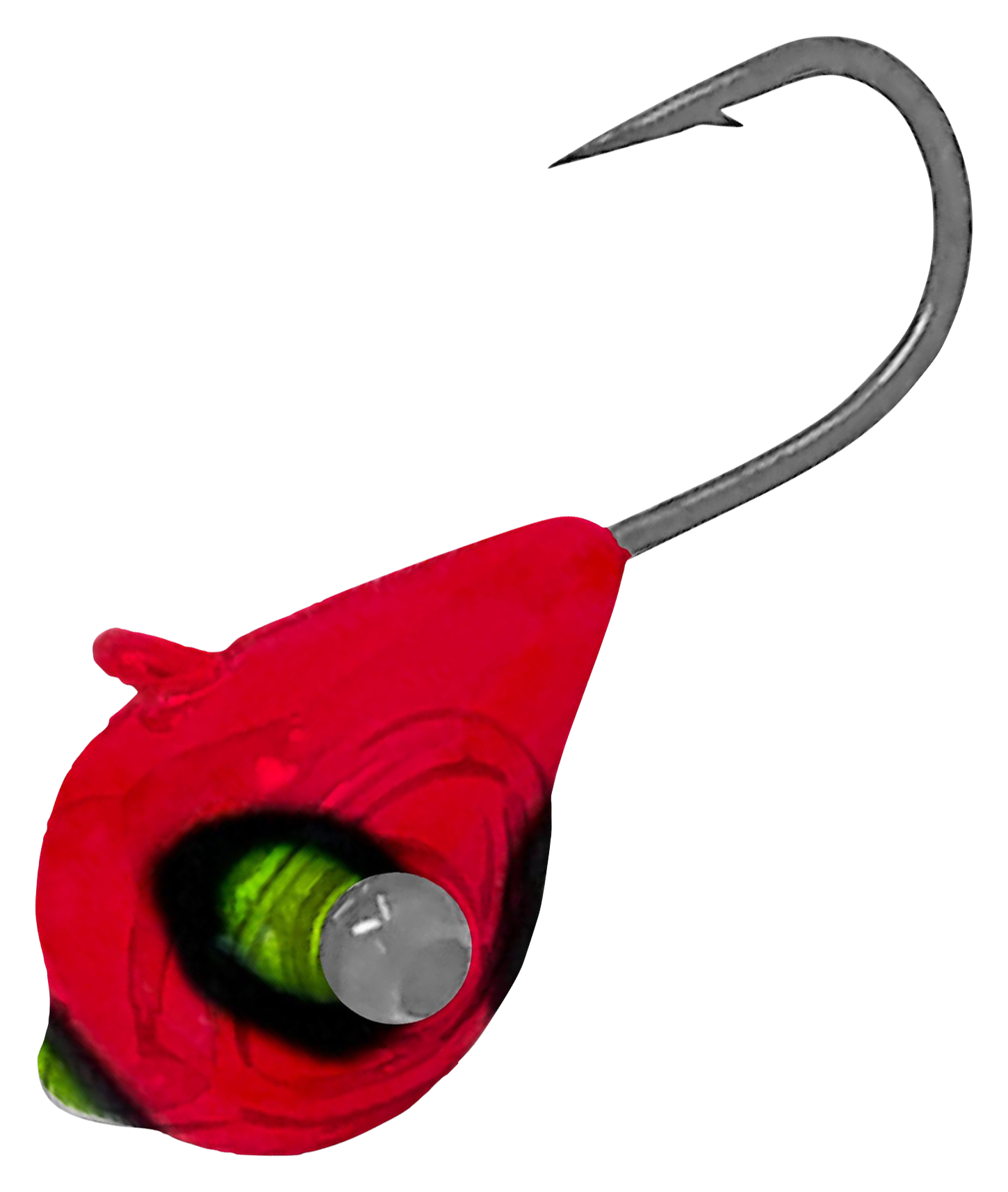 Having at least a half dozen tungsten ice jigs is a right of passage during ice season these days. But not because your fellow anglers will shun you if you don't have them. Instead, it's often having these simple jigs that makes the difference between getting a full pail of perch or going home empty handed.
When a delicate delivery of a soft plastic or bait is needed, tungsten jigs do it best. With a density nearly twice that of lead, you can drop down a small profile bait super quick. Limitless colors including glow options help you tailor your offering to match the conditions. Various shapes and sizes further expand the versatility of the tungsten ice jig.
How to ice fish with Tungsten Ice Jigs
Getting bait to the bottom is a job for tungsten. With its high density, it delivers your offering deep where perch hang out. As an added bonus, sensitivity is better transmitted with tungsten so a light bite won't be missed.
Most bait pairs well with a 3 or 4mm jig. Wax worms, a sliver of night crawler or a chunk of perch meat gets slurped up by unsuspecting perch. For jumbos in deep basins, scale up to a 5mm tungsten jig. Stir up the bottom a bit to attract some attention then finesse your way into their mouths.
Sometimes flashy spoons or noisy, large profile baits won't cut it on heavily pressured water. Instead, deadsticking with a baited tungsten jig just might be the most successful tactic of the day.
Acme Tackle Rattlin' Google Eye tungsten jigs are our favorite in most situations. VMC Tungsten Tubby jigs with a Clam Maki are down right irresistible as well. Check out the K&E Tackle Skandia tungsten kits for high quality budget jigs.
Ice fishing for yellow perch
Ice fishing for perch doesn't need to be complicated. That's why they are a favorite among just about every angler on the ice. Once you have all the tried and true lures, you are ready to put them to use. Let's take a look at a few tips that ensure these lures won't disappoint.
Finding perch under the ice
It won't matter how good the lure you're using is if you can't find any perch. Perch feed aggressively all winter from dawn till dusk (and even into the night) but they school up tight.
It is important to target the right depths and zero in on their feeding grounds. Generally, early ice perch stay right where you left them in the fall. Usually near remaining healthy weed lines around 15 feet of water.
By mid-winter, yellow perch start cruising in basins and flats between 20 and 35 feet of water. You'll find them around this zone until ice out.
Every lake is different so utilize local intelligence or follow the crowd when you are on a new lake.
Tactics to catch more perch
When you find the perch, it's game one. However, here are a few extra tips to put even more fish in your skillet this winter.
Stay on the move: Life is short so don't waste time at an ice hole that isn't producing. Just because fish were there one day doesn't mean they'll be there the next. When the bite slows down, drill 10 or 12 holes across a 50 yard area and bounce around. Eventually, you'll find the schools.
Use electronics: No tool has improved my catch rate like a fish finder. Schools of perch show up beautifully on a flasher or sonar. It's nice having a heads up when fish pass through so you can watch for a delicate bite. Electronics also help you see how they respond to your lures so you can adapt to their changing mood.
Make use of your second rod: You never know what lure is the hot ticket of the day. Drill another hole nearby and drop a second offering to the bottom. I like to have one lure for active jigging and a stationary bait nearby. Whatever their mood, I increase my odds of accommodating their tastes with a second rod.
Wish there was one article where you could learn even more about ice fishing for perch? Your wish is my command. Check out our Ultimate Ice Fishing Guide To Catch More Big Perch.
Don't forget about live bait
It's fun to collect an assortment of lures and fill your tackle bag with goodies. But don't make the mistake of over looking live bait.
I certainly like the no-mess jigging lures on this list yet live bait still has it's benefits. A live minnow or a few maggots on a plain hook with a split shot may be the only thing perch want.
Take a look at our popular article to see what live bait is the best of the best.
Parting words
With so many excellent lures available for perch, it's hard to narrow it down. Hopefully, our top picks help you find your new favorite lure to use this ice fishing season for perch.
Can't get enough lure recommendations for all your ice fishing needs? Be sure to check out our guides to the best ice fishing lures for trout, crappie and walleye before you go!