No gamefish captivates avid ice anglers like the walleye. Everything from their thrilling aggression to the their mouth watering fillets drives anglers to the point of obsession. Each year thousands take to the ice in pursuit of big "eyes" that lurk below.
Ice fishing for walleye is a subtle art. It's a craft best learned over years and years. At times, walleye can be frustratingly finicky and at other times, stupidly aggressive.
However, if there is one thing that puts the odds in your favor, it's having a finely tuned selection of the best ice fishing lures for walleye. There's plenty of tackle to choose from but only a handful make the cut.
Here's a quick look at the best ice fishing lures for walleye that seal the deal almost every time. Find them all at BassPro or Amazon.
Slender Spoon
Williams Nipigon Spoon
Lindy Rattl'N Flyer Spoon
VMC Tingler Spoon
LiveTarget Lipless Crankbait
Rapala Jigging Rap
Northland Tackle Thumper Jig
Enough preamble, let's see why these 7 ice fishing lures are worth their weight in gold when you're on the hunt for walleye.
Custom Jigs and Spins' Slender Spoons are a favorite for any ice angler who loves crushing strikes from big walleye. The classic bent design delivers the ultimate in flash and flutter that grabs the attention of nearby fish.
These ultra-light spoons are offered in nearly 75 colors and 4 different sizes. You'll be able to tailor your offering to match any situation. Choose from any of the timeless gold, silver, nickel and copper finishes with color holographic accents.
We also like the Pro Series or Pro-Glow for an even more customized presentation. Sizes include 1/16, 1/8, 1/4 and 5/16 ounce.
How to ice fish with a Slender Spoon
The unique and aggressive action of the Slender Spoon places it among the top search baits for walleye through the ice. Slender Spoons really excel on expansive mud flats with no defining features.
We like to start with big rips followed by a bit of slack line that sends the spoon fluttering. You'll get wide coverage beyond the foot print of your hole thanks to the gliding action of the spoon.
When fish appear on the flasher, ease up and give it a subtle wiggle or pound it on the spot to entice a strike. When the bite is tough and walleye won't commit, tip your Slender Spoon with a minnow head.
A handful of colors are all you need. Gold is a deadly color in any lake with stained water and the Pro-Glow series in reds and blues all produce.
The best sizes for walleye are 1/8 ounce and larger. When you need to drop deep use the 1/4 and 5/16 ounce sizes. Either way, we recommend upgrading the hooks right away. Using a slightly larger and higher quality treble greatly increases hook-ups and minimizes lost fish.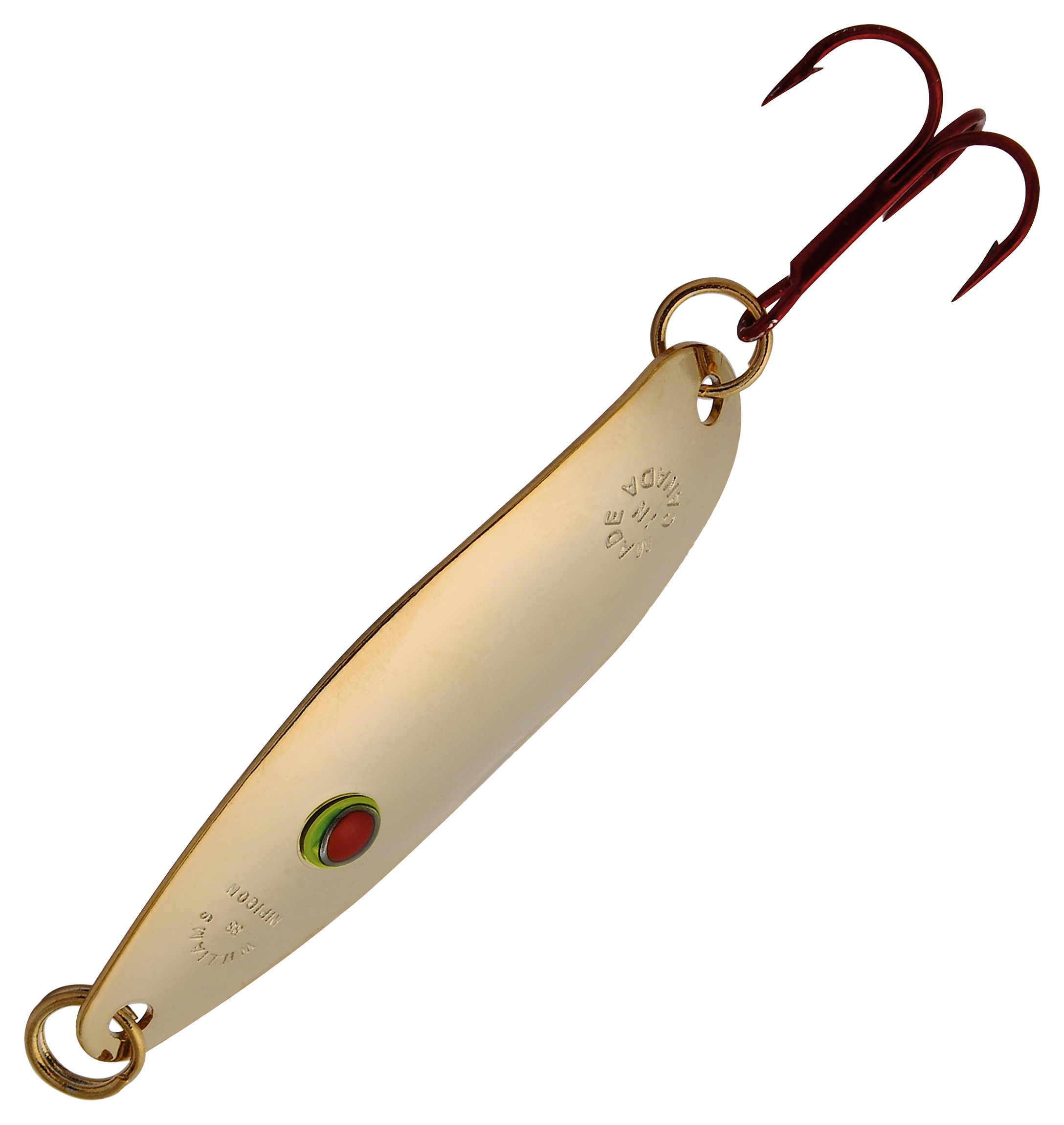 Find any passionate ice angler and chances are there is a Williams Nipigon Spoon in their walleye tackle box. Only the finest jewelry quality gold and silver is used to create the finish on the Nipigon Spoon.
Nothing beats its superior fish calling flash. Even in dingy water under 3 feet of ice on an overcast day, the Nipigon produces enough reflective sparkle to draw in cruising walleye.
Combine all that flash with a mouthwatering baitfish-in-distress action plus a life-like 3D eye and you have yourself a top producing lure. Multiple high shine finishes are available. The traditional split gold and silver is the best producer under a variety of conditions. We also like the "Nu-Wrinkle" hammered finishes for a bit more realism. The premium red treble hook is sticky sharp for solid hook ups.
How to ice fish with a Williams Nipigon Spoon
It's time to break out the Williams Nipigon Spoon in low light conditions. Aggressive jigging grabs the most amount of ambient light and flings it far and wide. On expansive flat basins, it's all about cadence. Give the spoon high lifts and let it fall on a slightly slack line. Add brief pauses before resuming the jigging action.
Maintain that rhythm until you mark walleye on your electronics. Then, switch to subtle quivering movements to convince interested fish to strike. I like to lift this lure away from fish and force them to chase it. Sometimes adding a bit of bait or a minnow head gets walleye to bite. If bait is not permitted, switch out the stock treble for a bucktail or flashabou dressed treble.
That little extra flare is often enough to drive fish mad when combined with gentle shakes that swing the hook from side to side. Just avoid letting this lure remain perfectly motionless as fish investigate it.
The Lindy Rattl'N Flyer might be a relatively new player on the market but its deadly action has led to a meteoric rise in popularity among walleye aficionados. Its unique "winged" baitfish profile produces eye catching glides and flutters when jigged. Plus, the integrated rattle lets walleye hone in on your bait from a wide swath in big basins.
We love the ultra realistic holographic foil finishes which are better than most other spoons available. The glow eyes and assortment of colors lets you pick just the right presentation for the day. Pair that with a laser sharp hook and you have an unstoppable walleye slaying spoon for your tackle box.
Choose from 5 sizes ranging from 1/16 to 3/8 ounce and a dozen different popular colors. It won't be a problem finding one that works for you.
How to ice fish with a Lindy Rattl'N Flyer Spoon
Not only does the Rattl'N Flyer work as a calling spoon, it also delivers a finesse approach you need when the bite is negative.
Make use of the built-in rattles and flash to get a walleye's attention. Then you can rely on the winged flutter to deliver a believable baitfish action. Once you mark an interested fish on the flasher, slow down your jigging. It only takes a few subtle shakes to convince fish to bite. Adding a minnow head is a good fail safe to seal the deal.
When the traditional heavy spoons just won't do, it's time to break out the VMC Tingler. Where most spoons fish fast and heavy, the Tingler's ultra slim, wide, v-shaped body seems to defy gravity. That means your spoon spends more time on the fall and in the strike zone.
This graceful dance sends it gliding far outside your ice fishing hole footprint and will seduce even the most wary walleye to bite. Cover ground and deliver the hypnotic movement often needed to pick big walleye out of a school.
VMC Tingler Spoons come in numerous UV, natural baitfish, holographic and glow colors. Choose from 3 different sizes that give you the ultimate customization for any and all conditions.
How to ice fish with a VMC Tingler Spoon
Once you tie on a VMC Tingler, it's time to slow down. With heavy spoons it's all about aggressive action and flash. The Tingler, on the other hand, demands a smooth action to deliver a gentle flutter.
When you want to search a wider footprint beneath your hole, give the spoon a high lift and fall on slack line to send it outwards. Then, use a series of slow, small hops to work it back in. This tactic never fails to drive fish mad.
Go with the 1 1/2" or 2" spoon when the walleye are hitting hard. Size down to 1" if you are marking fish but they loose interest upon approach. UV and holographic colors are our favorites. As always, tip with bait when needed.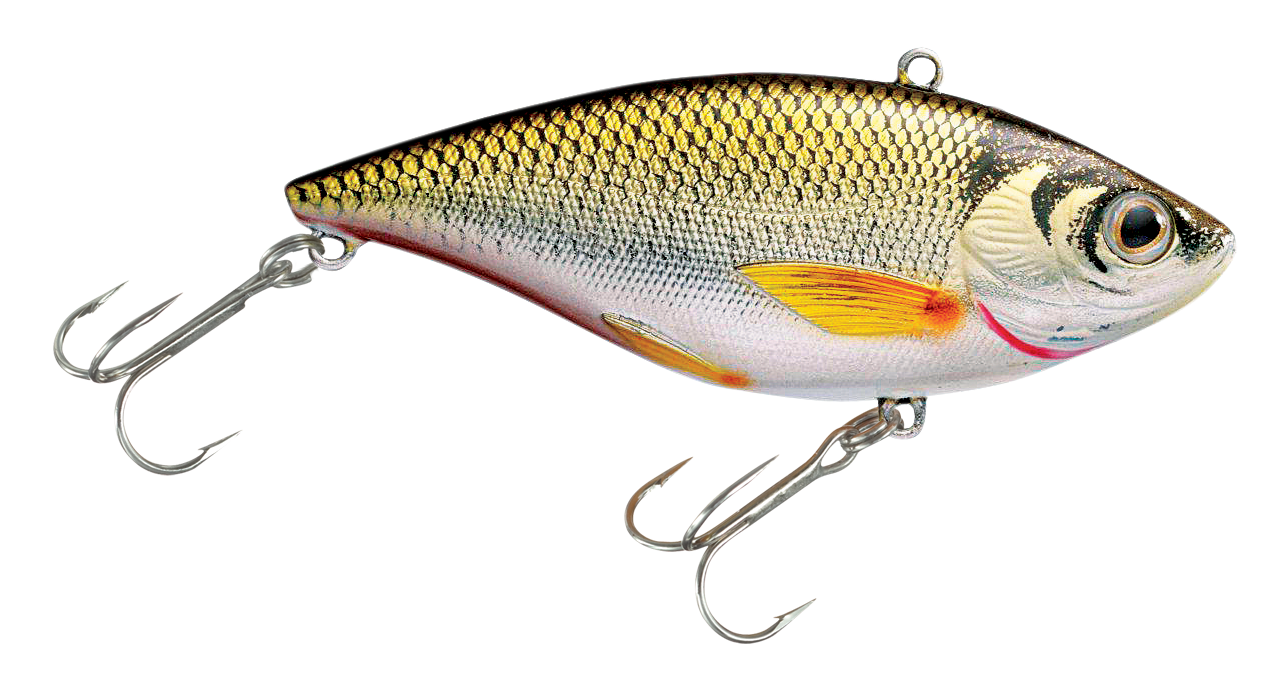 LiveTarget Rattlebaits are a must for any serious ice angler looking to catch more walleye. Intense vibrations from powerful rattles and a superbly realistic baitfish paint job makes for the deadliest one-two punch under the ice.
A single day on the ice with a Rattlebait is all you need to become a believer. Only LiveTarget Rattlebaits deliver enough vibration to tickle the lateral line of even the most distant walleye. No need to drill multiple holes chasing fish. Let them come to you instead.
If that isn't enough, LiveTarget Rattlebaits have some of the most true to life finishes available. Walleye don't merely come to investigate these lures, they rush in and absolutely crush it.
How to ice fish with LiveTarget Rattlebaits
When it's time to make some noise, reach for the LiveTarget Rattlebait. Drop the Rattlebait down to the bottom and give it a solid rip upward to get the side to side action that engages the rattles.
Allow the lure to fall on semi-slack line. Be sure to pause at the bottom. That's when most strikes happen. Repeat that same jigging pattern. More often than not, walleye come in hot and slam it. For the unusually cautious walleye, give a few tiny twitches on the rod tip.
Glow/gold and silver/blue are among the top producing colors on many lakes for walleye. Get a couple different sizes to help you zero in on trophy fish when called for. We seldom tip these lures with bait. A medium power, fast action ice rod pairs well with Rattlebaits.

No list would be complete without mentioning the Rapala Jigging Rap. This multi-species staple works wonders on winter walleye. The power of the Rapala Jigging Rap lies in its versatility. From wild circling dives to slow precise movements, the Jigging Rap can do it all.
Rapala hit a home run by creating one of the only lures that excels both as a search bait and a finesse bait. By varying your jigging cadence you can respond to a wide range of walleye behavior.
If you could only have one jigging lure in your arsenal, make it a Jigging Rap. With dozens of sizes and color combinations, you are sure to find a selection that works on your favorite walleye hotspot.
How to ice fish with a Rapala Jigging Rap
Fishing with a Rapala Jigging Rap is about understanding how your rod movements translate to jigging action. More often than not, overly aggressive jigging deters more walleye than you think. Unlike spring and summer fishing where big rips with a Jigging Rap get all the attention, hardwater walleye like it subtle.
When the sonar or camera screen is empty, start with a searching cadence when jigging. A high sweep and sudden drop sends a Jigging Rap darting in erratic directions. That's usually enough to get the attention of nearby walleye. When you need a little more calling power, capitalize on the heavy weight of the lure and pound it on the rock or mud bottom. The noise and dust cloud it creates will pull in inquisitive fish.
Once fish are showing up on your electronics, transition from a search cadence to smaller tantalizing movements. Tiny hops that flick the back tail of the jig on the down stroke draw fish closer. Follow that up with the slightest rod shakes while lifting away from approaching fish. Mastering these different actions will entice just about any walleye to strike.
In addition to slowing down, try sizing down too. Walleye metabolism drops way down in the winter so the typical open water size #7 and #9 are a bit big. Opt instead for a size #5. It's really the only size we use during winter ice fishing. There are also plenty of color choices but UV green, firetiger and any of the metallic finishes are outstanding options.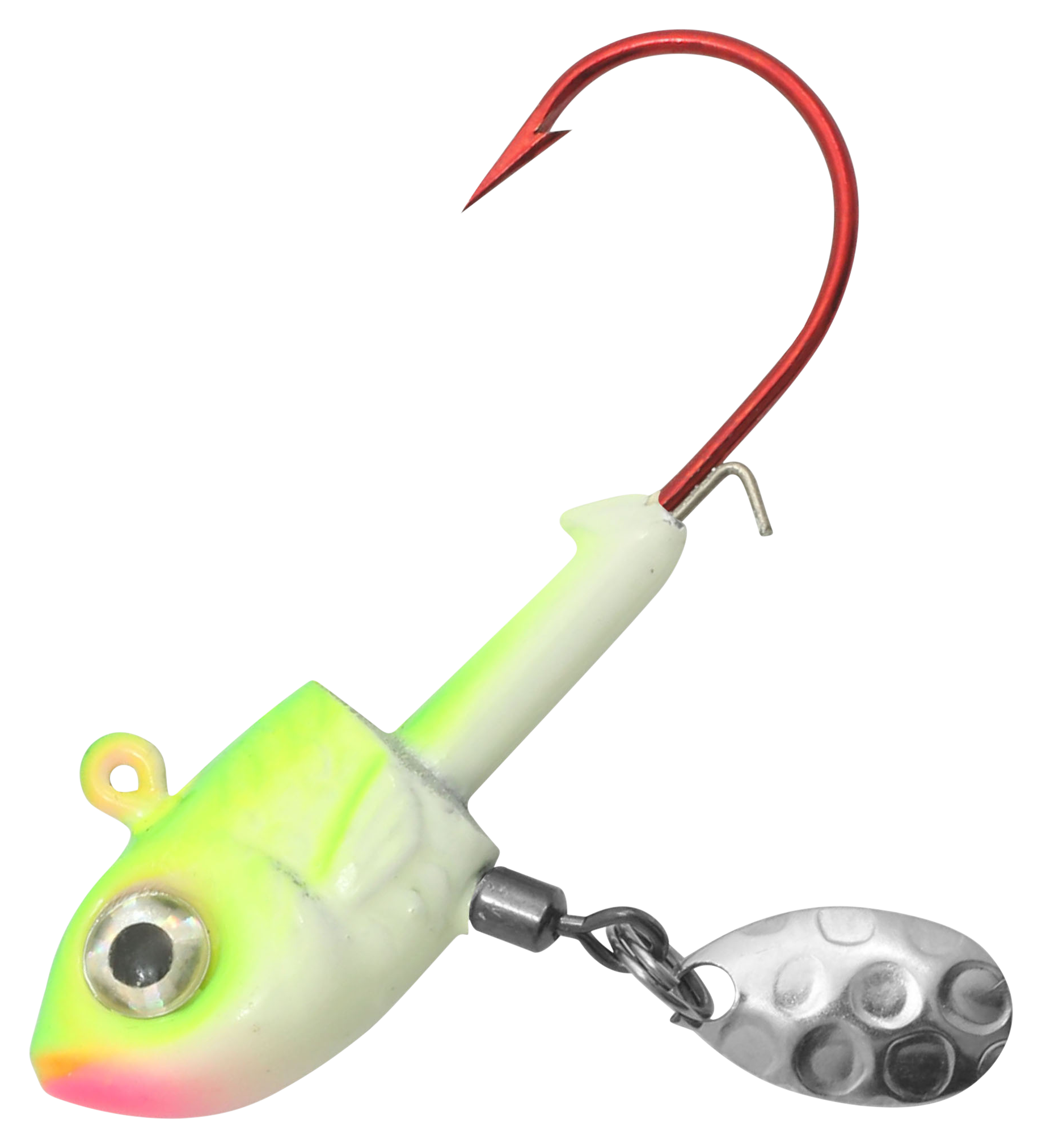 It would be foolish to head out onto the ice without a selection of live bait jigs in your box. Among our favorites is the Northland Tackle Thumper Jig. Realistic minnow head profiles, fantastic paint jobs and a belly blade to add some flash makes this jig a top performer.
Four different sizes and 6 color palettes provide sufficient options for numerous water depths and clarity. You'll also get strong, sticky sharp hooks for positive hook sets every time. Whether you use this on your active jigging rod or a deadstick, it's a deadly and simple technique for catching more walleye in the winter.
How to ice fish with a Northland Tackle Thumper Jig
For the ultimate two-pronged attack on walleye, use the Thumper Jig with a live minnow on a deadstick and a second active jigging rod with a spoon, Rattlebait or Jigging Rap in a nearby hole.
Your active jigging rod calls fish in and catches the majority of the walleye but occasionally the deadstick with the Thumper appeals to big fish with more selective tastes.
Ice fishing for walleye
Now that you have the gear, here's what you need to know to get the most from every lure on the list.
Finding walleye under the ice
Lake topography and water temperature play major roles in walleye distribution. On expansive mud flats, targeting roaming walleye is a daunting task. Try to key in on minor structure changes like mid-lake humps, hard to soft transitions or rock reefs.
Other obvious areas for finding walleye are points, drop-offs and travel routes between pinch points. Early winter walleye tend to hang out around shallow flats where prey tends to concentrate.
As winter progresses and water temperatures drop, you'll find walleye in deeper basins relating to structure. Once late winter draws near, start ambushing walleye near their spawning grounds.
On featureless lakes, it becomes either a "run and gun" or "sit and wait" scenario. This is where search baits like the Rattlebait or flash spoons come in handy to call in cruising walleye.
Tactics to catch more walleye
Every ice angler wants to catch more walleye and a few simple concepts will help you yank more fish up through the ice all season long.
So far, this entire article has been geared to helping you build the best walleye lure kit possible. Once you get the walleye ice fishing lures on our list, half the battle is won. However, the other half depends on scouting, efficiency on the ice and jigging techniques to seal the deal.
Using electronics with some sort of lake mapping is a huge advantage. With lake mapping you can hone in on the best structure and topography without drilling a million holes and wasting time. Do yourself a favor and simplify your scouting with GPS mapping.
Efficiency on the ice is all about searching for fish by staying on the move. It's all too easy to cling to a spot because of the effort it took to get setup. But if fish aren't in the area, it's time to move on. Try to stay mobile. Dress for the elements and start hole hopping when locating walleye gets tough. Once you find them then you can dig in for the long haul.
Finally, it all comes down to selecting the right lure for the situation and refining your jigging techniques to develop a cadence that entices more bites. Take the time to learn how each lure should be fished. Also, pay close attention to how fish respond to your lures. Eventually, you'll gain a sense of what action works and doesn't work depending on their mood.
Mastering all these tactics is essential for any angler that wants to up their game on the ice and catch more walleye.
Don't forget about live bait
Live bait generally gets pushed to the back burner after all this talk of new jigs and spoons. It's a blast to catch fish with artificial baits on an active jigging rod but live bait still catches loads of walleye every winter.
At the vary least, keep live bait on hand when the bite goes negative. Especially, on pressured lakes where walleye get used to seeing artificial jigs. Sometimes being the first one to drop down fresh bait leads to success.
One Last Thing
Can't get enough lure recommendations for all your ice fishing needs? Be sure to check out our guides to the best ice fishing lures for trout, crappie and perch before you go!
Want to get the most out of your ice fishing season? Check out our Washington State Ice Fishing Secrets ebook. Our book highlights the 10 best lakes for ice fishing in Washington State with actual coordinates to some of our most productive holes. Plus, we thoroughly cover everything from gear selection, tactics and travel planning. To top it off, you also get information on 41 other lakes with superb ice fishing! Check it out before ice fishing season passes you by!