Trolling for trout is tricky business. Some days trout will bite any lure you drag behind the boat. Other days, it seems there isn't a single fish in the lake. However, one thing is for certain. Not all trolling lures are created equal.
Your time on the water is precious so don't waste it using subpar lures. No matter how finicky the trout seem to be, there is always something that will peek their interest.
Looking to build a fool proof trout trolling setup that never seems to fail? Then you've come to the right place. After many years of trolling for trout, we've weeded through the duds and now have a trolling kit that contains only the best lures for trout.
Here is a quick look at the 9 best trolling lures for trout that outperform everything else on the water.
1. Mack's Lure Wedding Ring
2. Mack's Lure Cha Cha Squidder
3. Worden's Vibric Rooster Tail
4. Acme Kastmaster Spoon
5. Thomas Buoyant Spoon
6. Yakima Bait Flatfish
7. Rapala Original Floating Lure
8. Pistol Petes
9. Trolling Flies
Don't go home empty handed anymore. Keep reading and see why you need these trout trolling lures and how to use them. Follow the links to see each lure at BassPro Shops.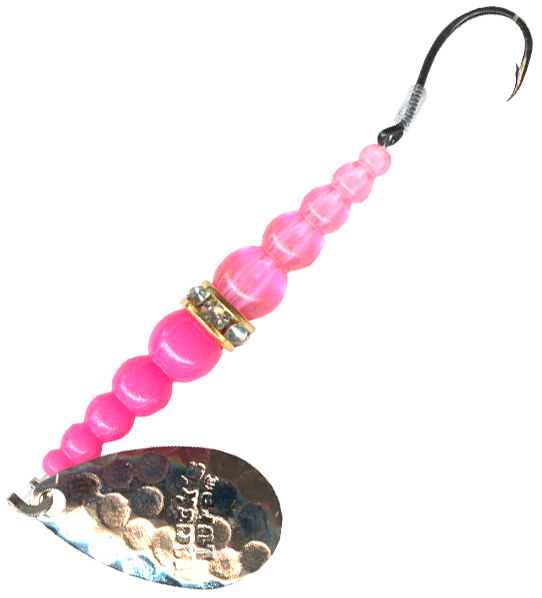 The Wedding Ring is a legend among legends. No tackle box is complete without one. This weightless in-line spinner has all the right flash in all the right places. It's hammered metal blade and classic "wedding ring" band nestled between vibrantly colored beads make this trolling lure deadly to any trout that crosses your path.
Dozens of color combinations and blade styles help tailor your presentation to capitalize on the bite.
How to troll with the Wedding Ring
Trolling with a Wedding Ring is simple but getting trout to bite consistently requires some fine tuning.
We prefer the original Wedding Ring for stocked rainbow trout. The hammered nickel and hammered brass blade styles both work well for a variety of light conditions. Keep a few colors on hand including ones with chartreuse, orange or pink beads.
Wedding Rings are best trolled 12-20 inches behind a dodger or gang troll rig. When a more subtle approach is needed to target larger trout, try trolling the spinner alone with a split shot 24 inches in front to add some weight. Tip the hook with a piece of nightcrawler to seal the deal.
However you end up trolling the Wedding Ring, we recommend swapping out the stock hooks for high quality Gamakatsu wide gap finesse hooks. These will greatly increase positive hook ups and keep you from loosing fish. The octopus style hooks that come with these spinners work fine, but trust me, you'll land more fish if you switch.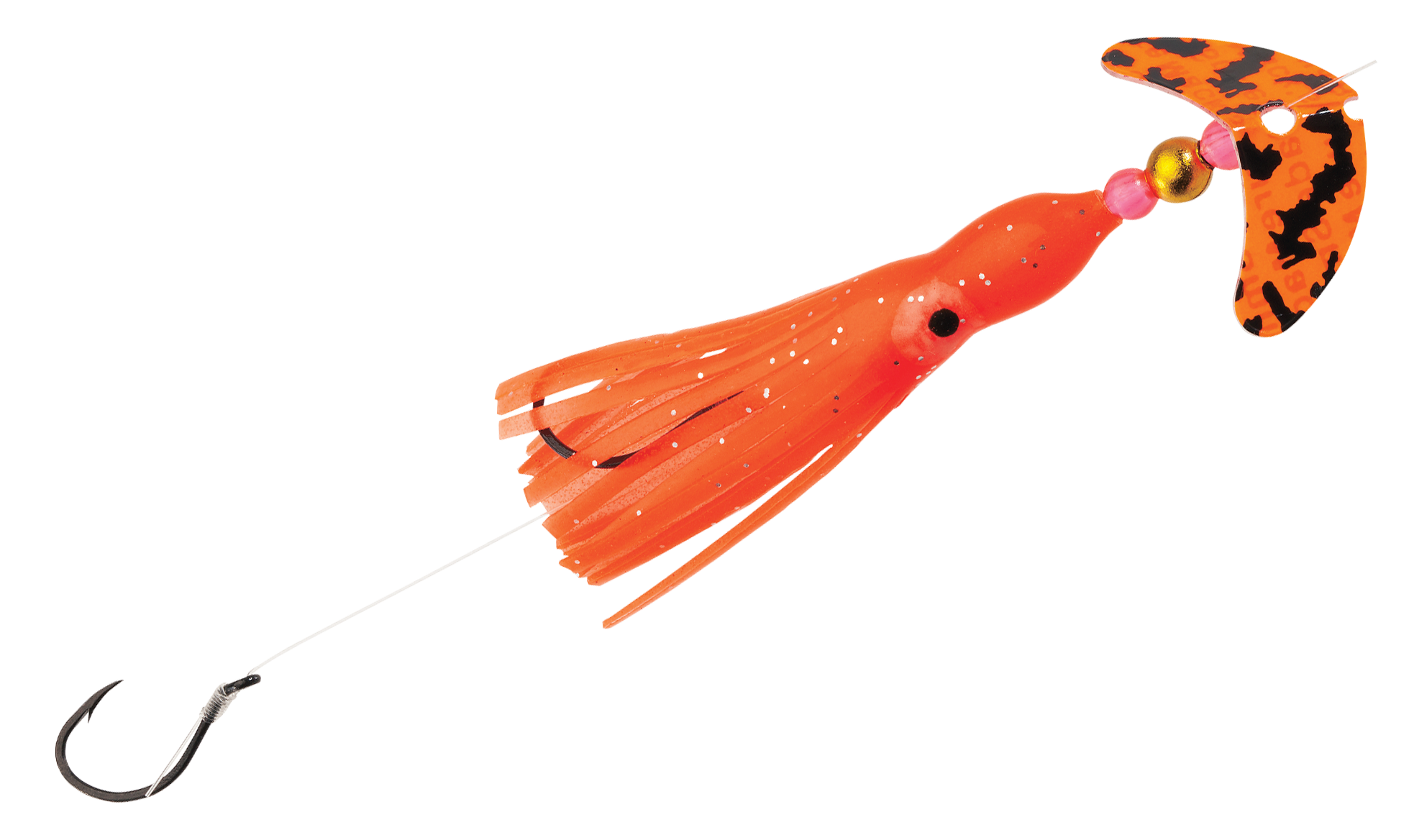 The Cha Cha Squidder is aimed at Kokanee anglers but it has quickly become a favorite for trout anglers as well. The squid skirts add a tantalizing bit of flare to the standard spinner rig. Combine that with flash and vibration produced by a smiley blade and you have an unbeatable offering for picky trout
Tandem hooks make the Cha Cha Squidder perfect for trolling with a juicy nightcrawler. This extra incentive drives big rainbows wild. There is a wide array of color combinations available.
How to troll with the Cha Cha Squidder
The Cha Cha Squidder can be trolled for trout much the same way the Wedding Ring is. The only difference is to use a shorter leader when using it behind a dodger. The 8-14 inch range is our preference. Placing the Cha Cha closer to a dodger increases the action of the squid skirt.
Any of the vibrant chartreuse, pinks and orange colors work great. Our favorite colors, especially for clear water applications, are the blue spatter or purple glow. Again, the included tandem hooks work fine but upgrading to higher quality hooks improves hook ups.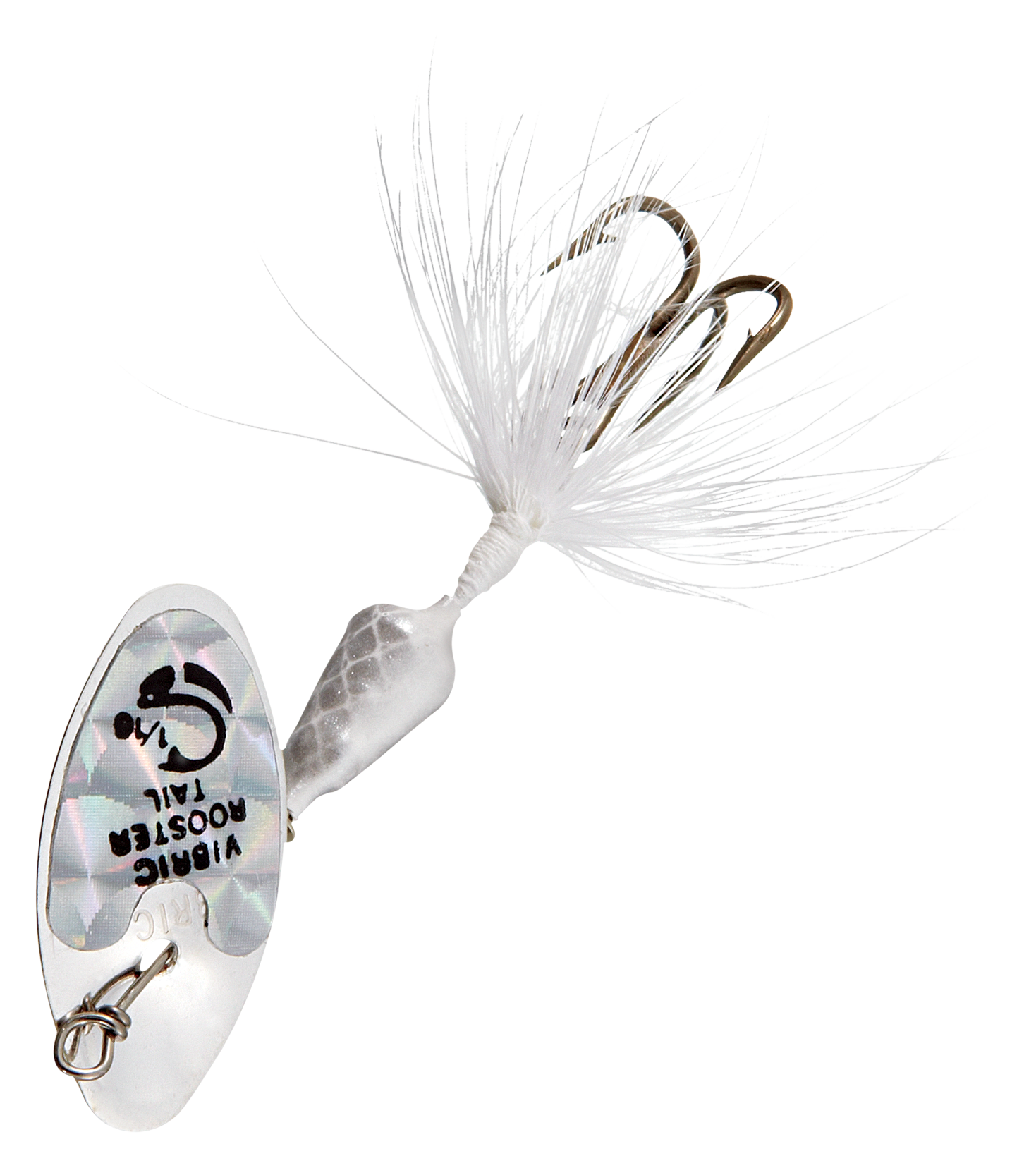 Rooster Tails have long been a classic weighted inline spinner for diehard trout anglers. However, anyone familiar with the original Rooster Tail design knows that the blades don't reliably spin at slower trolling speeds.
Luckily, that's not a problem anymore. The Vibric Rooster Tail incorporates a modified blade and body design that ensures reliable spin and vibration at slow retrieval speeds. You get the same trout slaying feather hackle but now you can troll with ease.
You'll find most of the same colors in the Vibric line up that are popular on the original Rooster Tails. A range of weights from 1/16 to 1/2 ounce also helps you target trout at various depths.
How to troll with a Vibric Rooster Tail
The Vibric Rooster Tail is one of the easiest lures on this list to troll with. You can troll them behind a flasher setup but we prefer trolling Rooster Tails alone.
Trolling Rooster Tails with a spinning reel allows you to cast behind your boat for quick deployment. Add a barrel swivel about 2 feet in front of the lure to reduce line twist.
Your color and weight choice depends on the water conditions but 1/4 ounce sizes in white, black, brown and chartreuse colors always work. Gold and silver blades work best for low light conditions. You can tip the hook with a worm but be careful to avoid added lure spin.

If there is one lure with unlimited applications, it would be the Acme Kastmaster. You can jig it, cast it and even troll with it. As trolling spoons go, Kastmaster's are among the top producers for all species of trout.
Kastmaster's unique design imparts a rapid darting, wobbling action that drives trout mad when trolled at slow to moderate speeds. Various sizes and weights lets you cover the entire water column for all season success. Choose from a multitude of beautiful finishes sure to entice any trout.
How to troll with an Acme Kastmaster Spoon
Trolling for trout with a Kastmaster spoon is a little different than trolling spinners. Balancing your trolling speed with the lure weight is important to achieve the right depth.
When trout are shallow use a 1/12 to 1/6 ounce spoon at slow speeds. When fish push deeper, up your spoon size to 1/4 or 1/2 ounce. Adjust your trolling speed as necessary to keep the spoon from sinking too far. If you need to go deeper, add a lead sinker.
Kastmaster's are easily trolled with spinning gear and are quickly deployed just by casting behind the boat as you would with weighted spinners. Silver, gold, blue/silver and red/gold are the classic colors that produce fish in any situation.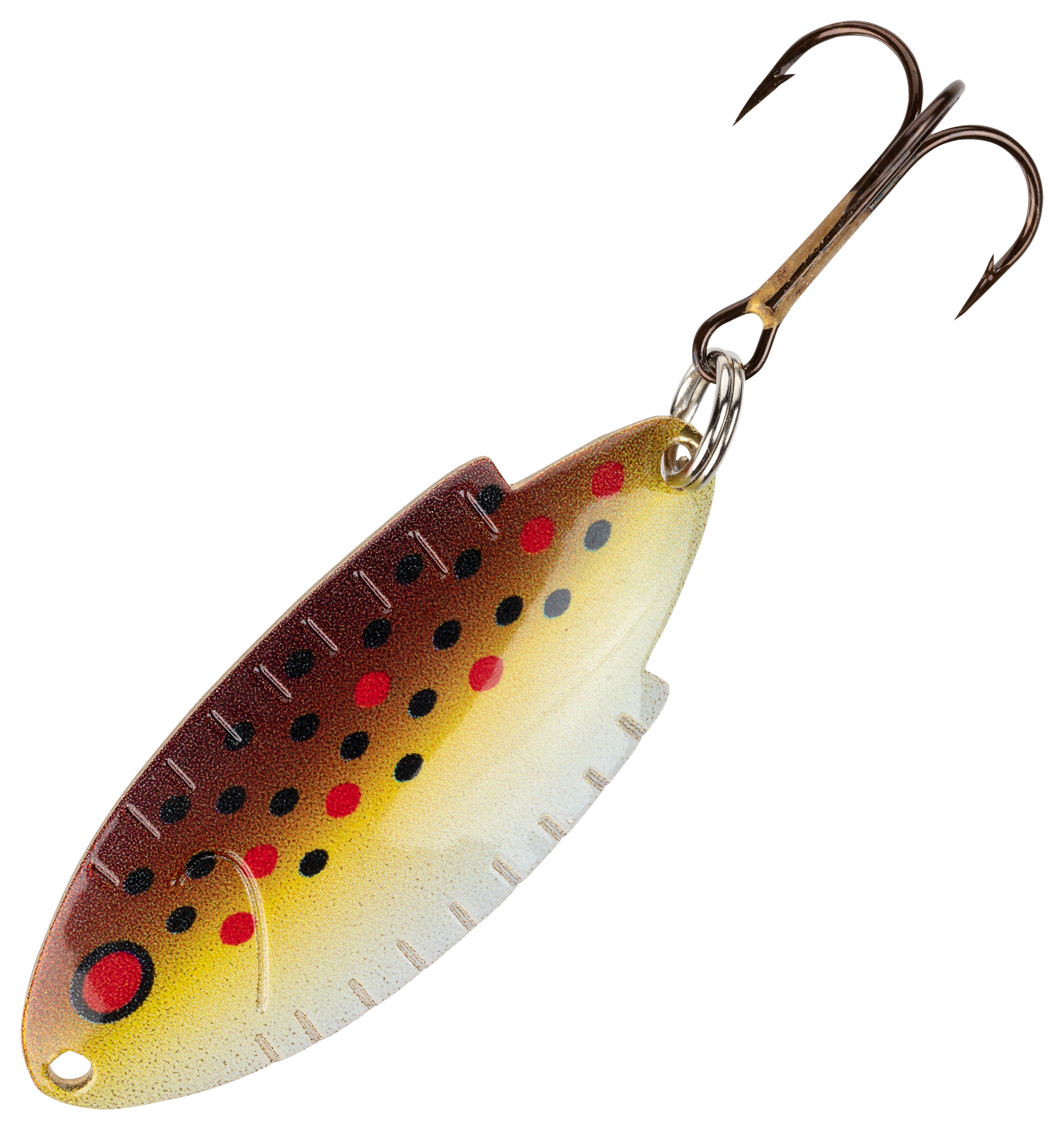 Few trolling spoons have caught as many trout as the Thomas Buoyant Minnow spoon. It's erratic action imitates a frightened or injured minnow perfectly. Compared to a Kastmaster, the Buoyant spoon has a more subtle action which is sometimes the preferred presentation.
Nearly two dozen vibrant finishes are available and each lure is outfitted with sticky sharp treble hooks for secure hook sets. Sizes range from 1/6 to 5/8 ounce.
How to troll with the Thomas Buoyant Spoon
The Thomas Buoyant spoon has a larger profile for its weight than the Kastmaster. It will therefore ride a little higher in the water column at various trolling speeds. If you need to go deeper you'll want to add additional lead weight. Fish the smaller sizes without weight when trout are feeding near the surface.
The red and gold or black and silver colors are deadly. Start with a 1/4 ounce size for the most versatile approach when trolling. Cast it 60 to 75 feet behind the boat and troll slowly. You should see a gentle bounce on your rod tip if the action is right.
Tipping any spoon with a small chunk of nightcrawler can boost your catch rate. Just make sure the addition of bait doesn't impede the action of the spoon.

When it comes to attracting fish, the Yakima Bait Flatfish is second to none. This plug style lure thrashes side to side when trolled creating far-reaching vibrations trout can't ignore.
Whether you are targeting trophy rainbows or small stocked trout, there is a Flatfish that will work for you. For deep water, the Hawg Nose Flatfish dives down where big fish swim. Each of the 14 available colors is field tested and proven to catch fish in all conditions.
How to troll with the Yakima Bait Flatfish
Unlike inline spinners and spoons, the Flatfish is a floating lure. In order to reach deeper suspended fish, you'll need to use lead weights or a downrigger. When water temperatures are cool in the early spring and fall, a single 1/8 ounce split shot sinker is enough to keep this lure in the strike zone.
For most trout, size F4 or F5 is ideal. You can also use the Flatfish behind gang trolls and other flashers. We don't typically use bait with Flatfish while trolling for trout but applying scents is often successful.

If slaying big trophy trout is your aim then a Rapala should be at the top of your list. The Original Floating Rapala exhibits premier minnow imitation that fools even the most wary of trout.
With their life-like painted finishes and irresistible action, Rapalas remain one of the best trolling lures for trout. When versatility is paramount, reach for the Rapala Original floating lure. Small sizes are ideal for stocked trout while the largest are crushed consistently by big browns and hold-over rainbows.
How to troll with a Rapala
You can troll with a Rapala on either a baitcaster or spinning setup. For early season trout, troll Rapalas without weight. Most sizes dive down 6 or 7 feet depending on your trolling speed. Once water temperatures start rising and trout head to deeper water, add weight to fish mid depths.
For stocked trout, the smaller 1.5 inch and 2 inch Rapalas seem to work best. We rarely use flashers with Rapalas but it may help in stained water to draw in distant trout. If you're chasing trophy trout, troll with the 3.5 inch or larger Rapala. Firetiger, rainbow trout, brown trout, purpledescent and silver are top producing colors for rainbow trout.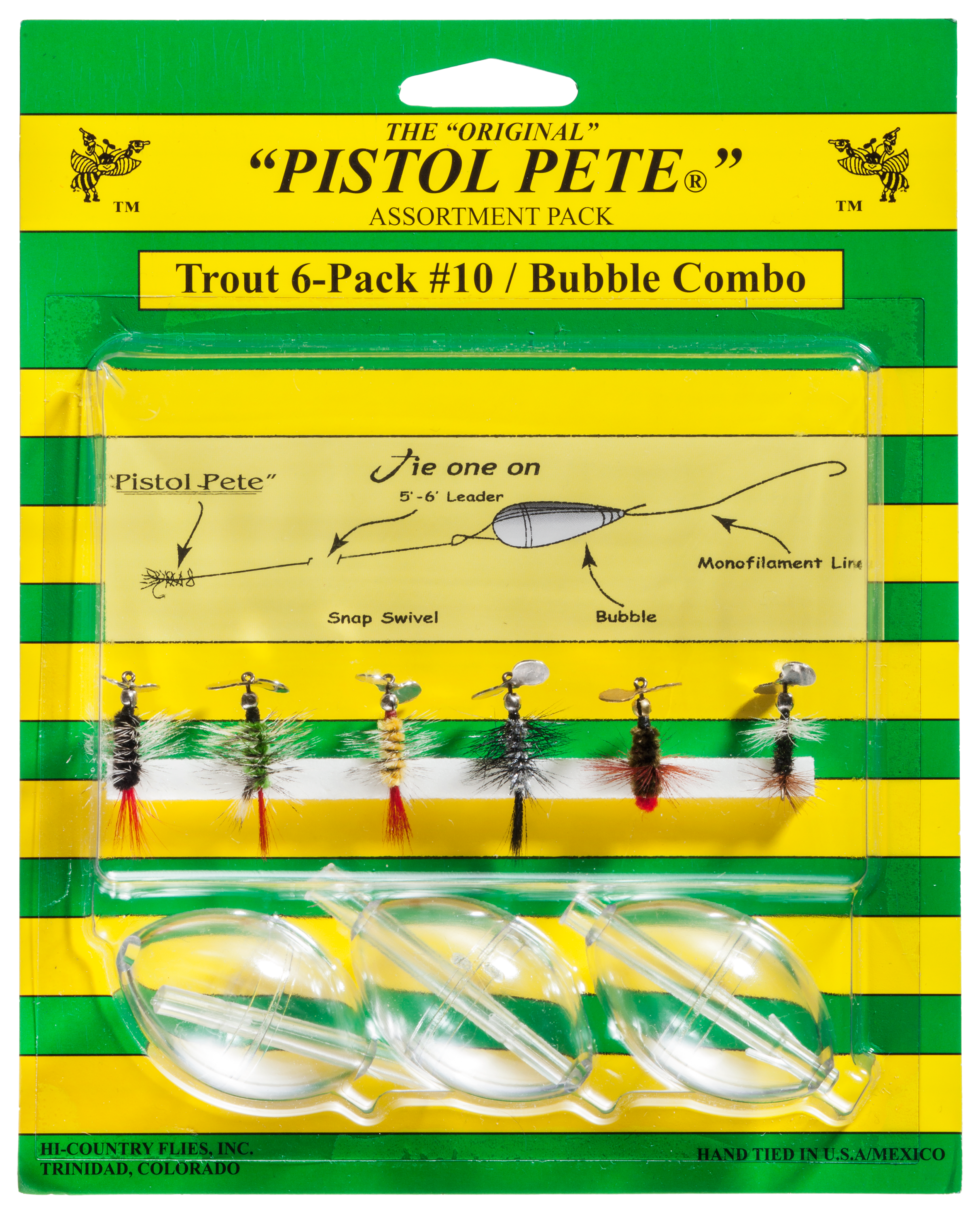 Sometimes scaling down and going natural is what it takes to catch more trout. Pistol Pete trolling flies are just the lure for the job. These unique prop flies are hard to find but well worth the hunt if you can get your hands on them.
These lures are based off popular streamer patterns like the woolly bugger and incorporate just a bit of flash and vibration using the small prop blade in front. Multiple colors and patterns help you match the hatch and they come with size 6 through 10 hooks.
How to troll with Pistol Petes
Most of the time Pistol Pete flies are best trolled with a single small split shot placed 24 inches in front of the fly. Use a spinning rod to cast it behind the boat and troll slowly. If trout are pressured and spook easily, long line troll Pistol Petes without weight.
Pistol Petes are well suited for clear water applications but you can incorporate a dodger or flasher when extra flash is needed. Troll these lures as you would any weightless spinner rig and don't hesitate to add a little piece of worm for an extra punch of scent.
9. Trolling Flies
Among the most under utilized trout lure is the trolling fly. Used in tandem with dodgers or flashers, trolling flies prove to be the most seductive trophy trout lure on the water. Why more angler don't use them is a mystery, but you can easily capitalize on the power of trolling flies.
Some of the best trolling flies are made by Arctic Fox. These flies mimc minnows and natural forage almost as good as the real thing. Just about any streamer pattern works as a trolling fly. Woolly buggers, sparkle minnows and mickey finns all work well.
How to troll with Trolling Flies
Trolling flies are highly versatile. You can troll for trout with flies using a dodger, flashers or long line tactics. If you want to bypass small stocked trout and zero in on the big boys, check out our complete guide on trolling with flies.
Final thoughts
Selecting the right lures is a crucial first step to catching more fish. Yet that is not the only thing you need to master. Improve all your trolling skills by taking a look at our articles on everything from the best trolling rods for trout, how to troll without downriggers, and even mastering trolling speeds to hook more fish.